Fall in LOVE…With Fitness!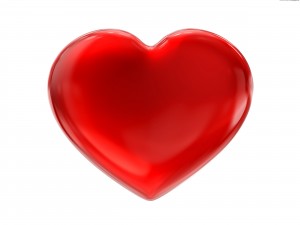 With Valentine's Day just around the corner, the LOVE bug has struck many making it a great opportunity to address the benefits of working out together with your special someone.  Spending quality time with your honey will help to keep you both healthy and fit and will benefit all areas of your life including your marriage or relationship!  Most studies report that working out together will help each of you stick to the program – it's harder to cop out when you know someone is counting on you.  Plus working out with someone else makes it fun – you almost forget you're working out!  And you may even find that you each work out a lot harder side by side versus being alone – it's a competitive thing.
Most fitness facilities recognize the importance of having members work out with someone else which is why many offer the '2-for-1' deals.  So maybe consider joining a gym together.  Not only will you experience the benefits I just mentioned but also, you won't have to go looking for someone to help spot you on some of your heavier lifts in the weight room.  If you're not sure where to begin, most personal trainers offer partner training so that you and your loved one can workout together under the guidance of a fitness expert. We are offering Valentine's Day Partner Training specials so it's the perfect time to get started!
So besides the obvious choice of joining a club, you should also consider activities that require two people.  For example, indoor rockclimbing can't be done unless you've got 2 people so it's a perfect activity for you and your sweetie.  It's extremely safe and it's also an activity that you can do together regardless of whether one person is much better at it than the other.  You'll both be impressed with the tone you'll develop in your arms and abs and even your legs and it provides a great adrenaline rush that many people are beginning to crave.  If neither of you have ever done it before, sign up for an introductory course and learn how to belay each other.  The cost of equipment is low so once you make this initial investment, you just pay for your rockclimbing membership and you're set to go.  Many couples are pleasantly surprised at how much they enjoy climbing together.  Contact the Source Climbing Gym in downtown Vancouver at 360-694-9096.
Dancing is the next obvious activity you should try together.  Learn to dance the Tango, Salsa, Rumba, Swing, Cha Cha or Foxtrot by enrolling each of you in a community dance program.  It's a great cardiovascular workout and a good calorie burner not to mention you'll be a hit at all your family get-togethers.  Many couples also report that dancing so close to their partner helps to keep those passion fires burning.  Arthur Murray Dance Studios and various other dance studios offer Valentine's Day Gift Certificates to get you started.
Partner Yoga:  Many fitness facilities are now starting to offer partner yoga classes – think Cirque de Soleil.  Contact your gym to see if they're hosting this type of workout. If not, you're in luck.  Ulysses Press has released a book titled "Yoga for Partners" (ISBN #1-56975-365-2) by Jessie Chapman which provides over 75 partner poses you can do with your sweetie.  You can help each other stretch, relax and relieve stress in the privacy of your own home.  An added benefit will be the great overall body tone you'll develop.
We are having fun with Valentine's Day this year and are hosting a "Fall in Love with Fitness" Couples workout on Friday February 14th from 5:30-7:30.  We will be cycling and rowing while watching a romantic movie flick and then finishing with a stretch to candlelight and soft music.  The cost is only $10 and what a wonderful unique and active way to celebrate the special day with your sweetie!  Call 360.574.7292 to reserve your spots – space is limited.
And on Sunday February 16th at 9am, we are hosting the Love Dash, a 3 mile Partner Run or Walk that costs only $10 and 100% of the money goes to Children's Center.  So you can do something active with your special someone and feel good knowing that you're helping a lot of kids in our community. Click HERE for details.
There are numerous sports and activities that couples can do together.  You just have to figure out which one works well for both of your personalities and schedules.  So this year instead of going for the typical gifts of chocolate, flowers or perfume, surprise your honey with the gift of your time.  And of course, don't forget to schedule each of you for a partner massage after your hard workouts!
Sherri McMillan, M.Sc. has been inspiring the world to adopt a fitness lifestyle for 25 years and has received numerous industry awards including International Personal Trainer and Fitness Presenter of the Year. She is the author of five books including "Go For Fit – the Winning Way to Fat Loss" and "Fit over Forty" and is the featured presenter in various fitness DVDs.  She is the owner of Northwest Personal Training in downtown Vancouver and can be seen running, hiking or cycling with her two children, Brianna and Jackson.  She can be reached at www.nwPersonalTraining.com or www.ShapeupwithSherri.com Note:  As an avid Columbian reader, you can redeem a 2 week pass at her world-class training studio to help get you started.  Contact 360.574.7292 for more details.