Set Your Alarm on the Hour for Tremendous Health Benefits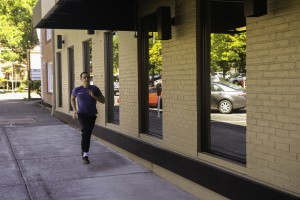 For those of you who wear an Apple watch, it will give you a reminder to get up and move every hour if you've been sitting too long. There's a strong reason for this. You've probably heard the saying "sitting is the new smoking" in terms of negative consequences to your overall health. There is growing evidence that long periods of extended sitting can pose serious physical and mental consequences. Studies have shown that people who sit for more than eight hours daily are at an increased risk for obesity, diabetes, heart disease, back pain and depression. With many of us stuck working from home and students enduring remote learning, the risks are greater than ever.
It's clear that we need to move throughout the day. One study from the University of Colorado found that walking for 5 minutes every hour during the workday reduces lethargy, improves mood, increases energy and suppresses appetite. Another 2016 study from Stanford University found that taking a short, 5-minute walk on the hour helps enhance brain functioning.
So how can you address and overcome these issues?
Hourly Reminder
Whether it's an Apple watch or an alarm on your phone or computer, set a reminder to get up and just move.
Standing Workstations
People tend to move more when they are standing so make the investment in a standing desk.
Walk & Talk
Start scheduling some of your meetings as 'walk & talk' meetings when appropriate
Schedule 'recess'
Take workout or walking breaks in the middle of your day
If you exercise regularly, you are not immune to these issues. Let's say, you exercise three hours per week. The question becomes 'what are you doing the other 165 hours'? How you spend the time outside of your exercise sessions will make a huge difference to your overall health. Being active throughout the day will not take up any more of your time but you will end up increasing your work productivity and creativity, burning more calories and feeling a lot better!
Yours in health & fitness,
Sherri McMillan
Note: As an avid Columbian reader, you can redeem a complimentary initial in person or virtual personal training appointment to help get you started. Email us for more details.
---
Northwest Personal Training is NOW OPEN! We are SO EXCITED to see you! For Private Training, you'll have the option to continue doing virtual training, outdoor training or training at the studio. For Group Fitness classes, you will be able to continue doing virtual online classes (live or saved) and we are also going to host some outdoor programming.
#NWPTSTRONG
---