Getting To The Finish Line Of Fitness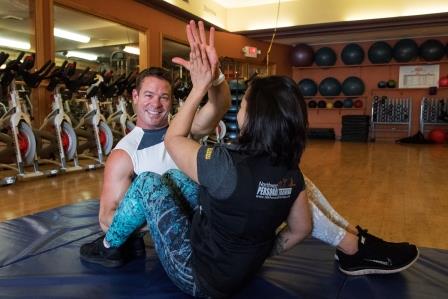 "Character is the ability to carry out a good resolution long after the excitement of the moment has passed." — Cavett Robert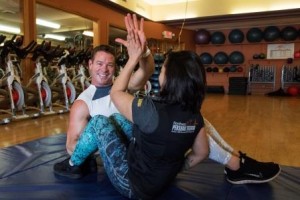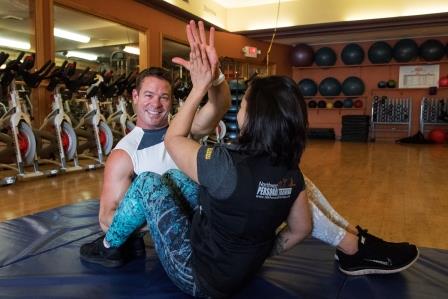 It's been a month since the world set their New Year's Resolutions. Many resolve to make some major changes in our lives. Maybe we'll decide to start an exercise program, start eating better, quit smoking or lose a substantial amount of weight. Regardless of the goal, have you ever wondered why most people set the same New Year's Resolutions year after year? That's because by now, most have thrown in the towel on their original ambitions. Most people set themselves up for failure before the clock even strikes midnight. When it comes to health and fitness, your chances for success will improve dramatically if you approach things differently.
Here's the top actions people who succeed at fitness do on a regular basis:
Accountability
You cannot rely on personal motivation alone! When it's dark and cold and you just don't feel like it, your motivation can waiver. But if you have systems in place to help keep your focus, you'll be less likely to get off track. Once the original zeal subsides and your motivation starts to wane, you need someone to remind you why you set those goals in the first place. That's where a workout buddy, a group or a personal trainer comes into play. It can be a tribe of many or of one, but who will there to hold you accountable and call you out if you start slipping. Surround yourself with people who are more motivated than you are and/or who have achieved the goals you have set for yourself. That energy, discipline and motivation will rub off.
Enjoyment
The absolute best fitness program is the one that you will do! If I tell you the best way to get in shape is running but you hate running, you won't do it long enough to obtain sustained health benefits. Find an activity that you actually find some enjoyment in. It's ok if your workouts are challenging but ask yourself how you can add some element of fun to each training session whether it's music, a friend, a distraction like TV or the scenery. If you loathe each workout session, you will quickly find reasons to skip them.
Safety
There is nothing like an injury to set you back and have you questioning whether the effort is worth it. So be sure that you are following proper progressions, that you are practicing good technique and that you're not doing too much too soon. An injury will side line any goal you have set for yourself so be smart about how you approach your fitness goals.
Goals, action steps, checklist and deadlines
If you fail to plan, you plan to fail. Start by writing down WHY committing to your health and fitness is important to you. Your answers should be deeper than just losing 10 pounds. Next, write down your goal(s) and write down all the action steps that you can take to make this goal a reality.  So if your goal is to start eating better, write down exactly what you need to do to make that happen.  For example you could create a checklist that includes:
By Feb 7th – Purchase a hydroflask water bottle that I will have with me everywhere I go.
Starting Feb 8th –  I promise to drink 3 full water bottles every day.
By Feb 7th – Purchase a food cooler that I can bring to work with me so that I can have healthy snacks easily accessible.
By Feb 9th – Clean out the cupboards and eliminate any high temptation food or drinks from the house.
By Feb 10th – Go to grocery store, purchase a wide variety of fruits, vegetables and healthy protein sources.
By Feb 10th – Wash and cut fruits and vegetables and have them in user-friendly, 'ready-to-go' containers.
By Feb 11th – Put some healthy snacks in the car so that I can access them when I'm hungry and in a hurry so I don't have to stop at a fast food restaurant.
By Feb 15th – Signup for an online food tracking app like MYFITNESSPAL to start recording what and when I am eating so I can track nutrient intake
By March 1st – Schedule a monthly appointment with a nutritionist or trainer who can help fine-tune my nutrition plan
Take your ultimate goals and split them into small, easily achievable goals. It'll help you succeed on a regular basis and that will give you the momentum you need to stick to the plan. When undertaking a major lifestyle change, the big picture may be a bit overwhelming so baby steps is the way to go!
By taking the time to assure you are following these tips, you have set up a framework for success and will be well on your way to your goals!  It's so much easier to get to your destination if you've got a map! Here's to 2020 and a year of Health, Fitness and Living Life to the Fullest!
Note: As an avid Columbian reader, you can redeem a 2 week pass at her world-class training studio to help get you started.  Contact 360.574.7292 for more details.
Yours in health & fitness,
Sherri McMillan
---
Join us for the Couve Clover Run (3, 7 & 10 Miles) March 22nd, 2020!
RUN, GIVE BACK & PARTY AT MAIN EVENT AND OTHER DOWNTOWN PUBS!
Join us for the 6th Annual Couve Clover Run and celebrate in your festive green while running or walking 3, 7 or 10 miles along an extremely fast and scenic course to support local charities! We will make you earn your post-event party but it will be off the charts hosted by Main Event and other downtown Vancouver Pubs & Breweries.
---