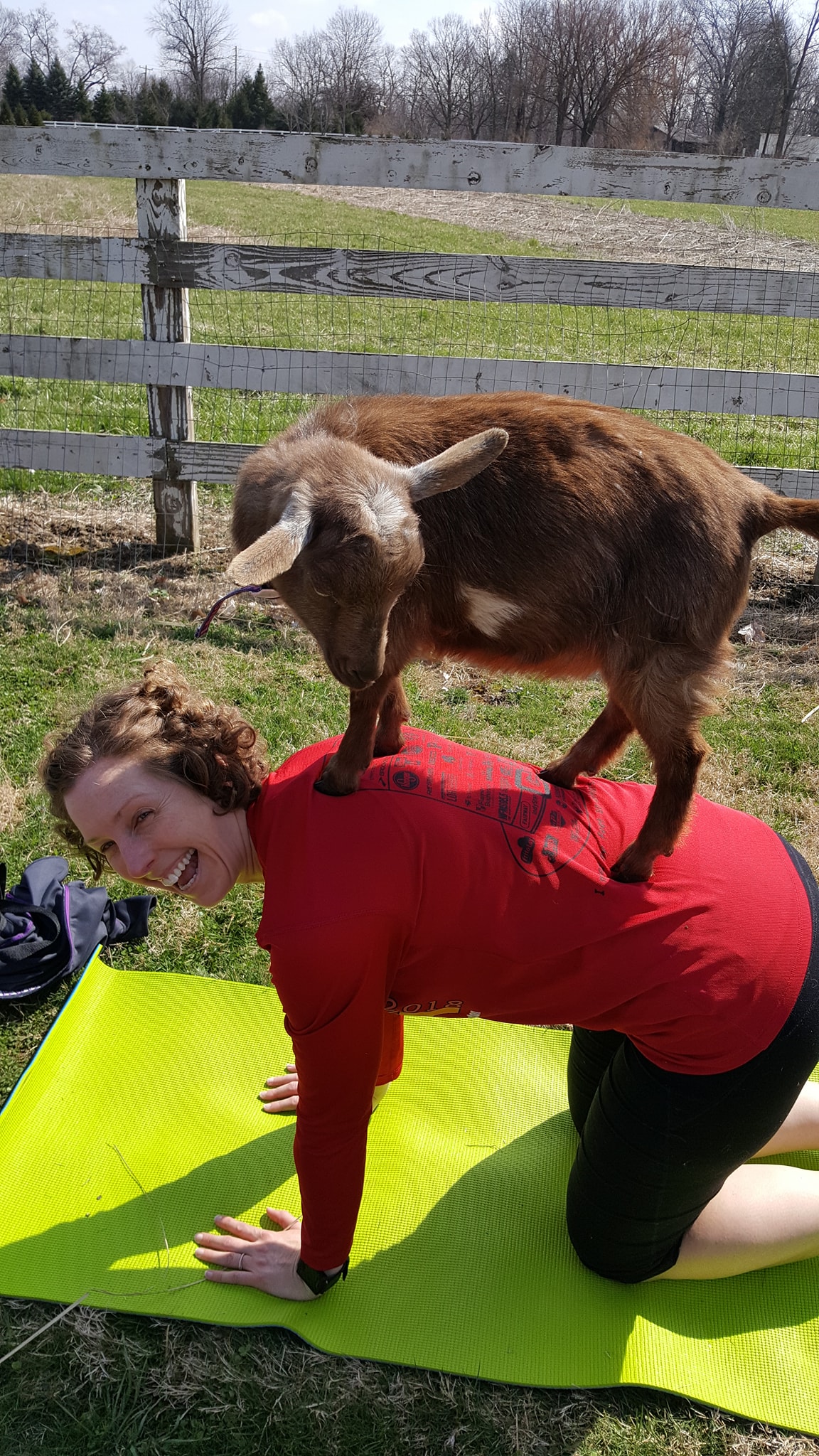 "If you want something you've never had, then you've got to do something you've never done!
If you want to change something, you've got to change something. Makes sense, doesn't it? If you've been doing the same 4 fitness classes or the same running route for the last 10 years, your body has probably adapted to your workout program. It's time to mix things up. Do something different!
You can try something completely radical like trying a Goat Yoga class or you can just make a simple adjustment like adding a new exercise to your program or mixing up the intensity and/or duration of your workouts.
Here's some local ideas that may help stimulate your mind and body:
Try a new class – If you attend the same type of class, mix it up!  If you regularly do Yoga, next class go for an indoor cycling, boxing, rowing, Bootcamp, Barre Tai Chi, Pilates, Zumba or hip hop class. Every gym will offer a variety of classes and there are numerous local boutique group fitness studios that you can try out and see what you connect with best.

Sign up for something unique – I mentioned Goat Yoga above. Why would someone want to do Yoga with a Goat? Well, its something fun, exciting, a once-in-a-lifetime, memorable experience that you can talk about with others. It adds the cool-factor to your conversations. Locally, we have two programs coming up that could offer this type of experience for animal lovers and are fundraisers for the Humane Society. DOGA – or Yoga with your Dog is happening on Saturday April 27th. Only 10 spots are available and 100% of the funds go to the Humane Society. If you're a Dog-lover this will be an experience you won't want to miss and you'll feel good that you're supporting a good cause. Just prior to this, Mutts and Mimosas is a 5K Walk/Run with your Dog followed by Mimosas. You'll enjoy a scenic walk along the new Vancouver waterfront and then splurge on mimosas afterwards. It will definitely give you something to talk about and also 100% of the funds go to the Humane Society. Something radically different than what you're doing now can add some excitement and fun to your program.
Go for a change of scenery – Do you find yourself always working out indoors? Once a week, go outside for a power walk, run, hike, SUP or cycle – climb a set of stairs outside instead of the machine-version. If you're always outside, go indoors for one workout a week. Start lifting weights or take a workout class.The change of scenery may be something your body needs.
Go for an adrenaline rush.  Every few months we encourage our clients to set a new, challenging goal – something that scares you a bit. We've had clients train for fun runs, triathlons, half marathons, marathons, extreme hiking adventures, snowboarding or skiing, and cycling treks. These types of goals have really helped inspire our clients to stick to their fitness program.Try new activities like hiking, indoor rock climbing, scuba-diving, snowboarding/skiing, skate-skiing, stand up paddle boarding, snowshoeing, whitewater rafting, sea kayaking, or a running clinic.

Knowledge is power. You can't do better if you don't know better. Make it a goal to learn about your body.  Attend lectures, purchase exercise, nutrition or motivational books or consult with a personal trainer.  The more you know, the easier it is to convince yourself to stick to your program.
As trainers, we see so many people following the same program for years wondering why they no longer are experiencing any significant fitness gains.  In order for your body to experience results, it needs to be challenged slightly more than it's used to.  If not, your body will plateau and will no longer continue to progress.  This means changing your program every 4-8 weeks!  That's the whole benefit of cross-training – not to mention that all the new activities help to minimize boredom, enhance motivation and increase exercise adherence.  Practicing a few of the tips above will definitely add some flavor to your exercise program.
Yours in health & fitness,
Sherri McMillan
Note:  As an avid Columbian reader, you can redeem a 2 week pass at her world-class training studio to help get you started.  Contact 360.574.7292 for more details. 
---
Join us for the RUN TO REMEMBER WASHINGTON! Sunday May 19th in 
Downtown Washougal, WA (just across the river from Portland Oregon)
The 4th Annual Run to Remember WA will honor the brave men and women who have or are currently serving in our Armed Forces and remember those who have given the ultimate sacrifice fighting for our freedom. The Half Marathon, 10K, 5K and Memorial Mile running and walking event will benefit various Military Organizations.
---