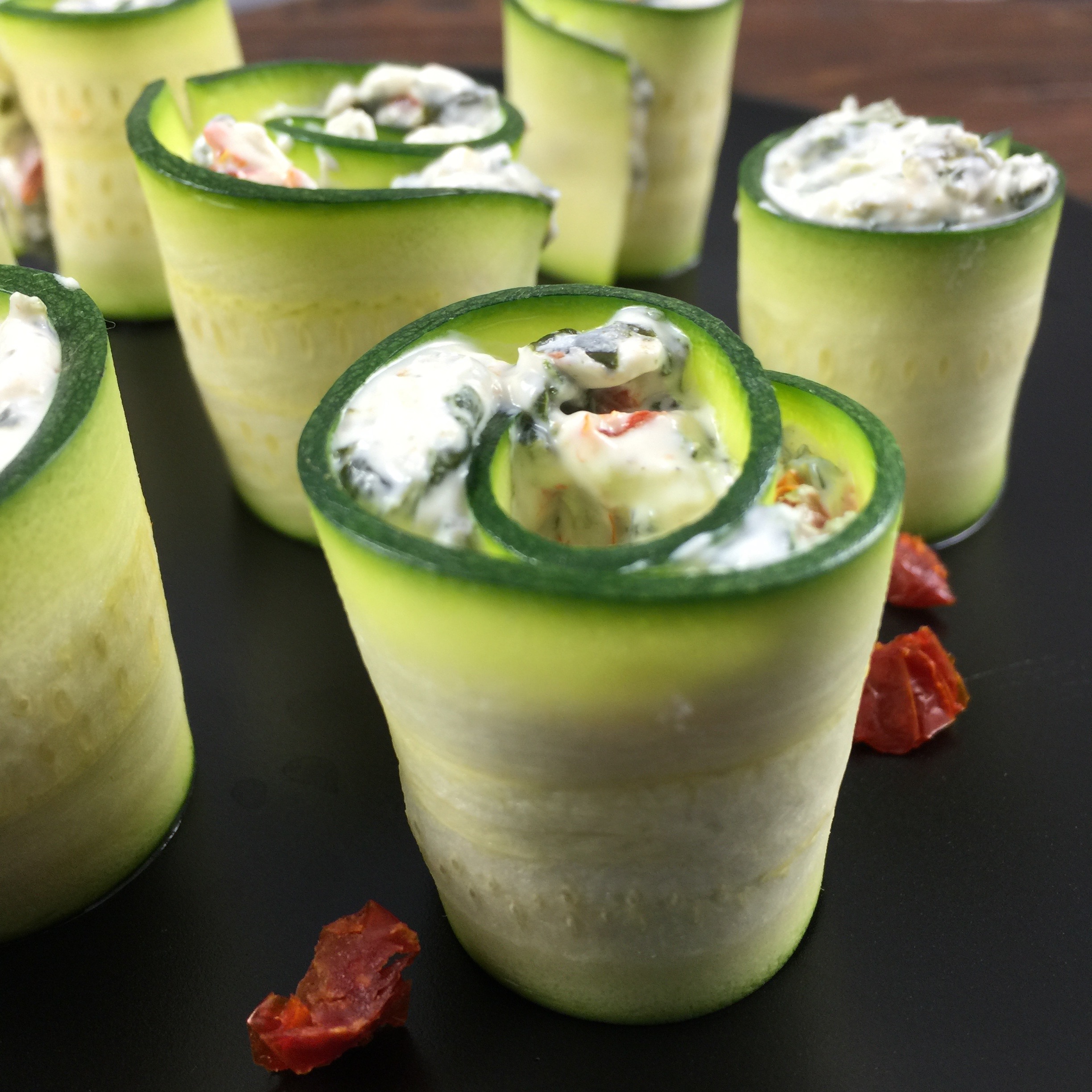 I remembered seeing Katie Lee making these Zucchini Pinwheels on Food Network and thought they would be a great "green" recipe.  And they are.  Once I discovered two things,  One, living with a house full of men must be affecting me, because I have stopped reading the instructions.  And two, I am a closet adrenaline junkie.
First, I dirtied every vegetable peeling device in my kitchen before succumbing to watching the online video and discovering these neat slices were made with a mandoline.  Lesson learned.  Second, I am not much of a risk taker.  No ziplining or parasailing for me.  But I confess to loving the adrenaline rush I got as I sliced zucchini perilously ever closer to my skin.  Who knew cooking could be so exhilarating?   I kept trying to stop for fear of getting too close, but I was getting so good at making neat little strips that it became a sort of finger game of Russian roulette.  I know, I know… you are supposed to use the handy finger guard.  But something about that finger guard makes this clumsy for me, so fingers be damned, I will take my chances for the sake of nice, neat slices.
Prepare to cut up some extra zucchini.  You will want to make some practice slices and those will keep just fine in a zip-top bag in your fridge.  You can throw them into a salad or saute them with a little olive oil and garlic (salt, pepper, fresh basil) and they will be a quick, beautiful side dish.  You can make the filling ahead of time, but wait to do the actual assembly and rolling until closer to serving time, as the zucchini can get watery.
These took just 5 minutes to prepare and will make about 30 fun little appetizers.  The filling is so very good you could serve it as a spreadable dip with some crackers or cut up veggies.  It is gluten-free and vegetarian, so it's great for entertaining.  If you are also dairy-free, they have a great alternative cream cheese made by Kite Hill at Whole Foods, that I think would also work very well in this recipe.
Zucchini Pinwheels
4 ounces cream cheese
4 ounces goat cheese
1/2 cup chopped sun-dried tomatoes
1/2 cup chopped, thawed, and well-drained frozen spinach
8 fresh basil leaves, chopped
1 clove garlic, minced
Kosher salt and freshly ground black pepper
2 long zucchini, thinly sliced lengthwise
Combine cream cheese and goat cheese in a medium bowl and use a fork to mash.  Add sun-dried tomatoes, spinach, basil, garlic and mix well with fork until combined.  Season to taste with salt and pepper.
To assemble, spread cream cheese mixture onto each zucchini slice and starting at one narrow end, roll towards the other.  Place pinwheels upright on serving tray.