Kale and Brussels Sprout Salad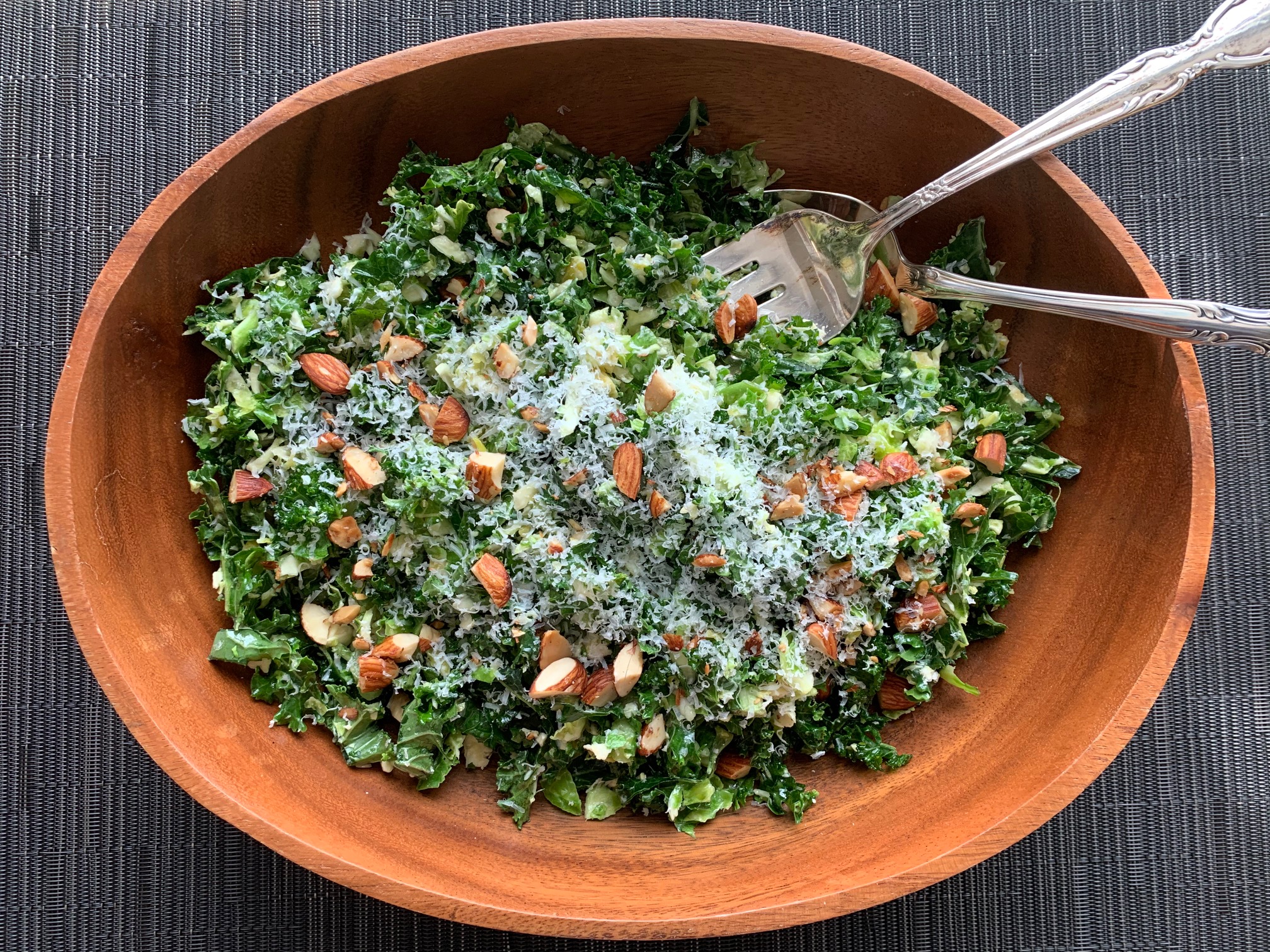 It's go time! The last minute is officially here and there are two things I know for sure: leftovers are very important and don't forget about breakfast for Thanksgiving morning. For breakfast, you can't go wrong with a make-ahead casserole. You can pop it in the oven Thanksgiving morning and let everyone serve themselves. Done and done. Or, toss 2 cups steel cut oats, 1 cup canned pumpkin, 6 cups water, 1 cup fat-free half and half (or coconut, oat, almond, soy, or evaporated milk), 1 teaspoon of vanilla and a Tablespoon of cinnamon (or pumpkin pie spice) into your slow cooker before you go off to bed. Everyone wakes up to the wonderful smell of pumpkin spiced oatmeal and they all have something warm to eat while they watch the Macy's Parade.
Make sure you have whatever you need in house and on hand for those leftovers. A good loaf of bread or rolls for making sandwiches, and/or some flatbread or pre-cooked pizza crust that you can make pizza with using your leftovers as toppings. If you have flour tortillas, you can make turkey quesadillas with turkey, cranberry sauce, and cheese. Or use corn tortillas to make Turkey Enchilada Casserole, which is what I make every year since we made it in my middle school Home Ec class.
If you still have any room on your dinner table you might want to make way for a salad. Anyone eating lighter will thank you as well as any vegetarians who may be politely looking around and unsure of what's safe for them. Leave the nuts to the side if you have guests with nut allergies, and offer a small dish with toasted sunflower and pumpkin seeds that they can add. If you know you will have vegan guests, put the cheese to the side, too.
This salad held well, even once it was dressed. Even the next day, the refrigerated greens were not wilty, and because they are hardier it just softened them a bit. You can top it with some of your Thanksgiving leftovers: roasted green beans, sweet potatoes, squash or leftover vegetables, plus some toasted pumpkin seeds, or a handful of those spiced nuts, and make this a lighter take on that second pass. 
Simplify your prep by buying your kale already washed, cut and ready to use. You can do this with the brussels sprouts, too. Buy them already shaved, or you can quickly shred them in your food processor using the slicing attachment. If you want to shred by hand, halve sprouts lengthwise, then turn so that the cut side of the sprout faces down, then slice crosswise, making thin cuts from the stem end to the top. 
Do try this recipe as is, but also think about making it again substituting different nuts and cheeses. You could add some pomegranate seeds and some small slices of pear, apple, or persimmon. The possibilities are endless here, and that is what makes this a really good recipe. Grate some of the Pecorino on top of the finished salad for a feathery, pretty visual contrast. Double up the almonds and make extra. They were really good and you can refrigerate any that you have left to top salads, oatmeal, or yogurt. Recipes for Hash Brown Casserole, Slow-Cooker Pumpkin Spice Oatmeal, and the Turkey Enchilada Casserole are online at blogs.columbian.com/home-made.  Treasure your family and friends and have a safe and very happy Thanksgiving. 
Kale and Brussels Sprout Salad
1/2 cup extra virgin olive oil, divided
1/4 cup fresh lemon juice
2 Tablespoons Dijon mustard
1 Tablespoon minced shallot
1 small clove garlic, finely grated
1/4 teaspoon kosher salt
freshly ground black pepper
2 large bunches of Tuscan kale (about 1 1/2 lbs. total), center stem discarded, leaves thinly sliced
12 ounces brussels sprouts, trimmed and shredded
1/3 cup almonds with skins, coarsely chopped

 

1 cup finely grated Pecorino

 
Measure 1/2 cup oil into a liquid measuring cup, then transfer oil to a ramekin or other small prep bowl. Using same liquid measuring cup, add lemon juice, Dijon mustard, shallot, garlic, salt, and a few grinds of pepper. Stir to combine, then set aside to let flavors blend. Mix kale and brussels sprouts in a large bowl.
Remove 1 Tablespoon of oil from ramekin and add it to a small skillet. Heat oil over medium-high heat, then add almonds and stir frequently until they become golden brown and fragrant, about 2 minutes or more. Remove from heat and sprinkle lightly with salt. 
Slowly whisk remaining olive oil into lemon juice mixture.  Add dressing and cheese to kale and brussels sprouts and toss to coat. Season with salt and pepper to taste. Garnish with almonds. 
– adapted from recipe by Susan Spungen, Bon Appétit, November 2011