Strength Training During Breast Cancer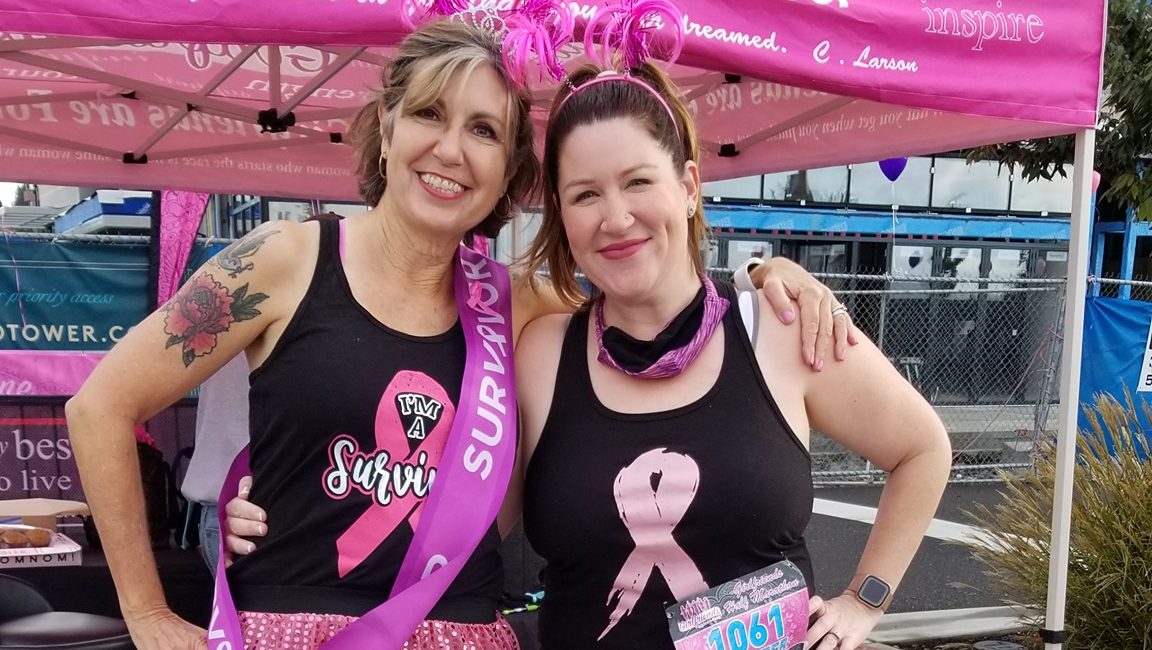 Breast Cancer changes your life. Once treatment ends, you want to get your life back and put cancer behind you, but you are still having to navigate many of the side effects of caner and the treatment protocols. 
A woman may be experiencing pain, tightness, reduced range of motion, muscle loss, weakness, and postural deviations during breast cancer treatment. The loss in bone and muscle one year after chemo and radiation can be equivalent to typical losses over ten years in women! Whatever a woman experiencing Breast Cancer can do to slow down or reverse the loss of muscle will be very impactful to her strength, bone density and her overall health. 
A recent review of the literature in Critical Reviews in Oncology and Hematology examined 34 research studies that looked at Muscle Hypertrophy in Cancer patients and survivors via Strength Training. The review concluded that Resistance Training can counteract the loss of muscle mass in cancer patients, which is great news for women. An interesting side note was that there was a positive response to supervision such that women who were supervised during strength training experienced greater results than those unsupervised. Also, those who were in a one-on-one supervised setting did better than those in a group supervised format. Bottom line is finding a therapist or trainer who specializes in strength training during Breast Cancer is helpful and can provide additional benefits. 
---
Post-Breast Cancer Rehab Protocol
Step One
–
Discuss with your doctor
The type of Breast Cancer treatment and surgery will determine a woman's recovery, how her body is affected and the post rehab process. Work closely you're your physician and therapist to determine effective and safe protocol. You can typically begin a light post-rehab program a few weeks after surgery and a more aggressive protocol an average of 10 weeks post-surgery. Be sure to get the go ahead from your physical first because every woman and case is different. 
Step Two – Start with flexibility
Before you begin strength training, you'll want to focus on range of motion at the shoulder. Most women are very protective of the affected shoulder, so ease into the stretches. Avoid pain and gradually progress the stretch as the tissues allow. As your range of motion improves, you will be able to go deeper into the stretches prescribed by your therapist or trainer. You can start by holding each stretch for 15 seconds x 3-4 sets. 
Step Three – Cardio
Aerobic exercise is very important for physical and emotional well-being. It will help a woman deal with the negative effects to her self-esteem and give her a natural high. Walking or hiking is the perfect post-surgery exercise because you can do it pain-free with very little negative implications to the affected areas. You can start with 20-30 minutes (continuous or intermittent) at a moderate intensity, three times per week. You can gradually increase the frequency, duration and intensity as your body allows and you can begin implementing other activities. 
Step Four – Start Muscle Conditioning
As your range of motion improves and pain subsides, it is very important that you start a strength training program to minimize muscle atrophy, improve strength, enhance bone density and prevent posture deviations and muscle imbalances. 
You can start with little or no resistance and then slowly add resistance as your body manages the load. Start with 1 set of 8-12 reps of a variety of exercises for the lower body, upper body and core. You can increase to 2-3 sets or increase the number of exercises you perform. It's a good idea to rotate between lower & upper body exercises to allow for recovery in between sets and to help prevent lymphedema. 
Since certain muscles and joints will be more affected from Breast Cancer surgery and treatment, exercises to strengthen the lower and middle trapezius, rotator cuff, rhomboids, lats, chest, shoulders, and core will be very important for the Breast Cancer survivor. Be sure to consult with a therapist who specializes in Post Breast Cancer Rehab to ensure you are performing the movements correctly and safely.
---
Although you are never the same after Breast Cancer, we have many clients who have gone on to living incredibly healthy, fit, rich and adventurous lives post Breast Cancer – and some are better conditioned now because they've taken a very active role in their overall health and wellbeing. Here's to living life to your fullest after Breast Cancer!
Yours in health & fitness,
Sherri McMillan