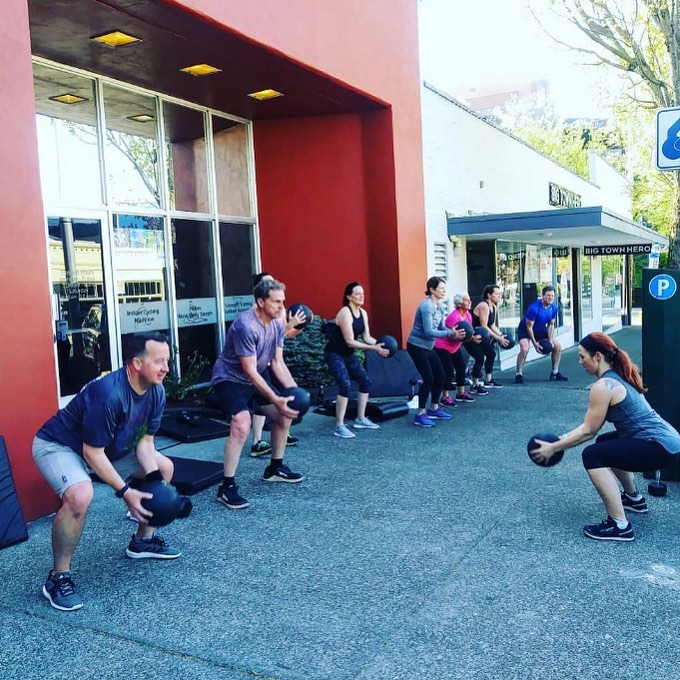 When gyms closed due to COVID-19, many exercise enthusiasts got out of their normal workout routine. Now that gyms are reopening, many people are struggling to get back at it.
First, remind yourself that your health is extremely important, now more than ever! You need your physical strength, mental health, stress release and a strong immune system. If anything, hopefully this pandemic has taught us how critical it is to take care of our overall health.
Here's some tips to get you back on track:
Don't focus on your weight
You may have gained a few pounds during the quarantine. Don't stress out about it. Instead focus on what you need to do to improve your overall health and fitness. So instead of saying 'I'm going to lose 10 pounds this month', instead set the goal that you will do 12 strength workouts and 12 cardio workouts this month and drink 10 glasses of water everyday. Or set a goal that by the end of the month, you will be able to run for 10 minutes non-stop or you will participate in a local 5K or improve your pace. Set Action-oriented goals and the extra weight will take care of itself.
Focus on what you love to do
If you absolutely detest the fitness activity, it's no wonder you've having a hard time getting back to it. Find an activity that you enjoy and you will be more likely to maintain your commitment. Perhaps participating in a fitness activity with those who love and enjoy spending time with, will make it easier to get back on track. Perhaps suggest you and your closest friends/family, sign up for a class together or hire a trainer for your group.
Be Realistic
Don't be too zealous as you're getting back at it. Instead of saying you'll exercise seven days a week, maybe opt for four workouts! Set a goal that you know 100% without a doubt, that you can commit it and if you do anything more, it's a bonus!
Don't Quit!
Sometimes the outward changes take longer to surface. It's important to understand that when you start exercising consistently, you are building an athletic machine that is developing enzymes, capillaries, mitochondria and the ability to exercise longer and harder without getting fatigued. You are increasing your body's ability to mobilize and utilize fat as a fuel. These biochemical changes are happening internally and you can't see them but they are making you a better fat-burning machine. Soon you won't know what's happening, but you'll overcome plateaus and you'll start looking and feeling better and your body composition will change! Even though it can be challenging when trying to get back to your consistent routine, stick with it! The benefits to your overall health and well-being are so worth it!
Yours in health & fitness,
Sherri McMillan
Note: As an avid Columbian reader, you can redeem a complimentary initial virtual personal training appointment to help get you started. Email us for more details.
---
If you haven't heard yet, Clark County has been approved for Phase 2 immediately so that means NWPT is NOW OPEN! We are SO EXCITED to see you! For Private Training, you'll have the option to continue doing virtual training, outdoor training or training at the studio. For Group Fitness classes, you will be able to continue doing virtual online classes (live or saved) and we are also going to host some outdoor programming.
#NWPTSTRONG
#WEAREOPEN
---