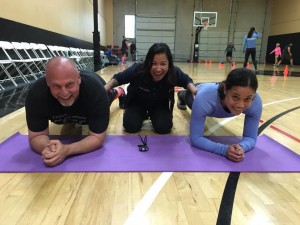 Since many join a gym and resolve to get fit at this time of year, it's probably a good idea to examine some of the reasons why someone quits long before they've achieved their goals. If you've ever joined a fitness club and soon after found yourself wondering why you ever signed on the dotted line in the first place, well, you're not alone. In fact, more than 35% of people who join a fitness club quit each year.
The most frequently reported reasons for not renewing a membership are as follows:
Couldn't afford the expense                                       30%
Overcrowded facility                                                  27%
New demands made on my time                                26%
Inconvenient club location                                          18%
Lost interest/motivation                                              17%
Moved/relocated                                                         16%
Switched to outdoor exercise                                     15%
Not surprisingly, concerns about price and time were among the three most commonly cited reasons for quitting a club. While lack of adequate disposable income or time are certainly legitimate explanations for leaving a club, it's likely that a significant percentage of the ex-members surveyed hadn't been successful in making fitness or exercise a priority in their life. If your fitness level and health are very high priorities, you'll find the money or the time to commit. But, if you never use your gym membership, it becomes harder and harder to rationalize paying for it.  Conversely, regular usage yields greater satisfaction and more benefits, making it easier to identify the value received, and understand the cost and time requirements. So, if you want to actually use your new membership, you'll have to figure out what you need to do to actually commit to your exercise program.  A consistent, committed effort will make a club membership worth the investment.
But if you do find yourself wanting to cancel your membership, it's not always your fault. Some members have valid reasons for wanting to leave a gym. Here's the Top 5 club-related reasons people will cancel their membership:
Overcrowded                                                  27%
Dissatisfied with staff                                     13%
Lack of personal attention from staff             13%
Dissatisfied with programs/activities               8%
Club management inaccessible/unresponsive  6%
So when you're thinking about joining a gym, interview potential fitness facilities like you would a new employee.
Ask for a complimentary workout.
Get a tour of the facility and take note of equipment usage.
If you notice that every piece of equipment is being used and line-ups extend out the door, you may want to consider shopping around.
Talk to some of the other members and inquire about busy times at the gym. Ask them how long they've been a member and how happy they are with the gym.
Find out if the gym is always crazy or if there are times that are a little slower that fit into your schedule.
If an overcrowded gym is one of the number one reasons people will cancel their membership, you want to make sure you're not setting yourself up for failure right from the beginning.
Are the classes or programs you're interested available and scheduled at times that are convenient for you? For example, if you love to swim, a pool would be an important feature to ask about.  If you love basketball, make sure they've got some hoops.
If you want a coach to oversee your program, make sure that nationally certified trainers are available to help you.
If you want to work on improving your flexibility, be sure to ask about Yoga and Pilates programs.
Create a detailed list of questions to ask.
Find a facility that works into your budget, but as with all purchases, don't just make your decision based on price. Some fitness facilities' business model is to attract a high volume of members and therefore can provide lots of equipment at lower rates. Other facilities offer a more boutique-style experience and rates can be higher. Determine the maximum dollars you can invest in your health and then choose a facility that will be able to deliver you results and provide you with exceptional service.
Be sure to ask questions regarding:
Upfront fees
Monthly dues
Minimum agreement terms
Cancellation policies
Money-back guarantees
Next, since three of the top five club-related reasons for leaving relate to the staff, pay attention to how they treat you during your first introduction to the club.  Remember that first impressions count. If they speed through the tour not really paying attention to you or your needs, you should be concerned. If they act phony or are only concerned with getting your money, go elsewhere.
What a fitness facility staff member SHOULD do during your first introduction to their facility:
Make you feel welcomed right from the beginning even before you dish out the cash.
Ask you about your fitness and health history and goals.
Learn and use your name.
Introduce you to other staff and members so you feel part of the group right away.
Spend enough time getting you acquainted to the facility and its services.
If you don't feel taken care of in that first meeting, how can you expect you'll get treated any better once you join? It's like a relationship – if your partner treats you terribly while you're dating, how can you expect it'll get better once you get married?
The fitness industry is just like any other industry – customer service is critical to success.  You're the customer. So, if you're not happy, go elsewhere! But remember both you and your club have equal responsibility in helping you achieve your fitness goals. Your club should provide you with lots of top-notch, well-maintained equipment, personable and educated staff, cleanliness, and a variety of excellent fitness programs. You in turn must take the responsibility to actually use the facility and its services!  If both parties are holding up their end of the bargain, you can expect a long-term healthy and fit relationship with your club – your home away from home! You CAN avoid being a quitter!
Yours in health & fitness,
Sherri McMillan
Join us for the….
COUVE CLOVER RUN – 3, 7 & 10 MILES – March, 26th 2017 RUN, GIVE BACK & PARTY AT MAIN EVENT AND OTHER DOWNTOWN PUBS!
We will make you earn your post-event party by running or walking 3, 7 or 10 miles, but it will be off the charts hosted by Main Event and other downtown Vancouver Pubs & Breweries.
Note:  As an avid Columbian reader, you can redeem a 2 week pass at her world-class training studio to help get you started.  Contact 360.574.7292 for more details.