Without a doubt, Pesto is one of the greatest sauces out there!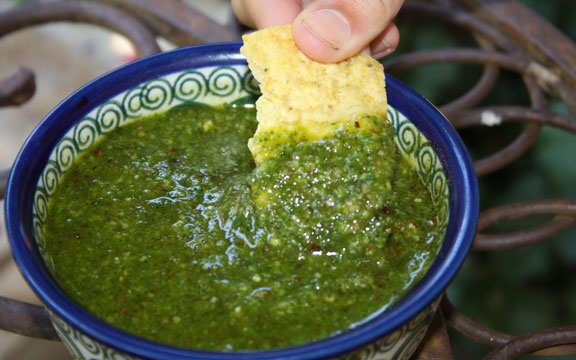 Food snobs of the world will insist that the only pesto is Pesto Genovese – made from the basil and oil produced in the hills around Genoa, Italy.  I've had it — it's fantastic — especially after a long day of sightseeing! But we live in a truly spectacular area ourselves here. In fact, Vancouver and Genoa, Italy, sit roughly on the same parallel, the 45th. Our climates are similar — their winters average about 50 degrees and their summers hover in the 80s, and our growing seasons are almost identical.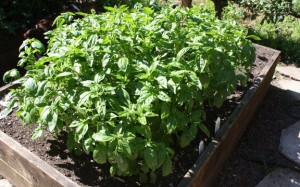 I start my garden anytime between spring break and early May – it just depends. I had a local, old-timer farmer once tell me to watch the "Old Man's Nose" for the time to plant. If you look north and to the west of Mount St. Helens for a double peak (it really does look like a nose, mouth and chin), when the snow is gone, then it's time to plant! I've trusted that for 25 years and it has never failed me!
Basil grows great here and it's really very easy. I know people who grow it from seed – that's tough for me.I live on Salmon Creek and we have hordes of rabbits and about seven deer that come through the backyard on a regular basis. I have to put in pretty big starts of everything otherwise the newly sprouted things get eaten right away.
I get my veggie starts from Yard-N-Garden Land here in Hazel Dell. I buy my garlic and lemons from BiZi Farms on 119th Street. I buy very good quality olive oil and imported parmigiano reggiano cheese from Chuck's Produce. And I get my locally grown hazelnuts from Kunze Farms. Yes — I said hazelnuts. We don't grow pine nuts here and some years they are very expensive. I prefer hazelnuts anyway, they give it a great and unique flavor!
NW Pesto alla Janine– Enjoy!
Recipe makes 2 pints.
Blend until creamy in Cuisenart
1 bottle/1 pint Lucini Olive Oil (this is my favorite oil)
6 cloves of crushed garlic
Add and blend until there are no more chunks of leaves
Leaves of 1 basil plant (about 4 C of stacked leaves)
Add and blend
1/2 to 3/4 C of chopped hazelnuts until nuts are no longer making the Cuisenart bounce, but leave rough — make sure you can still see very small nut pieces.
Add and briefly blend
3/4 to 1 C fine grated parmigiano reggiano cheese
Taste!
Add fresh ground salt and pepper and a little bit of fresh squeezed lemon.
Blend again.
As a pasta sauce use about 1/4 C of Pesto for 2 to 3 people. Cook pasta and drain, saving about a tablespoon of the hot pasta water in the bottom of the pan. Mix in the pesto and blend – it will turn very creamy. Add the pasta back into the pan and toss to coat. Serve right away with fresh ground salt and pepper, crushed hazelnuts and fresh grated parmigiano reggiano cheese on top! I think my favorite way to serve it, however, is to set it out as a dip alongside the salsa. It is wonderful with a good baguette or corn chips for an impromptu happy hour! I also find that most people who taste it like it much better than the original Pine Nut version!
I can and/or process my pesto. I love being able to have it in the middle of winter or to take to a friends house as a gift, but I cannot advocate canning or processing here because pesto does not have enough acidity in it to make it a viable candidate for home canning. Freezing is what is recommended by the WSU Extension Office.