Steel Cut Oat Risotto with Mushrooms and Kale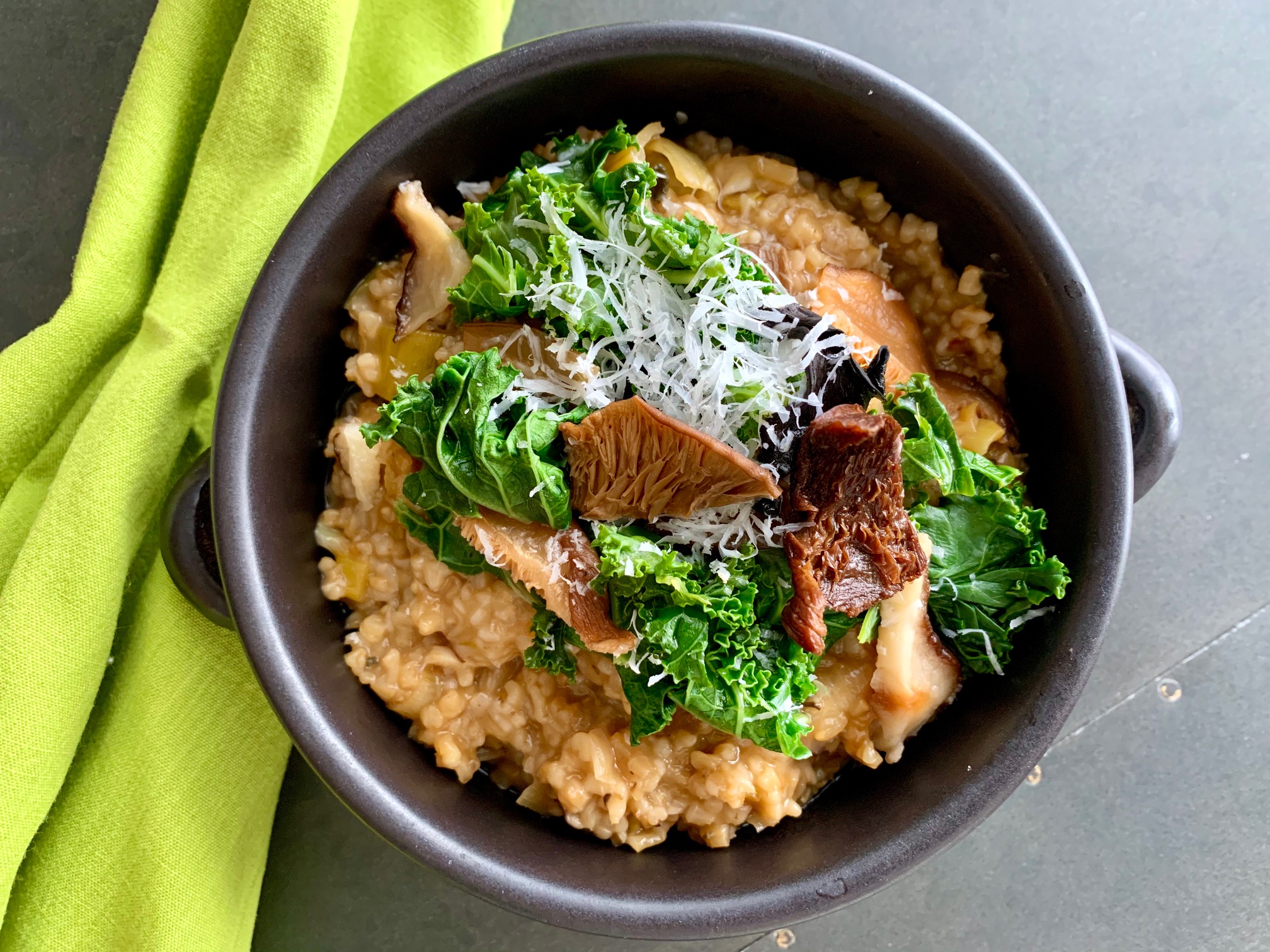 Being housebound can challenge even the most seasoned cooks, but if you are someone who has never cooked at home, or eats most of their meals out, the current situation could be very concerning for you. What would you cook during a mandatory quarantine, or if you just choose to not go out, and how should you stock up now for what may be coming later? 
Start by simply getting creative with what you have on hand: use up what you have in your fridge and freezer first. Stock up and plan ahead: get your pantry and emergency supplies prepared. Use this time to cook with your kids. They may be home from school and you can burn off some of that boredom by getting them involved in the kitchen. Go ahead and be adventurous: this may be just the incentive you need to try making bread for the first time.
March is National Nutrition Month, and in honor of St. Patrick's Day, here's a pantry meal that focuses on immune boosting foods like vitamin C, zinc, vitamin E and protein to keep you well. Steel cut oats are a good source of protein and fiber and this creamy Steel Cut Oat Risotto is a savory dish made using oats in place of the usual arborio rice, giving it the same toothsome texture but with added nutritional benefits. Satisfying, but meatless, you could also add beans or peas to further fill your plate. Or, make this as a side dish to add a little Irish fun to whatever else you might be having for dinner. 
Top it with mushrooms and kale (or spinach), or try roasted cauliflower, broccoli, carrots, Brussels sprouts, butternut squash, or pumpkin, depending on what you have on hand. Add some nuts or seeds: hemp, pumpkin, flax, sunflower, and chia are all high in zinc, as are pine nuts, cashews, pecans, brazil nuts, and almonds. 
You can use any kind of onion, as well as whatever kind of mushrooms you may have. I used both frozen and dried mushrooms, but you could substitute fresh or canned mushrooms. If using fresh, add them at the beginning and sauté them with the leeks. Canned can be added about halfway through the cooking process for the oats. You can use any kind of broth that you like, but to keep this vegan, use vegetable broth, and also omit the cheese. Fresh herbs are nice touch if you have them, but if not, dried will work just fine. This recipe serves 4, but I recommend doubling. Extra will reheat nicely and make another quick meal or side dish. 
Cooking at home is a concrete, achievable step you can take right now. Taking care of yourself and keeping your family healthy may be one of the most important things you can do not only for your own sake, but also for your community. Be well and enjoy tonight's dinner.    
Steel Cut Oat Risotto with Mushrooms and Kale
1/2 cup dried mushrooms (oyster, shiitake, porcini, black trumpet)
4 cups water

 

2 cups fresh kale

 

6 cups vegetable stock or broth (or use chicken or beef)
2 Tablespoons unsalted butter
1 leek, white and light green parts only, halved lengthwise, cut crosswise into thin

           

 

slices

 

1/2 teaspoon kosher salt
2 garlic cloves, minced
1 cup frozen shiitake mushrooms, thawed and drained
1 teaspoon dried thyme

 

1 teaspoon dried sage

 

1/4 cup dry white wine
1 cup steel cut oats (not quick cooking, can be GF)
1/4 cup grated Parmesan cheese, plus more for serving

 

freshly ground black pepper
2 Tablespoons chopped fresh parsley, for garnish

 
Measure dried mushrooms into a small bowl; cover with hot water and set aside. Bring 4 cups water to a boil in a medium saucepan. Add kale and reduce heat. Cook until softened, about 15-20 minutes; drain. 
While kale cooks, heat stock or broth in another medium saucepan over medium heat until just simmering. Reduce heat, but keep broth very warm. 
Melt butter in a heavy stockpot over medium heat. Add leeks and salt and cook 3 minutes, stirring frequently. Add garlic, thawed shiitake mushrooms, thyme and sage. Continue to cook and stir, about 7 to 8 minutes more. Add wine and cook 1 more minute, stirring constantly. 
Reduce heat to medium-low. Add oats and cook 1 minute, stirring constantly. Add 2 ladles of hot stock and stir, cooking until oats have absorbed almost all of the liquid. Repeat, continuing to add stock, 1 ladle at a time, and stirring frequently until oats are tender, about 25 minutes. (If you run out of broth before the oats are cooked to your liking, add water.) Add 1/4 cup Parmesan and stir. 
Drain mushrooms and rinse well. Add to kale in saucepan and quickly warm over medium heat. 
Spoon oat risotto into warm bowls. Top with kale and mushrooms. Finish with freshly ground black pepper and additional grated Parmesan. Garnish with parsley. 
– adapted from recipe as seen on foxeslovelemons.com