Spring Roll Chopped Salad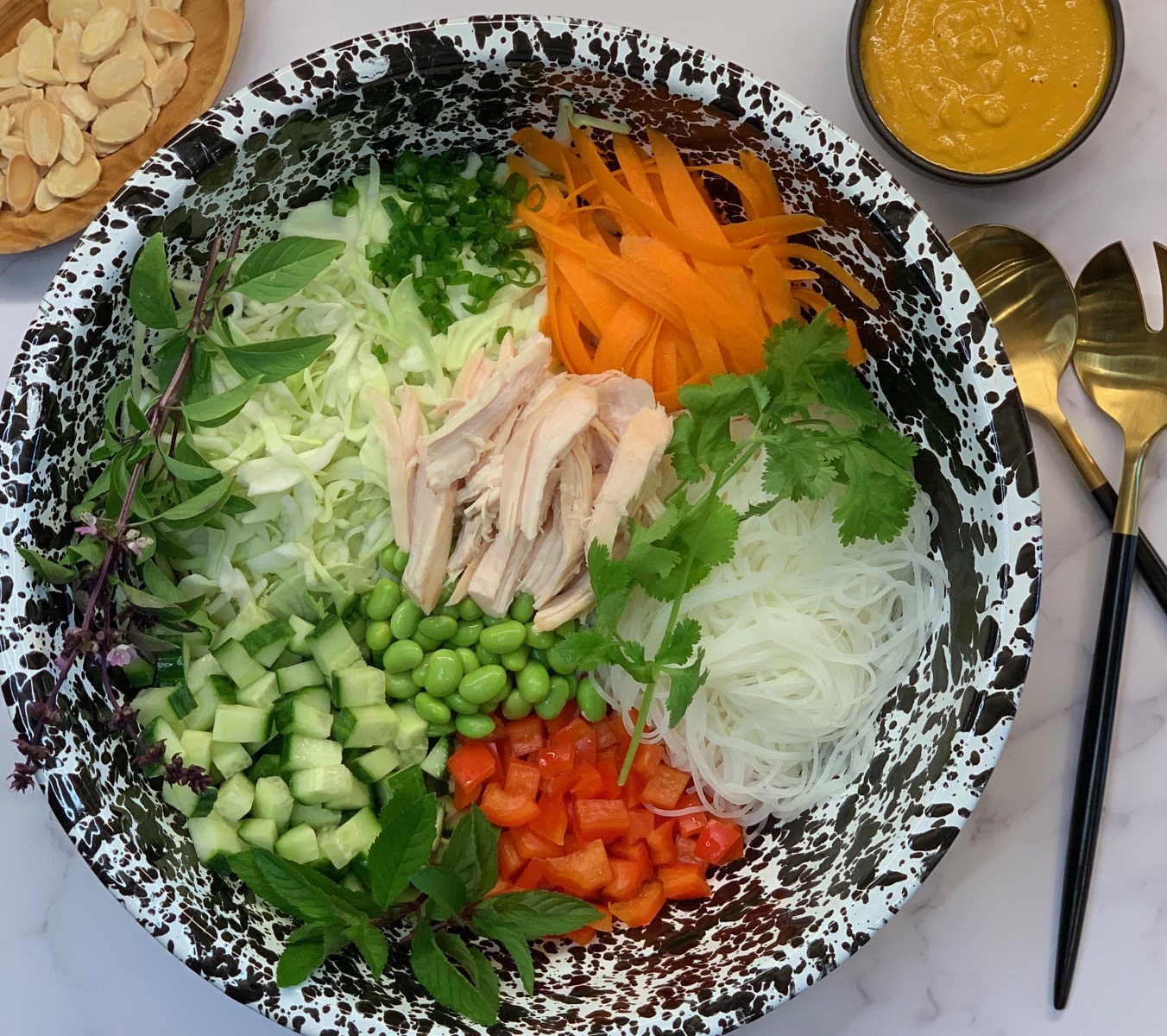 It's a sure sign of summer: outdoors you have sweltering heat, indoors it's school supplies and pumpkins. We've got our summer groove now, and there is plenty to do. Let's make something that lets you get out there and do it. We'll keep it cool, easy and speedy this week with this Spring Roll Chopped Salad. It's vibrant and refreshing, and once it's made you can pop it in the fridge, ready to go for whenever you need it. You'll get several speedy meals: desk lunch, picnic, road trip, potluck, or just a few chill dinners with no cooking. 
Start by making the dressing. My carrots were on the largish side, so I ended up using just three of them. You don't want to throw all the fiber and vitamins away, so don't waste time peeling. Just give them a good scrub. I used the tops of my green onions in the dressing because they're a little milder.  And why not use them, since you're already going to use the green part for the salad? Save some time and just roughly chop your ginger. It will become completely smooth once it's blended. 
The dressing called for avocado oil, but I used olive oil like I usually do. I swapped in tamari for the soy sauce to make this gluten-free, and I skipped the Sriracha because I didn't want my dressing to be spicy. I only used 1 tablespoon of maple syrup and I suggest you use less, too. And skip the salt, at least initially. You can always taste and add, but once it's in, it's too late.
Next, prep your salad ingredients. Use a food processor to shred your cabbage, or thinly slice it with a knife. Doing this yourself saves the most money, but buying it bagged and pre-shredded is perfectly fine, too. Use a vegetable peeler to make carrot ribbons, then chop your bell pepper, cucumber and cilantro, and slice your scallions.
Now cook your edamame according to package directions. If you use a spyder to remove your cooked edamame, you can cook your rice noodles in the reserved hot liquid. Let your noodles soak for almost all of the suggested amount of time, then test them. If they seem done enough, drain them and then transfer to a bowl of ice water to quickly chill them.
Using rotisserie chicken keeps this very easy, but you could use cooked shrimp or sliced flank steak as well. Or, add tofu with the edamame and make it entirely plant-based. Now for the herbs. If you have a garden, you probably have some fresh mint. My grandmother used to have fresh mint growing in her flower bed and I remember her pinching off a few leaves to put in her iced tea pitcher in the summer. I planted some, thinking of her, but now it has run amok, taking over an entire section of the garden. I will gladly incorporate it into any recipe I can. I also have lots of basil growing. Because I love the flavor of Thai basil so much, I always plant some of that variety, which I think is really good in this recipe. 
Your great summer needs a great summer salad and this one gets it done. Enjoy!
Spring Roll Chopped Salad 
Dressing
4 medium carrots, peeled and chopped
1/2 onion, chopped

 

1 1/2 Tablespoons chopped ginger

 

1/2 cup rice vinegar
1/4 cup soy sauce or tamari

 

6 Tablespoons peanut butter
3 Tablespoons maple syrup
2 Tablespoons avocado oil

 

1/2 Tablespoon Sriracha

 

1 teaspoon toasted sesame oil
1/2 teaspoon salt
Salad
 

2 1/2 cups shredded cabbage
1 cup shredded carrots

 

1 cup cooked edamame

 

1 red bell pepper, finely chopped
1 cup finely chopped cucumbers
1 cup chopped cilantro
1 cup chopped roasted almonds

 

1/3 cup chopped scallions
3 ounces rice noodles, cooked and chopped
2 cups rotisserie chicken, shredded
1/2 cup basil
1/2 cup mint
For dressing:
Add carrots, onion, ginger, vinegar, soy sauce, peanut butter, maple syrup, avocado oil, Sriracha, toasted sesame oil and salt to a blender. Blend until smooth. Set aside.
For salad:
Add cabbage, carrots, edamame, bell pepper, cucumber, cilantro, almonds, scallions, rice noodles, rotisserie chicken, basil and mint to a bowl and toss to combine. Add dressing then toss again until well coated. 
-Elizabeth Heiskell