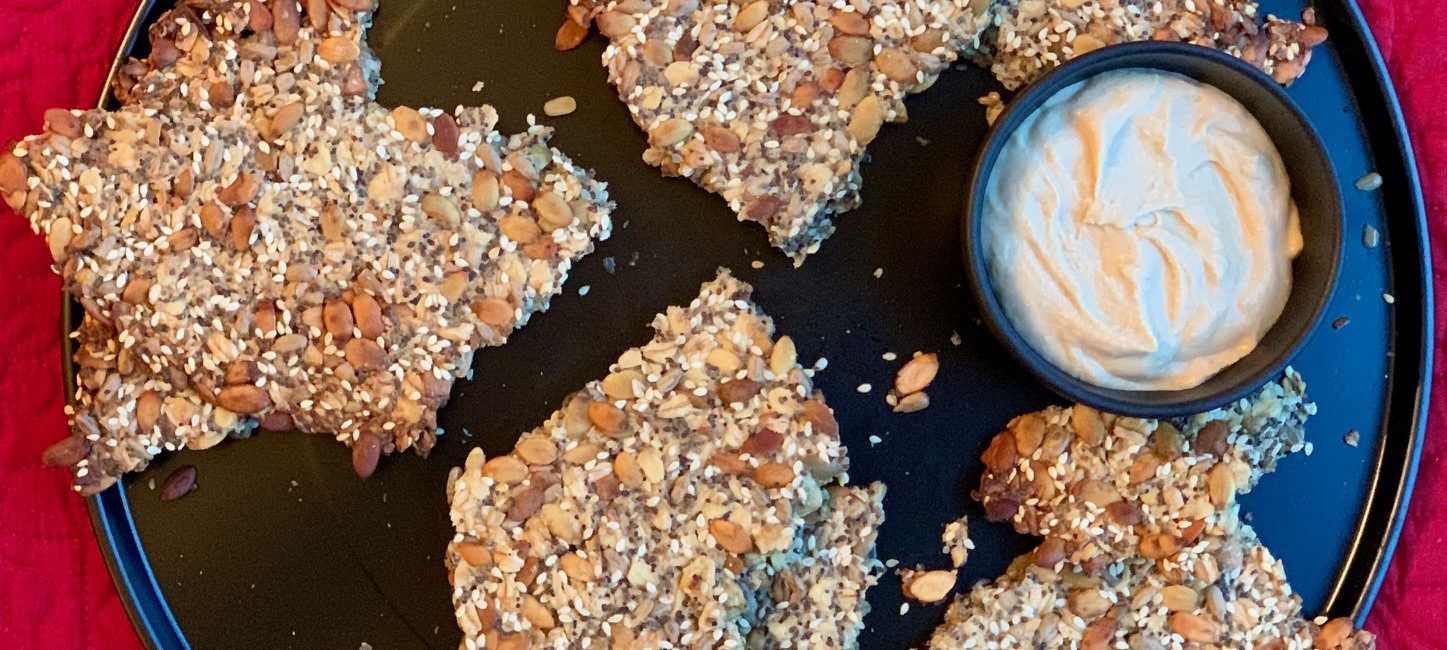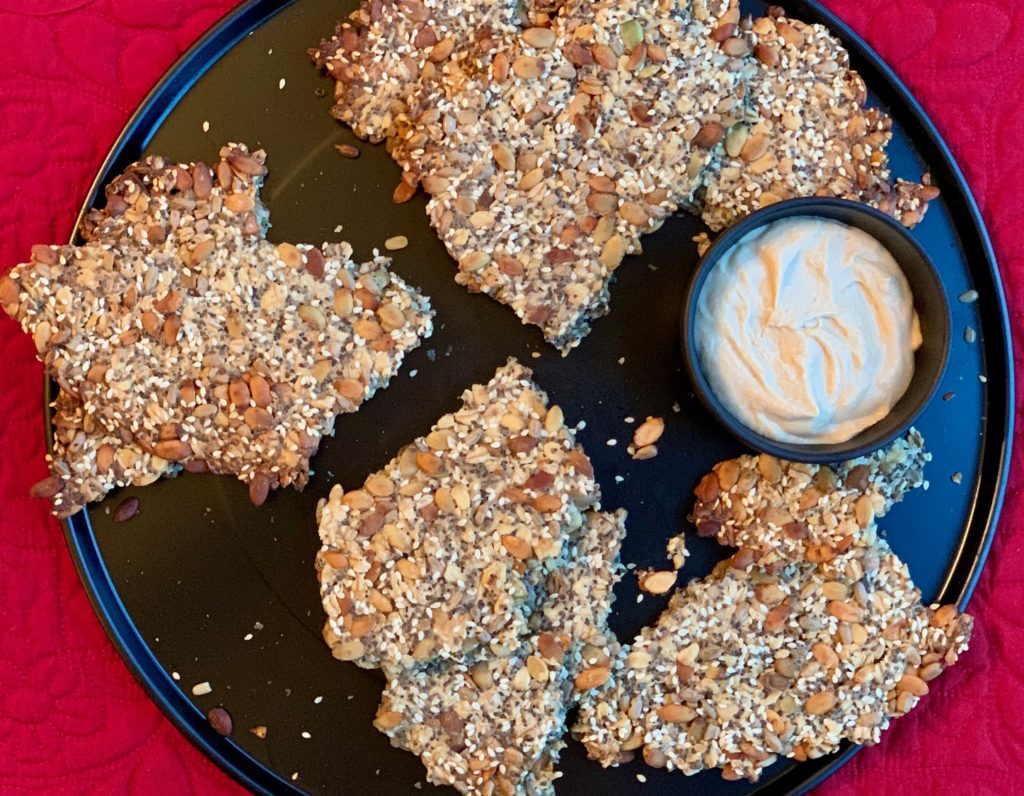 Don't wait another minute. The holiday season is here and it's all about the party bites. You don't need a big, fancy occasion to celebrate. Today is special enough.  So make yourself a festive drink, snag a cocktail napkin, and let's have fun! 
Kick off baking season with these easy to make, good for you crackers. Vegan and gluten-free, they have very little fat. Wholesome and delicious, the seed-oat combo is nutrient-dense and satiating, so they're perfect for snacks, too. Make them now, while things are still calm. The more you can do to get ahead, the better. They keep for 10 days and are a great hostess gift, or a nice little something to give with a gift card. Once you see how easy they are to make, you'll be making them again and again. 
The recipe is a simple one. You can change up the combination of seeds as you like, as long as the total volume stays the same. They roll out quickly and easily, and shape doesn't matter. They bake in one big sheet and you break them apart when they're done. Keep a close eye while baking. The crackers can brown quickly.
Seedy Oat Crackers
8 servings 
1 cup old-fashioned oats (use gluten-free, if desired)
3/4 cup raw pumpkin seeds
1/3 cup raw sunflower seeds
1/3 cup sesame seeds
3 Tablespoons chia seeds
3 Tablespoons poppy seeds
1 teaspoon kosher salt
4 teaspoons vegetable oil
1 Tablespoon pure maple syrup
3/4 cup room temperature water
Preheat oven to 375º F. Combine old-fashioned oats, pumpkin seeds, sunflower seeds, sesame seeds, chia seeds, poppy seeds and kosher salt in a medium bowl and mix together. In a small bowl, combine vegetable oil, maple syrup, and water and stir together. Pour over oat mixture and mix until soaked. Let sit 10 minutes to allow mixture to thicken. Form into a ball and transfer to parchment-lined baking sheet. Press another sheet of parchment paper on top of dough, then roll out to 1/8" thick. Remove top layer of parchment. Bake until golden brown around the edges, about 15-20 minutes. Remove from oven; carefully turn over cracker and remove parchment. Bake cracker on baking sheet until firm and golden brown on edges of other side, about 15-20 minutes. Let cool on baking sheet, then break into pieces. Store airtight. 
–bon appétit magazine, November 2016
This is my all-time favorite appetizer. It's a retro recipe from the 1960s – Mad Men era, when they had the greatest cocktail parties of all time.  I know this because I was there, even if it was only to get a peek at what the adults were doing before I was sent off to bed. As appetizers go, it hits the mark all around.  It's bite sized.  It won't goof your hands up.  It doesn't leak anything that will stain your outfit, and it doesn't require any dipping.  You can balance your drink and pop one of these in your mouth at the same time.  It's hot, which is key during these very cold months.  You pass it on a tray, waaaay fancy.  And, no one will ever guess what they heck they are, which makes for very good party banter.
Kraft Roka Blue has become very hard, if not impossible, to find. You can make your own substitute by combining 3/4 cup whipped cream cheese and 1/4 cup crumbled blue cheese in a small food processor, adding a teaspoon of water, if needed, to reach a spreadable consistency. You can lighten these up and make them healthier by using reduced fat, neufchâtel cream cheese and whole wheat bread, and brushing lightly with butter. 
Hold your drink in one hand, and hold one of these in the other.  They are fabulous, fun, and festive and just what you need for Christmas or New Year's.  Practice saying, "Have an hors d'oeuvre."  And keep a tray unbaked.  Label it  "375º – 13 mins." and tuck into the freezer, ready and waiting for what lies ahead.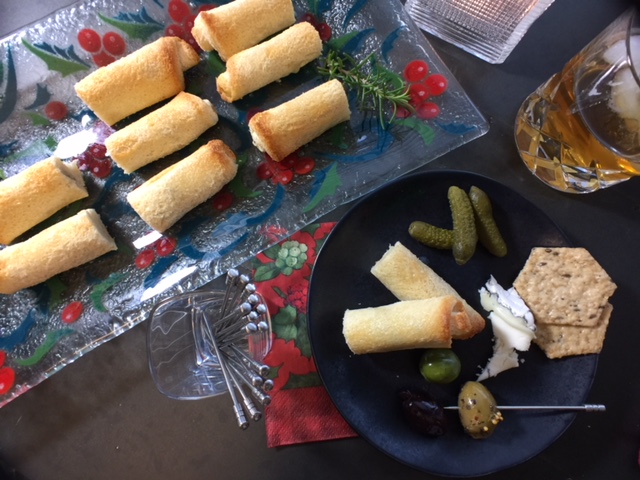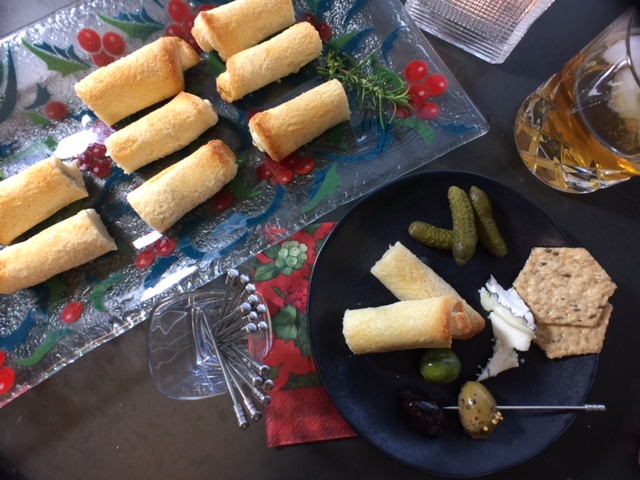 Retro Roka Blue Appetizers
4 tablespoons butter, melted
13 slices white sliced bread, crusts trimmed
1 – 5 ounce jar Kraft Roka Blue Cheese Spread
1/3 – 1/2 cup finely crumbled blue cheese (optional)
Preheat oven to 375º F.  Line a baking sheet with parchment paper and brush lightly with butter.  Flatten bread slices using a rolling-pin, both horizontally and vertically, pressing well until very thin.  Return flattened slices to bag to keep from drying out.  Working 2 slices at a time, spread Roka Blue in a thin layer over entire surface of bread taking care to spread cheese to all the edges.  Sprinkle cheese lightly with blue cheese crumbles if using.  Roll tightly lengthwise, cigar style, pressing and pinching while rolling to form a neat, tight roll.  Place seam side down on prepared baking sheet.  Repeat with other slices of bread, working two slices at a time, using rolling-pin to re-flatten any slices, if needed.  Brush rolls with melted butter.  Bake for 13 minutes, or until lightly toasted and golden brown.  Cut each roll into two halves.  Serve warm.