Peanut Butter And Chocolate Chickpea Cookie Bars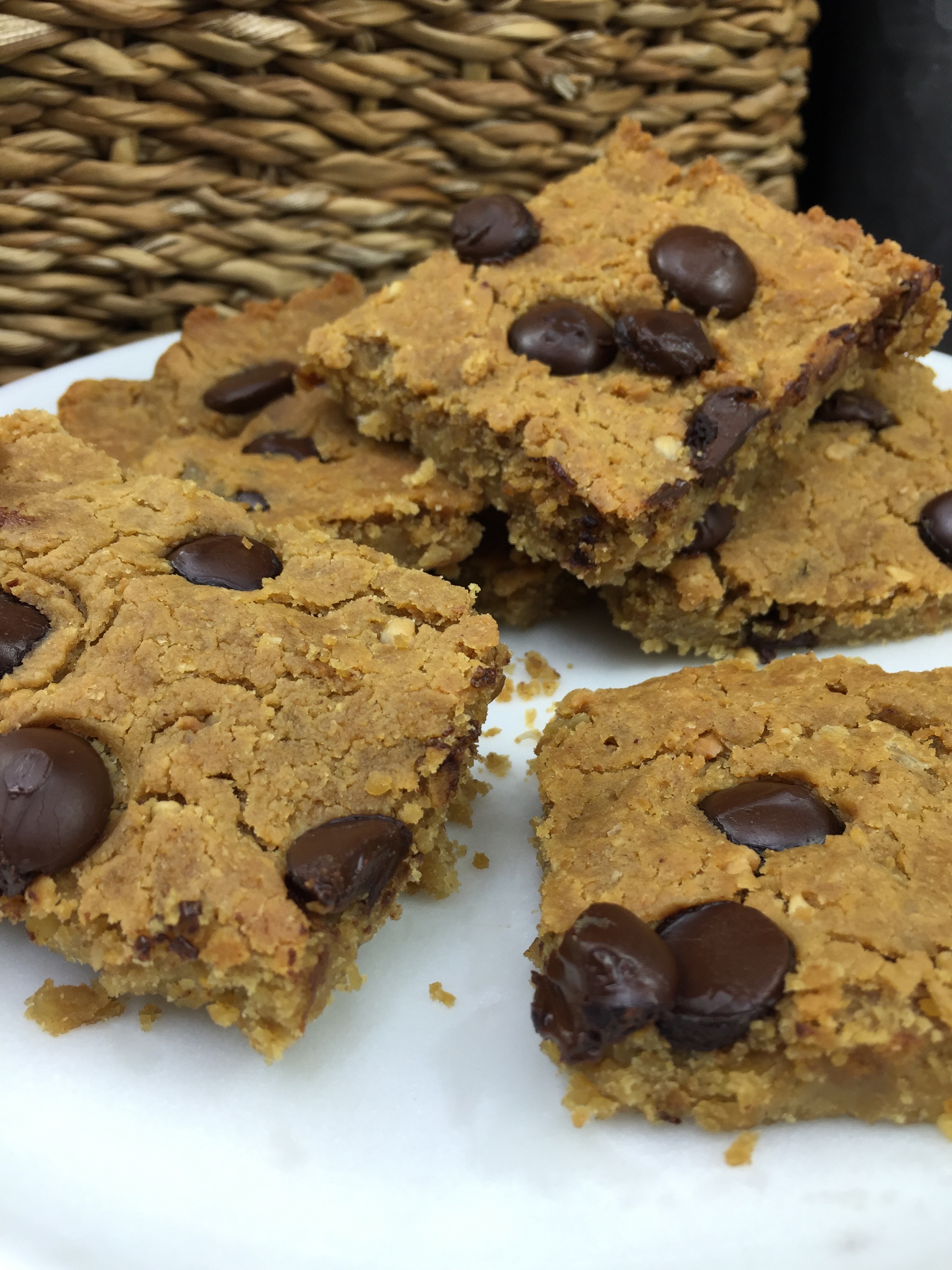 Oh, Canada!   I wanted to post something for Canada Day, but all I could find beforehand was something about stirring maple syrup into vanilla ice cream.  Not what I had hoped for.  And then along came this recipe.  The timing was too late, but it was just what I wanted.
This is a brilliant little recipe.  Be fearless and trust me. Most often, healthy substitutes are awful.  But not this one.  It is gluten free and vegan.  It is also more nutritious.  Fiber, protein, dark chocolate – need I say more?  Unlike other baked treats, it has no butter, shortening, flour or sugar.  It is fast and easy, and doesn't require a lot of ingredients or prep time.   Just toss everything in your food processor, and because you use a parchment lined baking dish, there is hardly any clean-up.  If you think your family will be skeptical about the chickpeas, don't tell them what's in there.  Just make a batch and let them sell themselves.
I made this over and over again, trying a few of the variations I saw online.  I tried making it with banana instead of maple syrup, and it was good.  I tried making it with stevia to make it sugar free, and it was also good.  (Put some maple flavoring in if you go this route.)  I used many cans of chickpeas, and tasted a lot of cookies, and I can tell you that maple syrup is the unequivocal, clear winner here.   It gives these a flavor unlike anything else you might add or try to replace it with, and relative to other things sweet, maple syrup is not at all bad.
You can adjust the maple syrup to your liking.  I ended up using 3 tablespoons, a lot less than the 3/4 cup the original recipe, from The Honor System, called for.  You can even fearlessly taste as you go.  No fear of salmonella from raw eggs, and no worries about eating uncooked flour (recently announced) either.  So if you are a cookie dough fanatic, rejoice here.  I also had good results using an 8 x 8 baking dish, as opposed to a loaf pan.  This gives you a 30 minute bake time, and nicely browned cookies.  You will know they are done when a toothpick inserted in the center comes out clean, and the surface is firm when you push on it with a fingertip.
A few more things I learned from those many cans of chickpeas…  You can skip the rinse step and  just toss in the chickpeas.  Chickpea liquid is okay.  It emulsifies, binds, gelatinizes, and thickens.  There is a whole weird science behind it and it even has it's own Facebook group.  French chef Joël Roessel is responsible for much of the hoopla, and you can read more about this recently named, Aquafaba, which now has its own website, aquafaba.com.  I have a serious amount of chickpea love, and that is how I know this.
This would be a great recipe to make with kids because it is so simple.  They can help do the measuring, push the button for the food processor, and help with the chocolate chip placement.   Putting the chips in by hand ensures that they get evenly spaced, and you probably won't need to use the entire 3/4 cup this way.
A great recipe for a way better for you cookie, and maple syrup is the winner.  Here's to you, Canada!  Try it and see for yourself.
Peanut Butter and Chocolate Chickpea Cookie Bars
1 15 ounce can chickpeas, drained
1/2 cup natural, chunky peanut butter
2 1/2 – 3 tablespoons maple syrup, or more, to taste
2 teaspoons vanilla
1/4 teaspoon baking powder
1/4 teaspoon baking soda
pinch sea salt
3/4 cups dark chocolate chips
Preheat oven to 350º F and line an 8 x 8 square baking dish with parchment paper.  Combine all ingredients, except chocolate chips, in a food processor or high speed blender and process until batter is smooth and looks like cookie dough.  Transfer batter to baking dish and press to edges so that dough is a uniform thickness.  Using clean fingers, press chocolate chips throughout.  Transfer to preheated oven and bake for 30 minutes, or until lightly browned.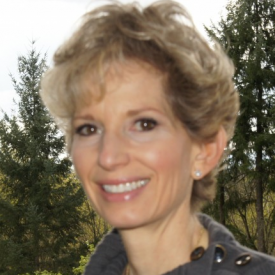 I love to cook, garden, and write about all the things in Vancouver and the Northwest that make life so great.