Oven Roasted Herbed Turkey Breast and Butternut Squash and Ricotta Bruschettas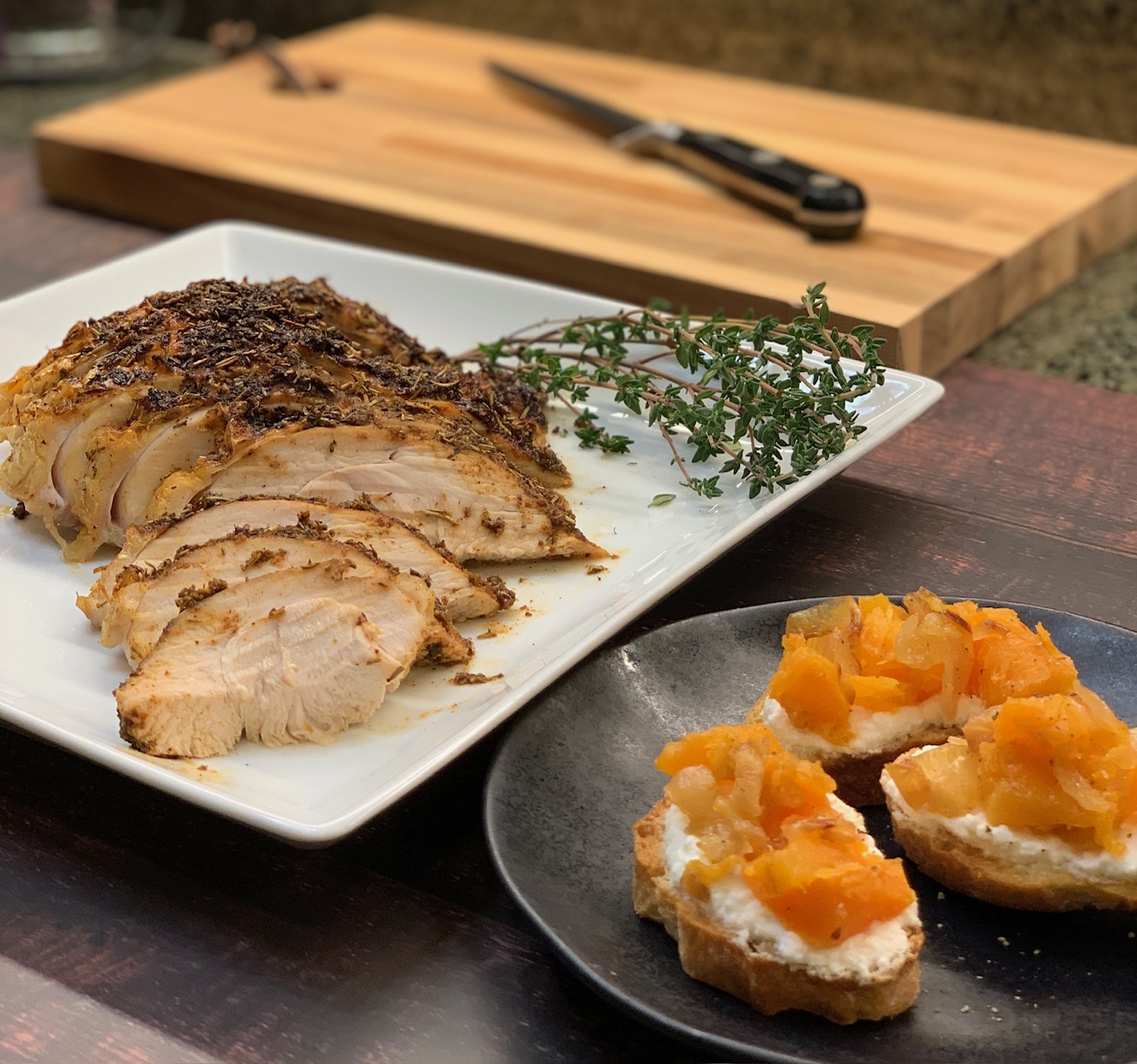 Ready or not, here come the holidays! It's time to gather, be grateful, and eat to your heart's content. It's a time to honor your family's traditions, make favorite dishes, and maybe try out something new. 
Every year I consider roasting a turkey breast, but something always holds me back. The vision of that big roasted bird and the feelings that go along with it are pretty strong. This year, I take the plunge. It's only the first week of November and I'm already giddy about not having to wash the dreaded roasting pan that only gets hauled out once a year. 
Maybe you want to roast a turkey breast in addition to the big bird, or possibly as an alternative. If your gathering is smaller, or you don't want the hassle, or like me, you dread the roaster, it's an option. Whatever your reasons, roasting a turkey breast couldn't be easier. 
This easy to make Oven Roasted Herbed Turkey Breast is delectably seasoned. Tender, juicy and crispy-skinned, it's a great alternative to serving a whole turkey. The seasoning blend is delicious, and I recommend you give it a try. But if you'd like to add a bit of sage, or some other mix of herbs that you like, go right ahead. I usually add a little more olive oil to the spices to make a looser paste to work with, and never bother with rubbing it underneath the skin, opting to just slather it over the top instead.
For the most flavor, go with a bone-in, skin-on breast. You can use a roasting pan if you like, but your turkey will also roast perfectly if you use a 9×13-inch pan. Plan on 20 minutes per pound, and there's no need to baste. Just pop your turkey in the oven and forget about it. Be sure to use your food thermometer. It will guarantee perfectly cooked meat every time and also verify that your turkey has reached a safe internal temperature of 165º F. 
I saw Ina Garten make these beautiful Butternut Squash and Ricotta Bruschettas last year, on the day before Thanksgiving. They looked so good, but it was too late because I had already gone to the store. I did not have ricotta or skinny baguette bread, but I did have a whole butternut squash that I felt too overwhelmed to deal with during the few remaining hours until dinner. 
Even though this is such a simple appetizer, it's warm and welcoming, and it's delicious. The creamy roasted squash and caramelized onion have a fall agrodolce vibe from maple syrup, cider vinegar and a splash of apple cider. You might like the roasted butternut squash component so much that it could be a side dish. Make this right now and freeze it, so that all you have to do is rewarm before serving. For vegan guests, leave the ricotta off or use a plant-based ricotta. 
Use pre-cut butternut squash to speed things along. I used olive oil spray to mist the squash before roasting, so I used a lot less olive oil. You can make the toasted bread rounds well ahead of time. Bake your bread as directed and let fully cool, then store airtight for up to 3 days. Reheat in a 350º F oven just before serving to warm and crisp. 
This is a great time to check all of your spices. You do not want to discover an empty bottle of cinnamon as you are baking your pie. Be sure you have waxed paper, aluminum foil, parchment paper, etc. as well as dish detergent, sponges and an extra pair of rubber gloves. You will go through an amazing amount of supplies without even trying and you don't want to start into those dishes and discover a new hole in your glove. 
Be thankful, be merry and be sure to enjoy this most wonderful time of the year!
Oven Roasted Herbed Turkey Breast
3 to 8 pound turkey breast
2 teaspoons paprika
2 teaspoons dried oregano
2 teaspoons dried rosemary, minced
2 teaspoons sea salt
1 teaspoon dried thyme
1/2 teaspoon black pepper
freshly ground black pepper
1 teaspoon onion powder
1 teaspoon garlic powder
2 Tablespoons olive oil, plus more if needed
Position an oven rack in the lowest position and preheat oven to 375º F. Place turkey breast skin side up on the rack of a roasting pan, or into a lightly greased 9×13-inch pan.
In a small bowl, stir together paprika, oregano, rosemary, sea salt, thyme, black pepper, several generous grinds of fresh black pepper, onion powder, and garlic powder. Add olive oil and mix to form a paste, adding a little more oil if needed to adjust consistency. 
Loosen the skin and spoon some of the spice mixture underneath, covering as much of the meat as possible. Rub the remaining spices over the top of the turkey breast to evenly season all of the meat. 
Transfer to preheated oven and roast for approximately 20 minutes per pound, until turkey reaches an internal temperature of 165º F when a thermometer is inserted in the thickest part of the breast. Remove from oven and cover loosely with aluminum foil. Let rest 15 minutes, then slice and serve. 
Butternut Squash and Ricotta Bruschettas
rustic country bread, sliced 1/2-inch thick

 

olive oil
1 pound butternut squash, peeled and 1/2- to 3/4-inch diced

 

kosher salt and freshly ground black pepper

 

1/8 teaspoon crushed red pepper flakes
2 Tablespoons unsalted butter
3 cups sliced yellow onions (2 onions)
2 Tablespoons apple cider vinegar
2 Tablespoons maple syrup
apple cider or apple juice
(give directions)
1 1/2 cups fresh ricotta

 
Preheat oven to 375º F. Arrange bread slices in a single layer on baking sheet, then lightly brush each side with olive oil. Bake for 5 to 7 minutes, then flip and bake an additional 5 to 7 minutes until golden brown. Set aside. 
Adjust oven to 425º F. Place squash, 2 1/2 tablespoons olive oil, 1 teaspoon salt, 1/2 teaspoon black pepper and red pepper flakes on a sheet pan, toss lightly and spread out in one layer. Roast 25 to 35 minutes, until very tender and starting to brown on edges, tossing once with a spatula during roasting. Set aside.
Meanwhile, warm butter and 2 tablespoons olive oil in a medium (10-inch) sauté pan. Add onions and cook over medium to medium-low heat for 12 to 15 minutes, tossing occasionally, until golden brown. Add vinegar and maple syrup and simmer for 4 to 6 minutes, until liquid is reduced. Add squash to sauté pan with onions and mash lightly with a fork. Add a few tablespoons of apple cider to moisten. Taste for seasonings and reheat over low heat, if necessary.
To assemble, spread a thick layer of ricotta on each toast slice and spoon the squash mixture on top. Sprinkle with salt and serve warm.