"One Banana Only" Banana Bread Muffin Tops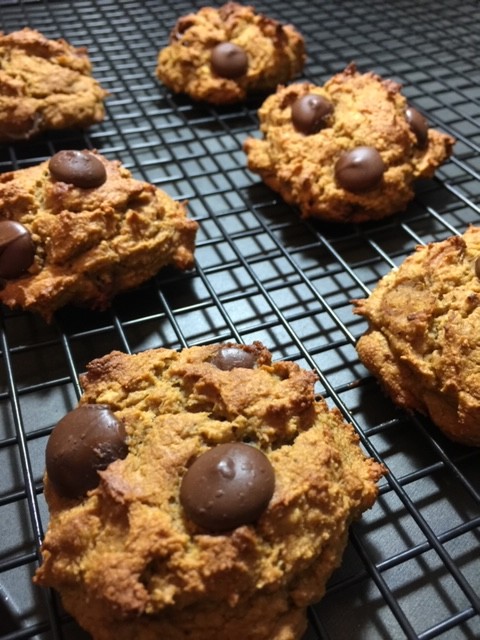 February 17th is Random Acts of Kindness Day, a day set aside to remind and encourage us to do those little things that make this world a better place.   It can be as simple as holding a door open for someone, or letting a car merge in.  Or noticing that the shopper behind you has one item and letting them go first.  Or paying it forward in the drive thru and picking up the tab for the car behind you.  These little acts of kindness might seem small, but they are not insignificant.  You can never know how much your kindness may help someone or what it may mean to them.
Sometimes a random act of kindness happens when you need it most, and I personally feel that Vancouver is very good at this.  I have had a kind stranger help me get into my locked car in the Orchard's Fred Meyer parking lot.  I've been behind a car who drove off in the Starbuck's drive through and paid ahead for our order.  I had engine trouble one day, and three people pulled over to help.  And one Christmas Eve not too long ago, the good people of Dutch Bros. handed a middle of the night coffee order out the window and refused payment, even before they knew that it was headed back to the Emergency Room at PeaceHealth.  I have had total strangers literally appear out of nowhere to help me so many times that it almost brings tears to my eyes.  This is random kindness.  And this is what we all need to do.
Here's a little something you can make and take to a friend, or maybe you've got a kid, or a husband, who could use a little kindness right now.  It is fast, easy, and because this recipe is grain, gluten, diary, and could be nut, free, and has no refined sugar, I am calling it healthy.  Plus, it has chocolate, and you can never go wrong with that.
Being serious about reducing food waste, this recipe caught my eye.  It nags at me when I notice one poor banana languishing in the fruit basket, growing riper by the minute while life goes on around it.  If this happens to be you, this "One Banana Only" Banana Bread Muffin Top from fellow food blogger Samah Dada is what to make, and I suggest that you think about sharing it with someone who could use a little cheering up.
I swapped out the almond flour with peanut powder to make them tree-nut free, and also used peanut butter for this same reason.  Because that one ripe banana was so sweet, I only used 1 tablespoon of maple syrup and felt like that was enough.  Also, I omitted the coconut oil altogether, which in all honesty, was an accident.  I was not paying full attention while I was making these. I measured and melted the coconut oil and set it aside to cool, but then got interrupted several times.  As they were baking in the oven, I noticed the small bowl of coconut oil on the counter.  I worried, but they came out just fine – warm, soft, and a bit toasty on top… just what you need to brighten someone's day.
"One Banana Only" Banana Bread Muffin Tops 
1 ripe banana
2 tablespoons maple syrup
1/4 cup almond flour (or peanut powder)
1/4 cup coconut flour
1/2 tablespoon coconut oil, melted and cooled
2 tablespoons creamy almond butter or peanut butter
1 egg
1/4 teaspoon baking powder
1/2 teaspoon baking soda
1/8 teaspoon salt
1/4 cup chocolate chips
Preheat oven to 350º F. and line a small baking sheet with parchment paper.  Mash banana in a medium bowl, then add beaten egg, almond (or peanut) butter, and melted and cooled coconut oil.  In a separate, small bowl, whisk together almond (or peanut) flour, coconut flour, baking powder, baking soda, and salt.  Combine ingredients by adding dry to wet.  Fold in chocolate chips.
Form batter into muffin tops adding extra chips to tops, if desired.  Bake for 15-20 minutes, until edges are golden brown.  Share with someone else and pass on a little kindness.
– recipe by Samah Dada, dadaeats.com 
If making someone dinner is more your idea of a random act of kindness, here is another recipe, easy to make in your Instant pot, and perfect for sharing with someone who could use a little TLC.  I adapted it from a slow cooker recipe from a dear friend who I will never forget because she made this amazing Chicken and Dumplings for me when I was sick:  a random act of kindness I remember to this day.
The world can be a rough place and we could all use a little more of this.  So get out there.  Go forth and spread as much kindness as you can, not just on kindness day, but every day.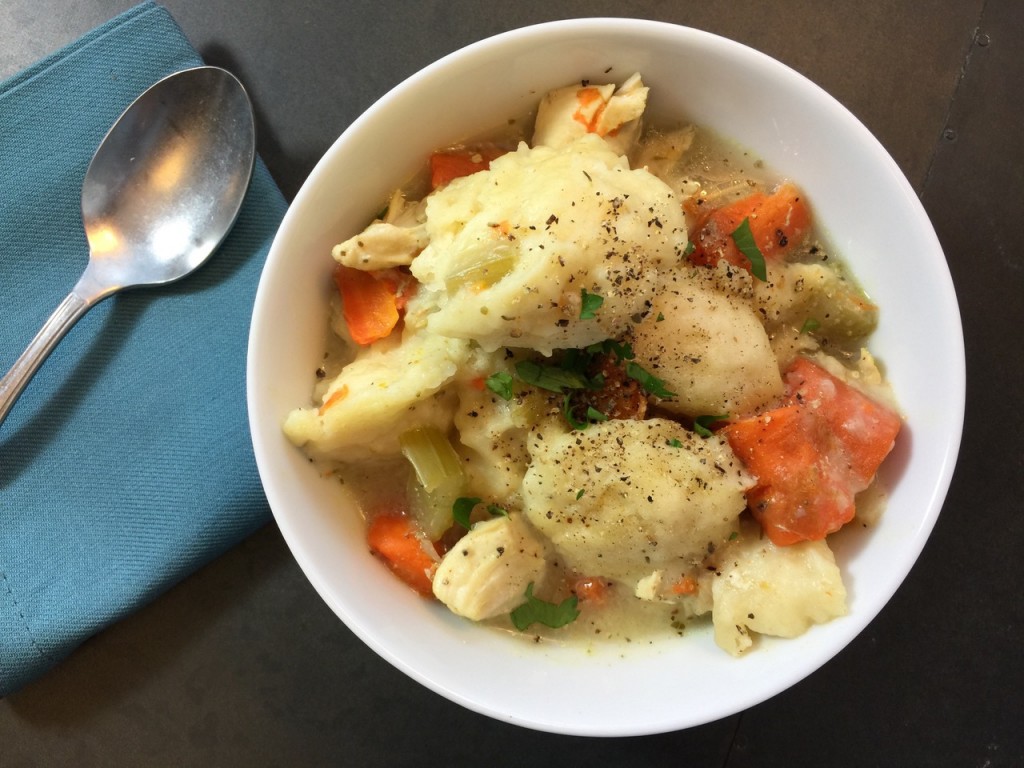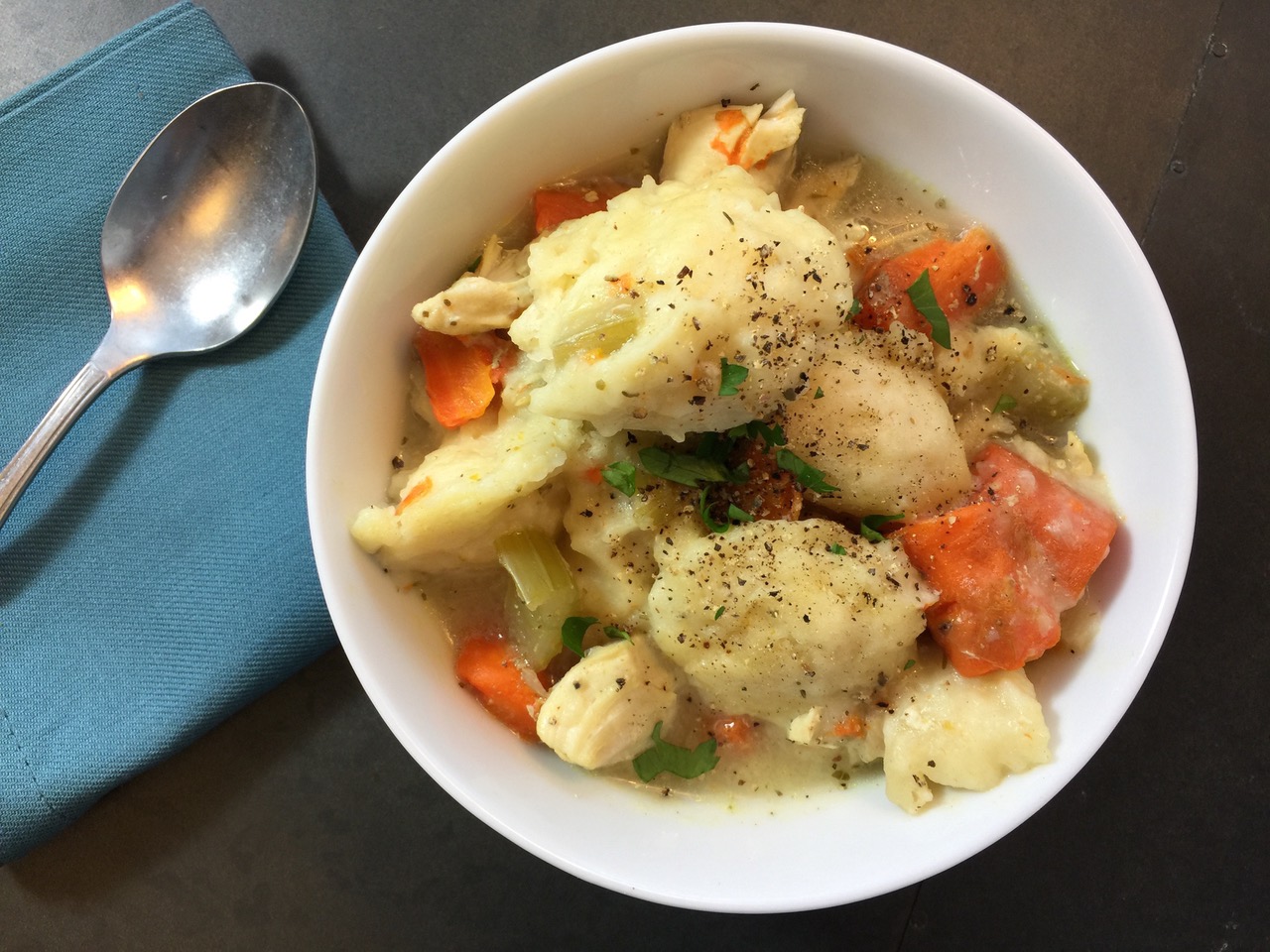 Instant Pot Chicken and Dumplings
1 tablespoon butter
1 cup chopped yellow onion
1 teaspoons poultry seasoning
1/2 teaspoon salt
1 cup chopped celery
1 cup chopped carrots
2 cups chicken broth
1 lb. boneless, skinless chicken breasts, cut into 1 inch pieces
for dumplings:
1 cup flour
1 1/2 teaspoons baking powder
1/4 teaspoon salt
1 tablespoon butter
1/3 cup milk
In a 6-quart Instant Pot, select sauté; adjust to normal.  Add butter to insert and melt.  Add onions, poultry seasoning and salt, cooking 6 to 8 minutes, stirring occasionally, until softened.  Select cancel.  Add celery, carrots, broth and chicken.  Secure lid and set pressure valve to sealing.  Select manual;  cook on high pressure 2 minutes.
While chicken cooks, make dumplings. Combine flour, baking powder and salt in a small bowl.  Add butter and use a fork or pastry blender to cut in, until mixture resembles fine crumbs.  Add milk and mix until soft dough forms.
Select cancel.  Set pressure valve to venting to quick release pressure. Remove lid and drop dumpling dough by spoonfuls onto surface of simmering stew.  Cook uncovered for 10 minutes, until dumplings are cooked through and liquid thickens.
– adapted from Instant Pot Chicken and Dumplings, pillsbury.com
You can use frozen chicken tenderloins and skip having to cup your chicken into pieces before you cook it.
2 teaspoons of Organic Reduced Sodium Better Than Bouillon Chicken Base dissolved in 2 cups of water can be used in place of the chicken broth.
Make gluten-free, grain-free, dairy-free dumplings by using almond flour, baking powder, salt and coconut milk (no butter).
Stop peeling carrots! Most of the nutrients are in, or just below, the skin. Give them a quick scrub and rinse and you'll save time, get more nutrients, and eliminate food waste.
Want more veggies?  Add some frozen peas, green beans, or some mixed vegetables.  You can heat them separately in the microwave and stir them in before you add the dumplings
And, perhaps the most perplexing problem with the Instant Pot?  That funny smell that remains in the lid after washing.  Here's how to fix that, as well as some other really great uses for white vinegar.