Oh, Kale! – Searching for a lost Irish recipe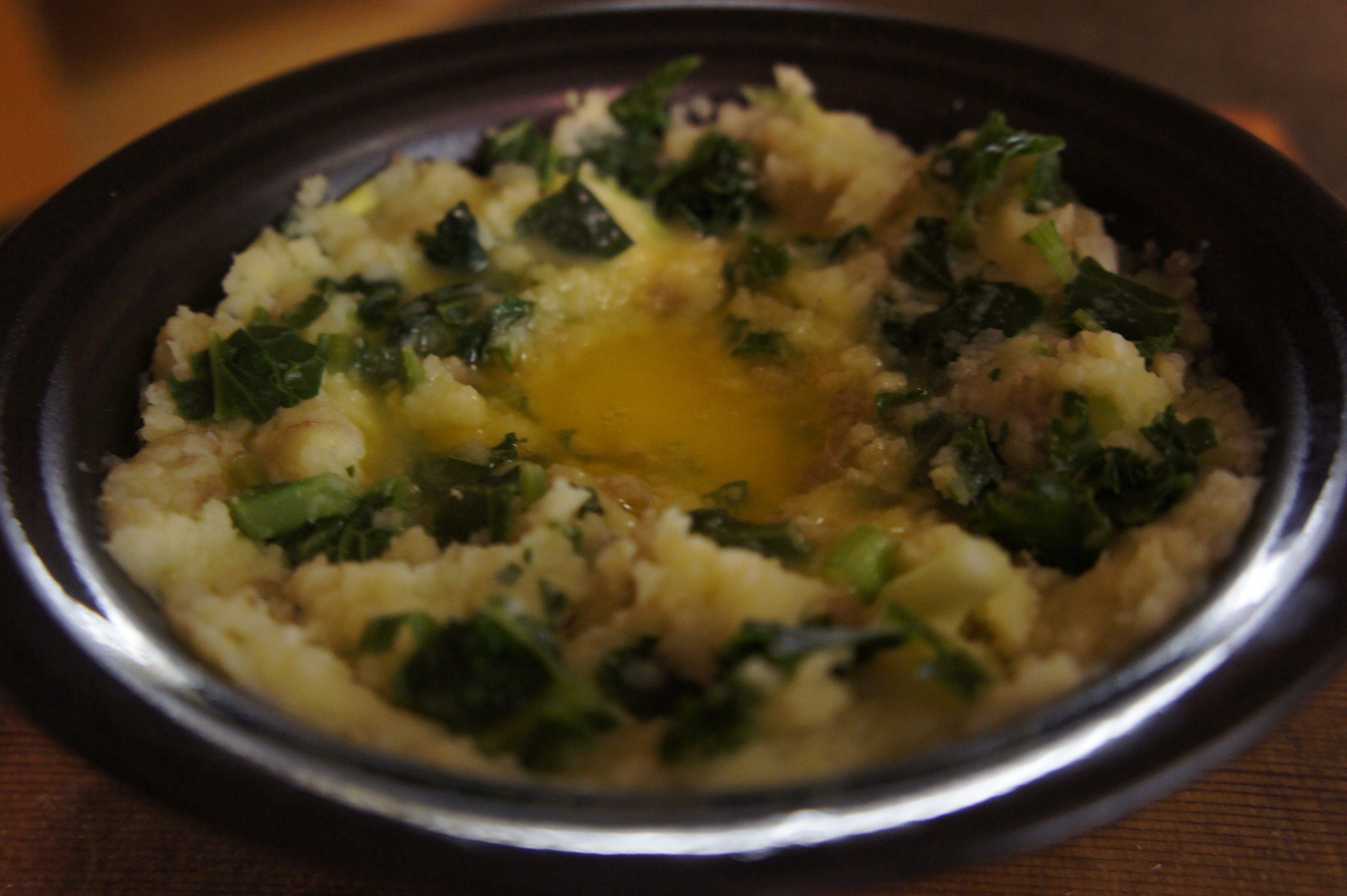 This was supposed to be a blog extolling the nutritional virtues of kale, and a shameless attempt for me to convince you to buy some frozen.  Ever since discovering it among the frozen vegetables, it has had a place of honor in my freezer.  This makes it fast and easy to add into all sorts of things.
Some things you can do with frozen kale:
add to scrambled eggs, omelettes, or any egg-type dish
stir into soups or stews
use in your smoothie
add to pasta or rice dish
add to stuffings
put into casseroles
mix into meatloaf or meatballs
stir into dips
And then I remembered the Irish potato dish that I made back in 1984.  I used frozen kale when I made it, but that was only because you really couldn't find it fresh, at least not at my small-town grocery store.
I have loved cooking for a long time and have recipes organized in all sorts of ways.  As much as I love the ease of searching for recipes on the internet, a major downfall is that sometimes the recipe you remember so well just doesn't exist.  When I tried to find this particular recipe, there was no trace of it.  I ended up digging through a very old box of recipe files and lo and behold, I still had it.
This recipe is perfect for St. Patrick's Day.  Obviously, because it is mostly potatoes, but also because the kale and leeks give it colorful flecks of green.  Colcannon is a traditional Irish dish that is usually served on Halloween.  A ring is sometimes hidden inside and according to legend, whoever finds it will be married within the year.  I can't remember if I found the ring in mine, but I did meet my husband about 6 months later.  Hmmm…
Here is the recipe as it originally appeared in the March 1984 issue of Bon Appetit.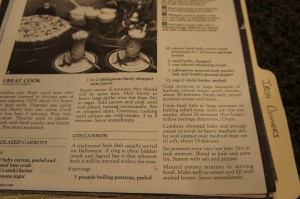 Colcannon
8 servings
3 pounds boiling potatoes, peeled
18 ounces fresh kale, cored (veins trimmed) or 1 10 ounce package, frozen
2 small leeks, chopped
1 cup (about) whipping cream
1 T. minced fresh parsley
Salt and freshly ground pepper
1/2 cup (1 stick) butter, melted
Cook potatoes in large saucepan of boiling salted water until tender, about 30 minutes.  Drain well; return potatoes to pan to mash.
Cook fresh kale in large saucepan of boiling salted water until soft but not mushy, about 20 minutes.  (For frozen, follow package directions.)  Drain.
Combine chopped leeks and enough cream to cover in heavy medium skillet and simmer over medium heat until soft, about 15 minutes.
Set potatoes over very low heat.  Stir in leek mixture.  Blend in kale and parsley.  Season with salt and pepper.
Mound potato mixture in serving bowl.  Make well in center and fill with melted butter.  Serve immediately.
Note: 
Made exactly as directed, this recipe is delicious, but admittedly, not very healthy.  The recipe I made for the photo was lightened up by boiling the potatoes (I used Yukon Gold, skins on) in Knorr reduced sodium chicken bouillon base, and simmering the leeks in reduced fat half and half.  Two tablespoons of melted butter is enough to make a nice effect in the well on top.  Quite honestly, the lightened up version was just as delicious as I remember the original one to be.  And a good way to eat some kale!
Kale is a nutritional powerhouse.  It is high in vitamins K,  A, and C, fiber and carotenoids, and contains 45 different flavonoids with a variety of antioxidant and anti-inflammatory effects.  It has been shown to lower cholesterol and may reduce the risk of certain types of cancer.  A new laboratory study also found that kale extract inhibits the production of existing colon cancer cells. The fiber in kale can aid digestion in general, and eating kale revs up your body's natural detoxification ability.  Try it.  You'll like it.