Morning Glory Baked Oatmeal and Tahini Pistachio Granola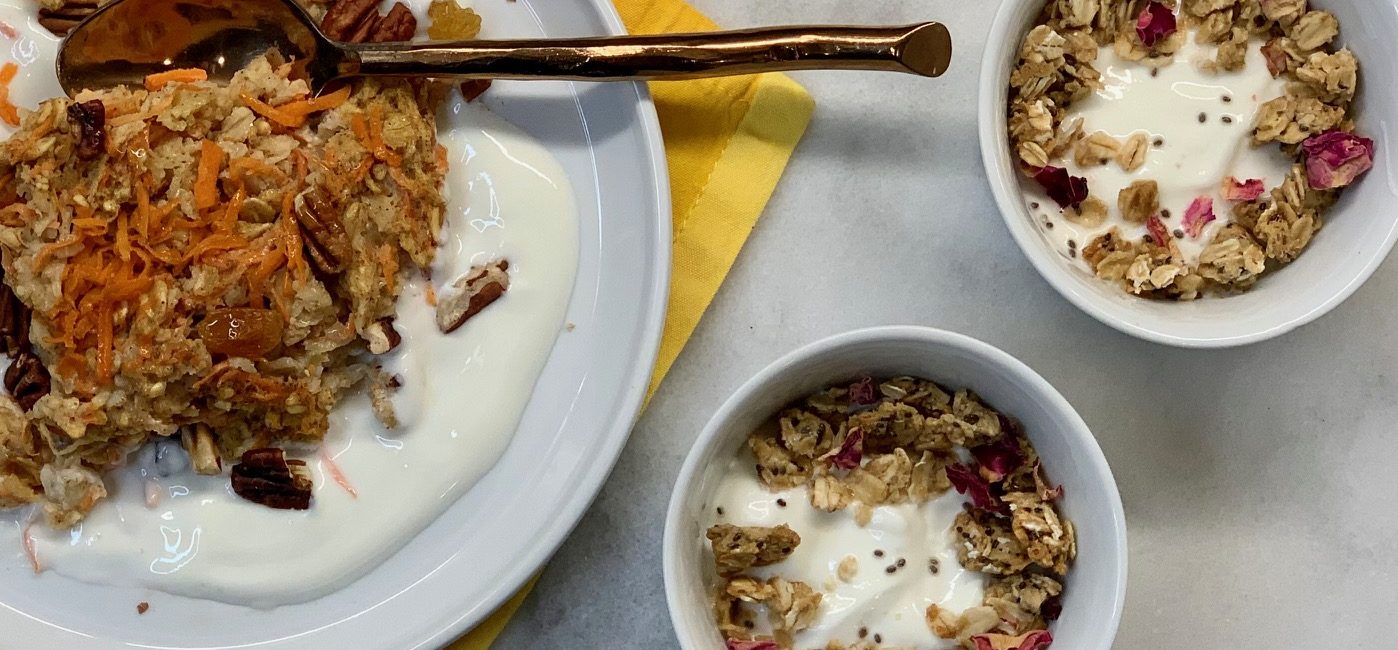 January is National Oatmeal Month. Whether you are eating oats for their heath benefits, or because they are so economical, nothing beats a bowl of oatmeal to make you feel warm and cozy on a drizzly winter morning. According to Quaker oats, more oatmeal is eaten in January than in any other month. Here are two recipes to change up your routine. Make them both and you can use the granola to top your baked oatmeal with, which is doubly delicious. 
Morning Glory Baked Oatmeal is inspired by the ever popular muffins from the seventies created by Pam McKinstry, owner of the Morning Glory Cafe on Nantucket Island. It's a winning combination of hearty, sweet, and healthy ingredients that will get your day off to a glorious start. Unlike regular oatmeal that can be bland and mushy, this one has bakes up thick and gives you portions that are hefty and satisfying. Loaded with grated carrot and apple, it has taste and texture, getting its sweetness from orange juice, raisins and a bit of maple syrup instead of refined sugar. Two kinds of oats, rolled and steel-cut, give it an extra punch of fiber.
I reduced the maple syrup to 1/4 cup, but you could omit it altogether. The apples, carrot, raisins and orange juice make it satisfyingly sweet without being overly so. Variations are endless, but keep the mix-ins nourishing. Use seeds in place of nuts, add some shredded coconut or sweet potato to the mix, improvise with crushed pineapple, chopped dates, or a sprinkle of cardamom. Add another egg and you can even make a handheld, portable version of this flexible, delectable recipe.
To make this vegan, skip the egg, which just adds structure, and use any kind of alternate milk that you like, and vegan butter. You can add a tablespoon of flax seeds instead, which I like doing anyway in order to boost the fiber. This recipe will keep well for up to 5 days, so you can bake this ahead, then cover and refrigerate it, so it's ready to go for the week ahead. When you need a quick breakfast, just spoon out a serving, add a splash of milk, and reheat it in the microwave. 
Granola fans, get your spoons out. This Tahini Pistachio Granola bakes in just 15 minutes, versus the 45 minutes to an hour it takes for most homemade granolas, plus, there is no added oil or butter. All of the toasty, crunchiness you love comes from the tahini. You can riff to your heart's delight with this recipe. Swap peanut butter, or any other nut butter that strikes your mood, in place of the tahini. Add dried fruit or dark chocolate. Feeling fancy? Add rose petals. Be sure to watch closely after the 10 minute mark to prevent burning. Eat this with your favorite yogurt or milk, in a smoothie bowl or parfait, as an on-the-go breakfast in a jar, or by the handful as a snack.
Morning Glory Baked Oatmeal
3 Tablespoons melted unsalted butter, plus more at room temperature for pan
1 large egg
zest of 1 orange
1/2 cup fresh orange juice
2 cups milk
1/3 cup maple syrup
1 teaspoon vanilla extract
1/2 teaspoon kosher salt
1 teaspoon ground cinnamon
1/2 teaspoon ground ginger
2 cups old-fashioned oats (can be gluten-free)
1/2 cup steel-cut oats (can be gluten-free)
1 cup grated apple (about 1 medium)
1 cup grated carrot (about 1 large)
1/2 cup golden or other raisins
1 teaspoon baking powder
1/2 cup chopped pecans, plus more for serving
heavy cream or milk of choice

 
Place rack in middle of oven and preheat to 375º F. Butter and 8×8" ovenproof baking dish. Whisk egg in a large bowl, then add orange zest, orange juice, milk, maple syrup, melted butter, vanilla, salt, cinnamon and ginger and whisk to combine. Add old-fashioned oats, steel cut oats, apple, carrot, raisins, baking powder, and 1/2 cup pecans; stir together to combine. Pour into prepared baking dish and top with more pecans. 
Bake until top is golden brown and oatmeal has puffed up a bit, about 40 minutes. Remove from oven and let sit 5 minutes. Serve warm with a drizzle of cream or milk on top. 
Tahini Pistachio Granola
1/2 cup well-stirred tahini
1/3 cup maple syrup
1 teaspoon vanilla extract
1/4 teaspoon fine sea salt
2 cups old-fashioned rolled oats (can be gluten-free)
1/2 to 1 cup shelled raw pistachios (or other nut or seed)
2 Tablespoons chia seeds
Heat oven to 350º F with a rack in the center. Line a sheet pan with parchment paper or a silicone baking mat. Combine tahini, maple syrup, vanilla and salt in a large mixing bowl and stir together until smooth and evenly combined. Stir in oats, pistachios and chia seeds. 
Spread oat mixture onto the sheet pan in an even layer. Bake for 10 minutes, then remove from oven and stir. Return pan to oven and bake 5 to 10 minutes more, until granola is dry and golden brown, watching carefully so that edges don't burn. 
Let cool completely to allow granola to crisp, about 20 minutes; break into clumps. 
–food52.com, recipe by Jenné Claiborne