Meatless Meatballs and Southwest Sheet Pan Dinner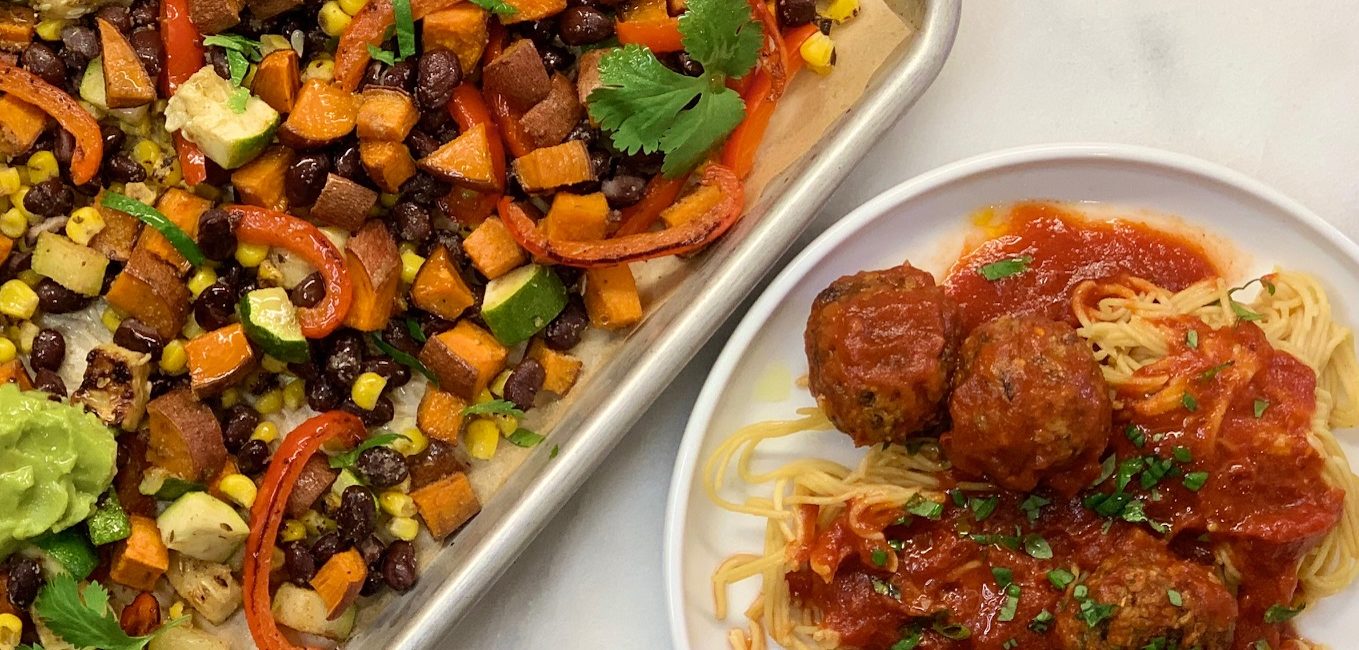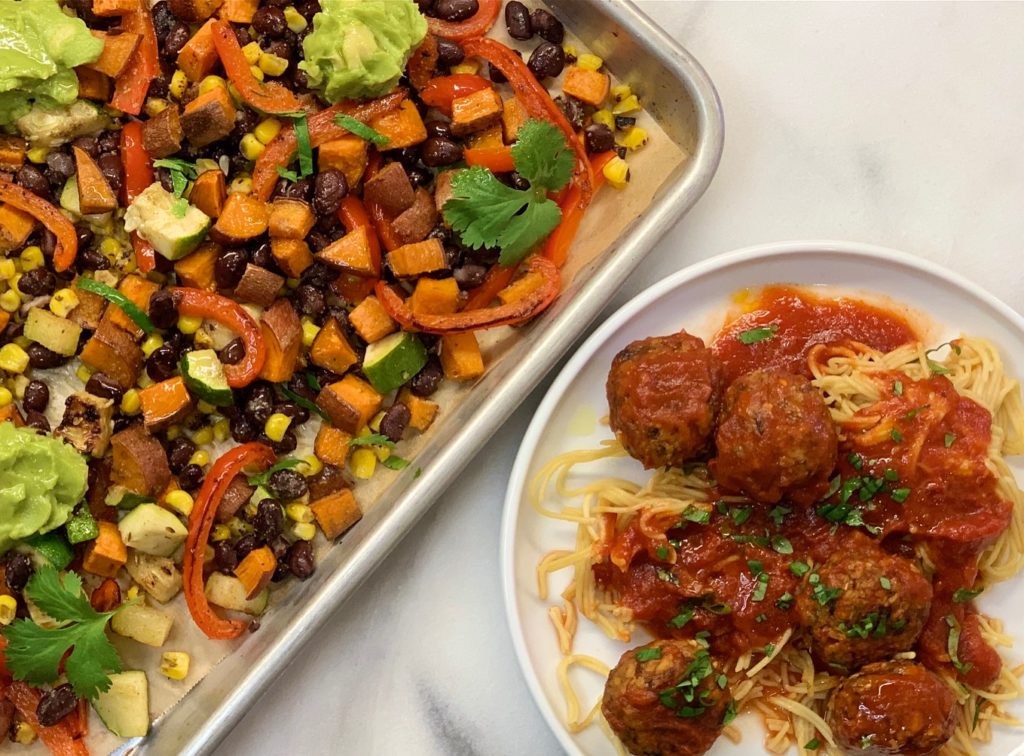 When it rains, it pours. It seems that one misadventure tends to lead to another and if it can go wrong, it will. This week, as we were reveling in a finally fixed furnace, my computer let me know it was over. Then we left to run a quick errand, the computer still unresolved, and were treated to a flat tire. Arriving home many hours later than expected, it was time for dinner and my original plan for that night quickly dissolved, taking my desire to cook right along with it.
Life seems to be putting us on plan B more often than plan A, throwing any number of curveballs at us, sometimes multiples all at once. There are so many variables you have little to no control over, you need to fix and stabilize the ones that you can. I don't know what your misery is, but I can feel your pain. Just like planning for an emergency, you need to plan your meals. I don't mean a day by day dictum, but rather just some ideas. We all know that the night you defrost fish for dinner is the night the power goes out, or you suddenly end up in a Zoom clinic while your fish waits at home in the fridge. When life hands you lemons, you can't make lemonade unless you have sugar and a fresh tray of ice cubes. Be ready to adapt, but be prepared. Just like dressing in layers that you can put on or take off if needed, have a food plan that shifts to suit whatever happens. Because it will. 
On a night when you just can't stand the thought of cooking, or dishes are too much to bear, a sheet pan dinner is magic. Just toss everything on one cooking surface and let the oven do all the work. Here are two veggie forward recipes, both prepared on sheet pans. There are just a few fresh ingredients, but the rest are mostly things you might have on hand.
This Southwest Sheet Pan Dinner with sweet potatoes, black beans and roasted veggies is an easy, healthy dinner you can make in under an hour. Once you dice the sweet potatoes and slice the veggies – just about 10 minutes of prep time – everything cooks in the oven. You can enjoy this as is, or use it to fill tacos or stuff burritos. Top with an egg, serve alongside scrambled eggs, add it to a grain bowl, or use it to top a salad. This easy veggie entree, tucked away in your fridge, is a life saver.  
Save time and leave the peel on your sweet potatoes. You'll get fiber and antioxidants and you don't need to do a thing. Just be sure to scrub your potatoes thoroughly with a clean produce brush to remove any dirt before you dice them. I used a bag of frozen fire roasted corn for added flavor because I happened to have one on hand, but you can use fresh corn if you like. 
Next, some Meatless Meatballs that are full of flavor. They are so good, I promise you will be surprised. Roasting the eggplant and mushrooms gives them satisfying meaty texture while the sheet pan prep keeps them easy on you. I used 1 tablespoon of dried parsley in place of the fresh, and also substituted lightly ground oats for the panko. Here I only used about 1/4 cup, just enough to bind the meatballs and hold them together. Be sure not to process the meatball mixture too finely. Just aim for a coarse chop with no large chunks, so your meatballs have texture. 
Southwest Sheet Pan Dinner
2 sweet potatoes, cut into 1/2" pieces
2 Tablespoons olive oil
1 zucchini, sliced and quartered
1 red bell pepper, sliced
1 cup fresh or frozen corn kernels
1 1/2 teaspoons onion powder
1/2 teaspoon dried oregano
1 teaspoon garlic powder
1 teaspoon cumin powder
1/4 teaspoon salt
1/4 teaspoon ground black pepper
1 15.5 ounce can black beans, drained and rinsed
optional, for serving: chopped cilantro, salsa, dairy or non-dairy sour cream, hot sauce, shredded cheese (omit if vegan)
Preheat oven to 350º F. Line a sheet pan with parchment paper, then add sweet potatoes and olive oil to pan and stir to coat. Bake 25 minutes.
Remove sweet potatoes from oven and add zucchini, red pepper and corn to pan. Sprinkle with onion powder, oregano, garlic, cumin, salt and pepper; stir to coat vegetables. Bake for 15 minutes. Remove from oven and stir in black beans. Bake another 10-15 minutes or until vegetables are tender.
Meatless Meatballs
makes about 22 
1 medium eggplant (about 1 1/4 lbs), peeled and cut into 1/2-inch pieces
8 oz. medium button mushrooms, quartered
3 cloves garlic, smashed and peeled
1/4 cup extra-virgin olive oil
1/4 teaspoon red pepper flakes
kosher salt and freshly ground black pepper
1 15.5 oz can chickpeas, drained and rinsed, or 1 1/2 cups cooked chickpeas
1/2 cup fresh flat-leaf parsley leaves, plus more for serving
1 teaspoon dried oregano
3/4 cup panko
12 ounces spaghetti
2 cups marinara sauce, warmed
Heat oven to 425º F. Line a rimmed baking sheet with parchment paper, then toss eggplant, mushrooms, and garlic with olive oil, red pepper flakes, 1/2 teaspoon salt and a few grinds of black pepper. Spread evenly over baking sheet and roast, stirring halfway through, until vegetables are tender, 30 to 35 minutes; let cool.
Transfer roasted vegetables to a food processor, then add chickpeas, parsley, oregano and 1/2 teaspoon salt and pulse until finely chopped. Add panko and pulse a few more times, then stir if needed. Roll vegetable mixture into balls, about 2 tablespoons each, and place on baking sheet. Bake until golden brown and crisp around the edges, 20 to 25 minutes.
While meatballs bake, cook pasta according to package directions. Toss meatballs gently with marinara. Serve over spaghetti, sprinkling parsley over all.  
– from Vegan, at Times, Jessica Seinfeld