Low-Carb Seeded Quick Bread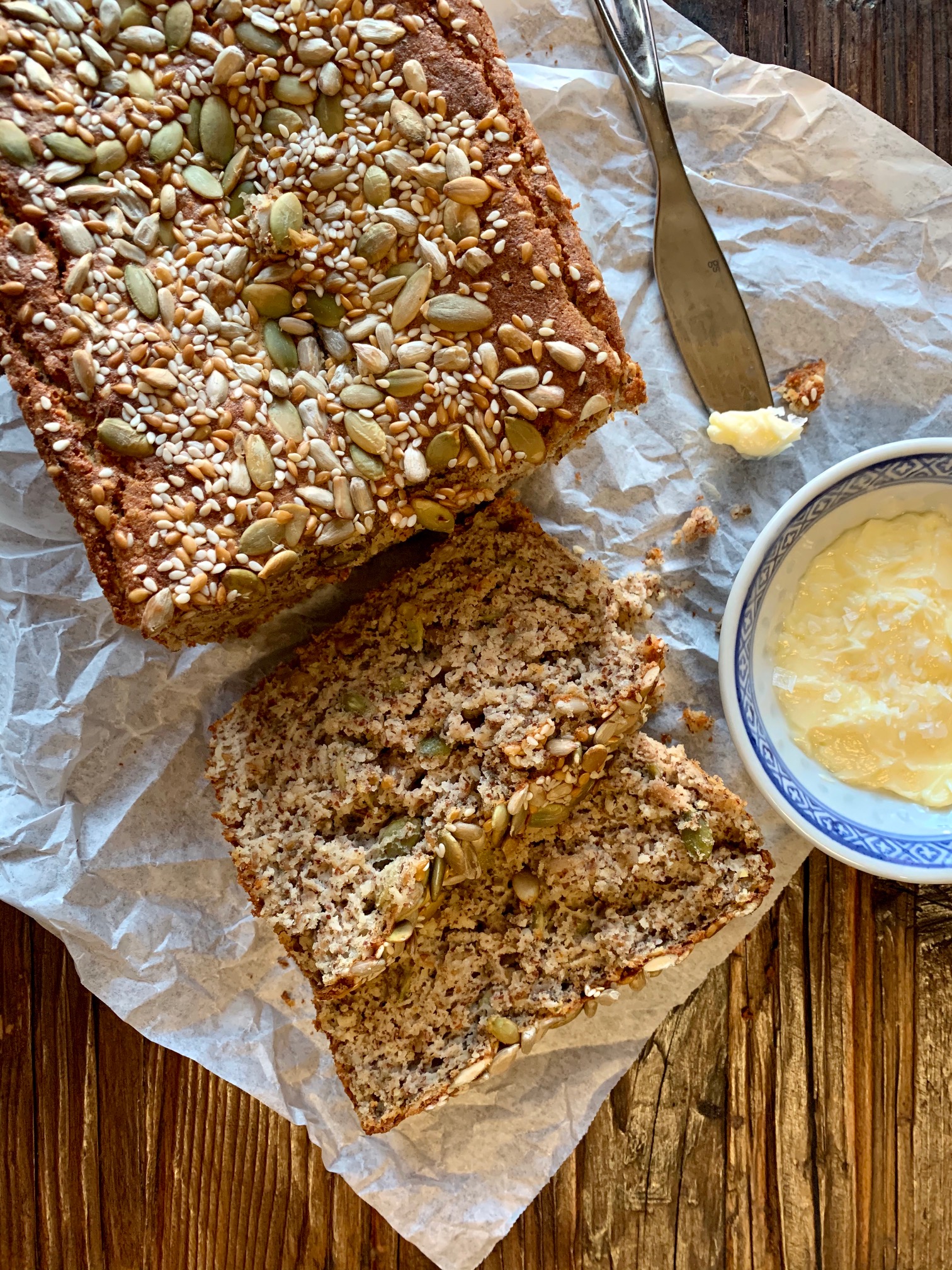 Piping hot water, steamy and soothing, makes the damp, dreary, cold winter days a little better. A freshly brewed cup of tea and a little "something" to go along with it is especially nice to enjoy while you curl up under your favorite throw with a good book. 
Someone must have realized this, because March is aptly reading month, and there is no better time to enjoy something good to nibble on while you are devouring page after page of your current read. This Low-Carb Seeded Quick Bread hits the mark. Loaded with seeds, it's densely moist, tender and oh-so crumbly. Almond and coconut flours keep the carb counts low, but the satisfying texture has all the traits you love about bread. Use it as a delicious base for sweet or savory toppings or top it with a schmear of some softened butter and a sprinkle of flaky salt and enjoy. 
This easy to follow recipe is perfect for cooking with kids. They can help toast the seeds, measure all of the dry and wet ingredients, and then stir them together. Pop it in the oven and while you are enjoying the warm and toasty smell of freshly baking bread, pick out something fun to read together.
A good book, some tea, and a warm slice of seeded bread…  perfect on a rainy afternoon! But be prepared for crumbs. 
Low-Carb Seeded Quick Bread 
1/4 cup unsalted hulled sunflower seeds
1/4 cup unsalted hulled pumpkin seeds
3 Tablespoons flaxseeds
3 Tablespoons sesame seeds
1 3/4 cups almond flour
1/4 cup coconut flour
1 Tablespoon baking powder
1/2 teaspoon baking soda
1/4 teaspoon salt
3 large eggs
1 cup buttermilk, or 1/2 cup milk plus 1/2 cup kefir
1/4 cup avocado oil
1 Tablespoon chia seeds
1 Tablespoon pure maple syrup (optional)
Preheat oven to 350ºF. Coat a 9-by-5-inch loaf pan with avocado oil or cooking spray; line bottom of pan with parchment paper. 
Add sunflower, pumpkin, flax and sesame seeds to a medium-sized dry skillet. Toast seeds over medium heat for 7 minutes, stirring, until light brown and starting to pop. Reserve 2 tablespoons of seeds in a small bowl. 
Transfer remaining seeds to a large bowl, then add almond flour, coconut flour, baking powder,  baking soda and salt; whisk to combine. In a medium bowl, whisk eggs, buttermilk, oil, chia seeds and maple syrup (if using). Stir the wet ingredients into the dry ingredients until combined then spread into prepared baking pan. Sprinkle with reserved seeds, pressing them gently to help them adhere to the batter. Let stand 10 minutes.
Bake until golden brown, about 40 minutes or until a toothpick inserted in center comes out clean. Let pan cool on a wire rack for 30 minutes before turning out onto the rack to cool completely. 
Store airtight at room temperature for up to 3 days, or refrigerate for up to 5 days. 
– EatingWell.com, December 2018