Loaded Sheet Pan Quesadillas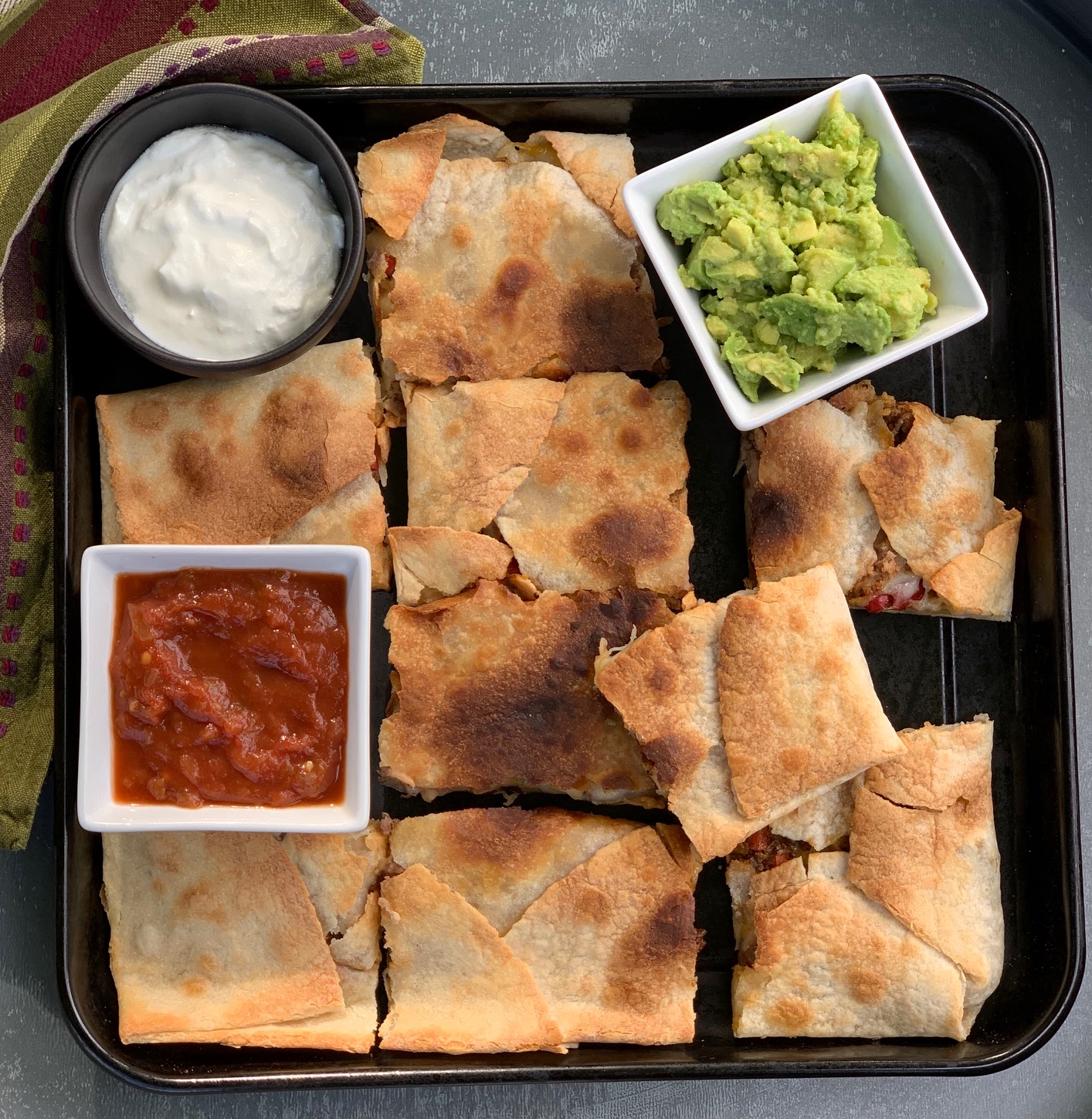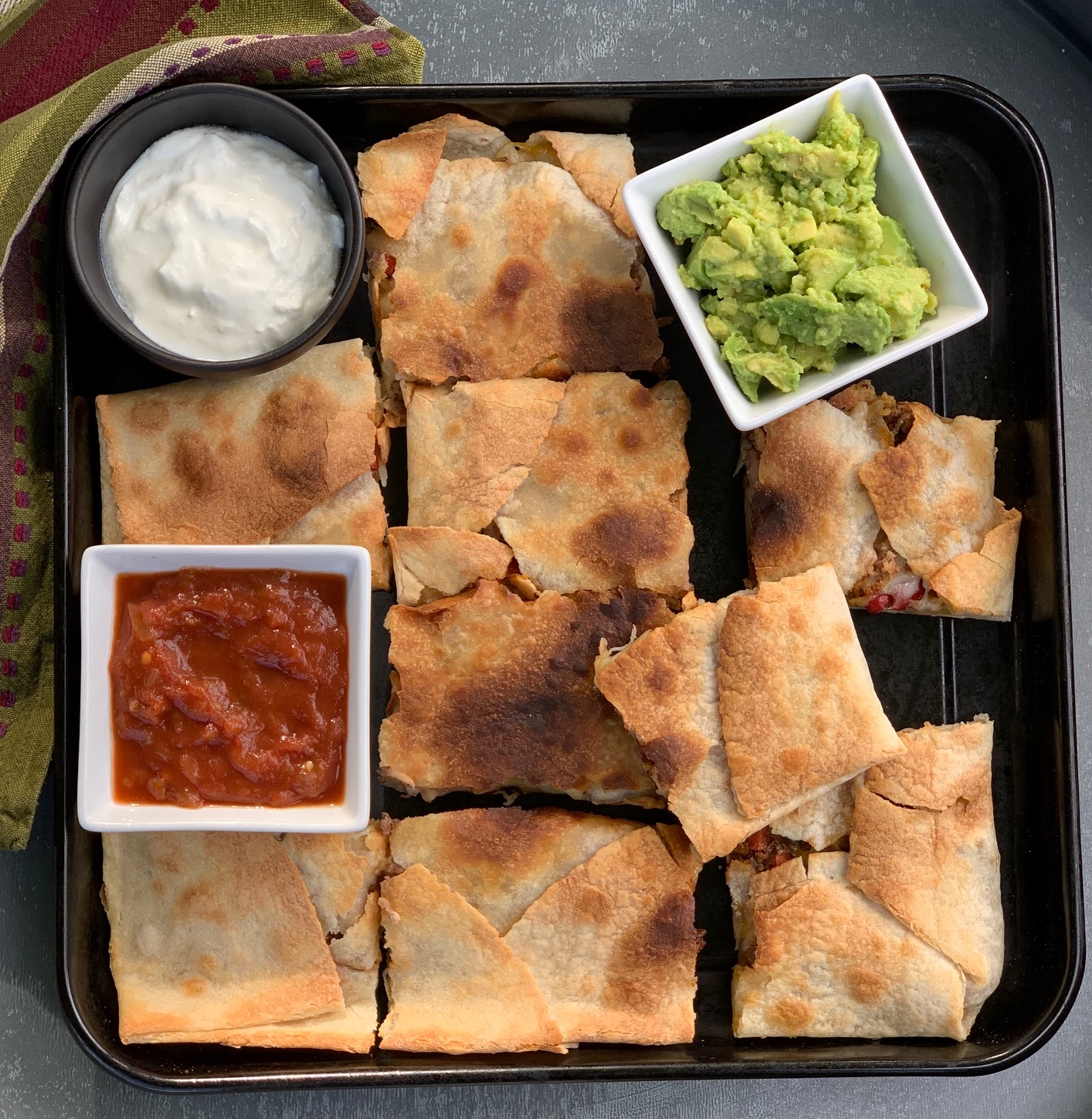 Whether you're in a hurry, low on groceries, or just want to save a little money, a quesadilla is a quick way to eat fast. Guaranteed to make everyone happy, quesadillas are a crowd pleaser. You can make them to order (a plus if you are feeding kids who won't eat anything green or squishy) and they are infinitely adaptable to dietary restrictions, whatever yours might be. Celebrate National Quesadilla day this September 25 with these easy Loaded Sheet Pan Quesadillas. Their super size makes them fun to eat and easier on you, and I guarantee they'll put a fun spin on tonight's dinner.
Rather than flipping them one by one on the stove, making a giant size quesadilla lets you feed a crowd. Let your oven do all the work and you'll get a crispy, crunchy quesadilla fit for a party, game day, or a quick lunch or dinner. They turn out so perfectly melty on the inside, and brown and crunchy on the outside, this is now my go-to method of making quesadillas. Just wait till you try it! 
Because you are making them at home, you can fill them any way you like, and you can also make them much healthier. I used avocado oil spray because it's a healthy oil and it has a higher smoke point. I used a 16-ounce package of 92% lean ground beef, but you can use any percentage of ground beef that you like. You could also try ground turkey or chicken, rotisserie chicken, pulled pork, or skirt steak, or keep it plant-based with just the beans and a dairy-free cheese. 
You can use canned refried beans, but it's just as easy to make them yourself out of canned beans that you have on hand. To make easy refried beans, I use a 15-ounce can of pinto beans, pouring the entire can and all of its liquid into a small pot. Warm over medium heat, mashing the beans with a potato masher while they heat. Season these any way you like with onion and garlic powder, chili or taco seasoning, or hot sauce, but I usually just add a little salt to taste. You get smooth, creamy "refried" beans, but without all the added fat.  
To make gluten-free and vegan quesadillas, I used a 10.5 oz package of Mission Gluten-Free tortillas. A package of 6 worked perfectly for a 9×13-inch quarter sheet pan. I also tried using a 12-ounce package of Mission Carb Balance tortillas and a 20-ounce package of Mission Burrito tortillas. All worked well, and my advice would be to buy more tortillas than you need and make as many quesadillas as you can. What doesn't get devoured will reheat well in the oven or an air fryer if you have one.
You can also freeze these, letting the cut slices cool and then freezing in a single layer on a baking sheet. Once frozen, you can transfer them to a resealable bag and store in freezer for a quick, healthy grab and go meal anytime you need something warm and toasty. Melty, gooey and made just the way you like it, it's hard to beat a homemade quesadilla. 
Loaded Sheet Pan Quesadillas
1 pound lean ground beef
1 small yellow onion, chopped
1 red bell pepper, cored and chopped
1 15-ounce can pinto beans
2 Tablespoons taco seasoning, plus more if needed
1/2 teaspoon black pepper
1/4 cup water

 

nonstick cooking spray

 

10 medium flour tortillas
16 ounces grated lite Mexican style cheese blend
for serving:
salsa or pico de gallo
sour cream
guacamole
Preheat oven to 350º F. Cook ground beef in a large skillet over medium heat, breaking it up with a spoon until it's partially browned, about 4-5 minutes. Add onions and peppers and continue to cook, stirring occasionally, until vegetables are softened and beef is browned, 5-6 minutes more. 
Add taco seasoning, pepper, and 1/4 cup water. Cook until seasonings are evenly distributed and water evaporates. Remove from heat. Taste and adjust seasonings with more taco seasoning, salt, or pepper, if desired. 
Spray a quarter sheet pan (9×13-inch) with nonstick spray. Place 2 flour tortillas in the center so they slightly overlap, then place 6 tortillas around the edges so that they all overlap and hang over the edges of the pan. 
Top tortillas with half of the cheese, then cover with beans; top with cooked ground beef mixture, spreading all the way to the edges of the pan. Top with remaining cheese. 
Place 2 more tortillas in the middle, then fold tortillas in from the edges to cover filling. (If there are any spots that are uncovered, cut a new tortilla and use it to patch the holes.)
Lightly spray the top of the quesadilla with cooking spray, then cover with a piece of aluminum foil. Place a second sheet pan on top of the foil. Bake for 20 minutes at 350º F. Remove top sheet pan and foil, and increase oven temperature to 400º F. Bake another 10-15 minutes, until tortillas are golden brown and very crispy. 
Remove from oven and let rest at least 10 minutes. Slice with a sharp knife, cutting the quesadilla into 3×5-inch rectangles, yielding 15 pieces. Serve warm with salsa or pico de gallo, sour cream and guacamole.  
Refrigerate up to 4 days, or freeze cooled slices in a single layer on a baking sheet. Transfer to a resealable bag and store in freezer. Reheat in a 350º F oven for 8-15 minutes (longer if frozen) until crispy and warm.