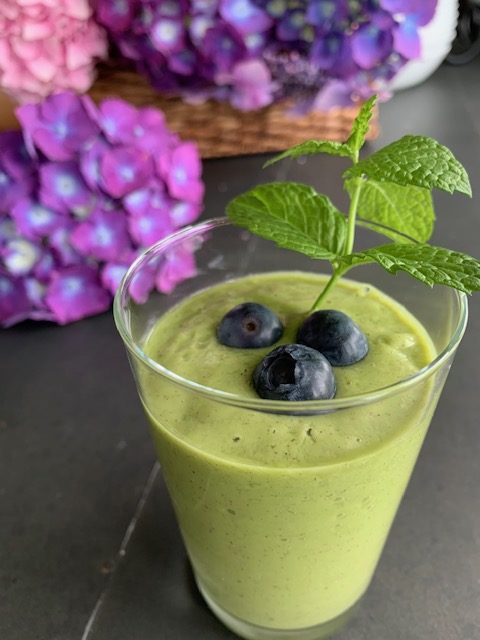 Blue skies, sunny days… summer has arrived! You've got miles to hike, bike, run and swim, not to mention plenty of other things to do outdoors. Catch that summer vibe with this vibrant green and good-for-you Kiwi Mint Smoothie. This little drink is a powerhouse. Loaded with potassium and fiber, it will keep you in the game for all that berry picking you have ahead of you. 
I was truly surprised at just how good this was. It was creamy, just sweet enough from the kiwi and banana, and refreshing. I used coconut milk in place of the almond milk, because I wanted to keep it nut free, and also liked that it helped me use up some frozen bananas so I can make way for all the blueberries (did I mention I have a lot of blueberries?), and hopefully some salmon. I need all the freezer space I can get. 
Toss everything from the short list below into the blender for a quick, healthy dose of vitamins you can sip anytime you need a little cooling refreshment. You can make a creamy pudding from this same recipe by adding chia seeds before blending and then refrigerating. Serve as is, or layer with granola and additional sliced kiwi or berries. 
If anyone's looking for me, I'll be in the blueberry bushes, probably until September…  Summer on! 
Kiwi Mint Smoothie
2 large kiwis, diced

 

1/2 cup loosely packed fresh spinach
1/4 cup fresh mint
1/4 avocado
1 frozen ripe banana, or 1 banana + 3 to 5 ice cubes
1 1/4 cups almond milk, or milk of choice
juice of 1/4 lime
Add all of the above to blender and process until thick and smooth. 
for pudding:
Add 6 Tablespoons of chia seeds to blender with ingredients above and process until smooth. Pour into bowl, or individual serving glasses. Cover and refrigerate at least 3 hours or overnight. 
 – from recipe by Joy Bauer, joybauer.com