Honeydew Salad with Ginger Dressing and Peanuts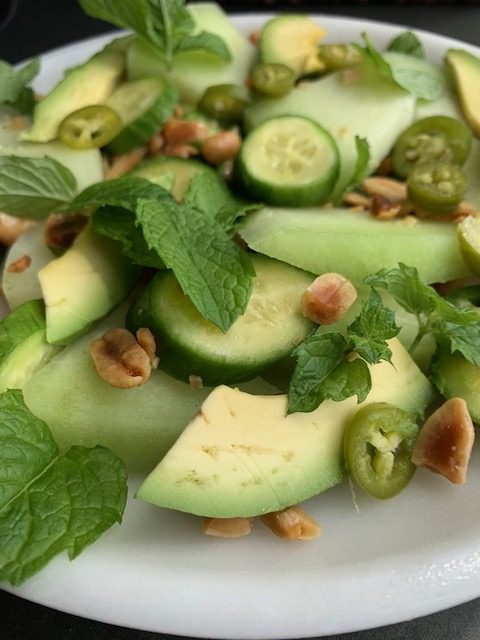 Keep it simple, people, it's summer. Fruits and veggies are at their finest, there's no need to be trapped in the kitchen. Fresh and fast are where it's at. Echo all that vibrant green we are seeing outdoors with a monochromatic salad that's bright. Zingy, spicy, sweet and salty all at once, the chilly melon and creamy avocado plate up with fresh mint and a sprinkle of roasted peanuts for a summery side that's refreshing and different. Yes, it tastes as good as it looks, and I vote it most likely to disappear at your next barbecue.  
I omitted the fish sauce when I made this (still not a fan), but otherwise stuck to the recipe as written. The original recipe  also directed that the salad ingredients be tossed together in a bowl, but to keep this looking neat and crisp, I think plating and drizzling is the way to go. If you want to make it ahead, or take it to go for a picnic or party, plate the melon and cucumbers, but wait until closer to serving time to add the avocado and mint. Finish with the dressing, top with the peanuts and serve. Wasn't that easy?
Honeydew Salad with Ginger Dressing and Peanuts
dressing:
6 Tablespoons white wine vinegar
1 teaspoon fish sauce
1 teaspoon finely grated peeled ginger
1 teaspoon light brown sugar
1 serrano chile, thinly sliced
salad:
1/2 medium honeydew melon (about 2 lb.), seeds and rind removed, cut into wedges, wedges halved crosswise
3 small Persian cucumbers, sliced on a diagonal 1/4" thick
1 avocado, peeled, thinly sliced
1/4 cup mint leaves
1/4 cup salted, dry roasted peanuts, coarsely chopped
flaky sea salt

 
Combine vinegar, fish sauce, ginger and brown sugar in a small jar and shake to combine. Add chile and let sit 10 minutes.
Arrange melon, cucumbers, and avocado on a serving plate. Drizzle with dressing. Top with mint and peanuts. Sprinkle with salt. 
-recipe by Anna Stockwell, Bon Appétit, June 2019