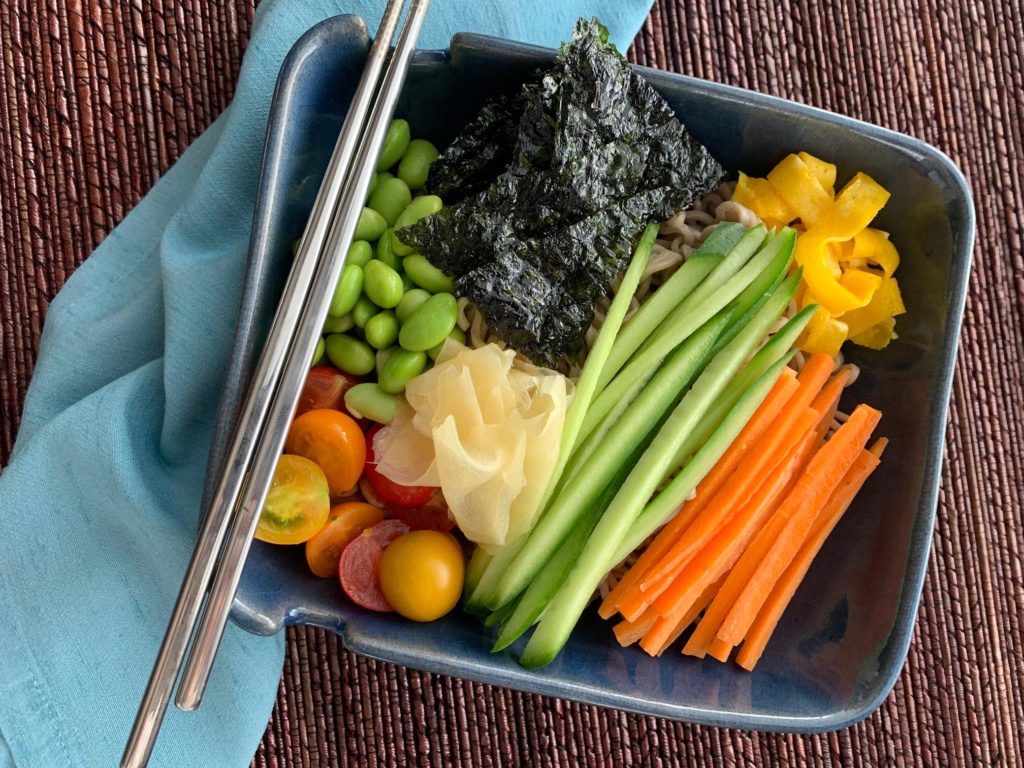 Cue the cucumbers, it's warm out there and you need to adjust accordingly. A cold noodle salad is refreshing on hot days and these Tokyo-inspired cold ramen noodles are a fun way to wrap up this final week of the Olympics.
Because you will not be using the seasoning packet, you can use any kind of ramen that you like or have on hand. You could also use rice noodles in this recipe. I used buckwheat ramen when I made this to give it an added nutritional boost. Feel free to add or subtract any vegetables or toppings. I left the radishes off but added some lightly salted, cold edamame and snuck some sliced avocado into my bowl. I like dried seaweed so I used that in place of the wakame. You can swap in extra firm tofu, chilled shrimp or imitation crab in place of the ham. Use a mandolin to cut your vegetables into even sheets before you julienne them to make them very uniform. Or, just use your knife to slice them thinly. A little less precise, but equally pleasing. 
The Ponzu dressing is light and citrusy, just the right balance of salty/sweet. Bottled yuzu juice can be found at specialty foods stores and Asian markets. If you can't find it or want to make your own, you can substitute 3 tablespoons fresh lime juice and 1/2 tablespoon fresh orange juice. You can also buy Yuzu Ponzu, a soy dressing made with yuzu, and use that in place of the dressing in this recipe. 
A fun supper or easy make-ahead for this week's lunch, it totes well, too. Assemble the bowls at home and pack dressing separately: enjoy a cool lunch on the go. Thinking ahead a bit, I can imagine this in a school lunch box.  Stay cool and enjoy the warm while it lasts.
Hiyashi Chuka
4 packs plain ramen noodles
toasted sesame oil
egg crepe
wakame seaweed
cherry tomatoes
cucumber, preferably Persian or Japanese
carrot
radishes
ham
imitation crab
sprouts
pickled ginger, to serve
toasted sesame seeds, to serve
Ponzu Dressing 
1/2 cup soy sauce
1/2 cup yuzu juice
1/2 cup water

 

1 lemon, juiced
1 teaspoon sugar
Noodles: Cook according to directions on package; rinse under cold water until chilled. Toss with toasted sesame oil and set aside. 
Egg crepe: pour a very thin layer of scrambled eggs onto a non-stick pan set over low heat. Cook until it pulls away from sides and no longer looks wet on top. Once cool, remove from pan; roll and cut into strips.
Vegetables: rehydrate wakame seaweed, cut cherry tomatoes in half, cut cucumbers and carrots into 3-inch matchstick strips, quarter radishes.
Slice ham into thin strips.
Ponzu Dressing:
Whisk all ingredients together in a small bowl.
To serve:
Plate hiyashi chuka in individual shallow bowls, starting with noodles on the bottom. Arrange toppings in a colorful pattern on top of the noodles. Pour about 1/4 cup ponzu dressing over all. Finish with pickled ginger and toasted sesame seeds. Stir and enjoy! 
– recipe by Elena Yamamoto