Healthy Breakfast Sandwich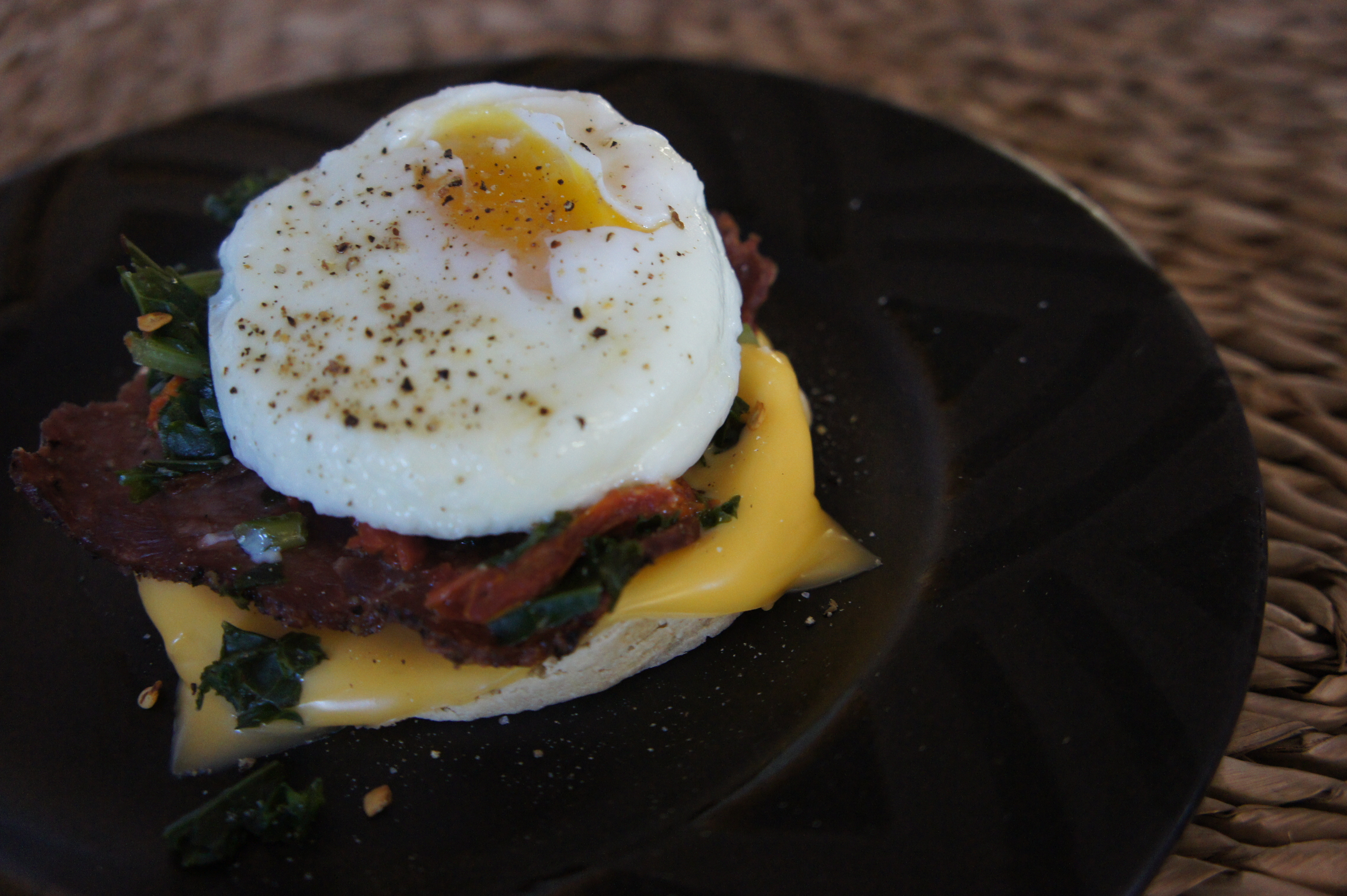 Did you know that you can poach eggs in the oven?  It is a great way to make a quick breakfast and have some leftovers for another day or two.  If you are only making a few eggs, the toaster oven is just perfect.
Try this on a weekend or a weekday when you are not so rushed.  Once you get the hang of it, you can do something else (open the mail, read your e-mail or the paper….) while the eggs are cooking.  As long as you have the timer set you can let the toaster do the work.  You can make as many or few eggs as you like, but because this is cook once – eat twice, you'll be making these often.
Directions:
Preheat oven to 350 degrees.  Lightly oil muffin cups.  (This helps the eggs slide right out and will also make cleanup easier.)  Pour 1 tablespoon of hot water in each cup of a muffin pan and then gently crack the eggs into the cups. Bake for 13 to 15 minutes, until the whites are set.
Start watching the eggs at 13 minutes to see if they are done the way you want them.  Use a slotted spoon to carefully remove the eggs.
Here is a recipe for the eggs you just poached.
Healthy Breakfast Sandwich
whole grain english muffin
reduced fat sliced American cheese
1 slice cooked bacon (turkey, Canadian…)
1 poached egg
3 T. frozen spinach or kale
1/2 T. sun dried tomato
While eggs are poaching, put frozen spinach or kale and sun dried tomato in a bowl with 1/3 c. hot water.  As soon as eggs are done, remove from oven and put english muffin into oven to toast.  Once toasted, top with cheese and bacon and return to oven letting the residual heat melt the cheese.  Drain spinach-tomato mixture, pressing with a slotted spoon to remove most of the water.   Remove english muffin from oven and top with spinach-tomato mixture.  Top with poached egg.  Microwave covered, if desired, for 10-15 seconds if you feel your sandwich isn't hot enough.  Finish with a pinch of sea salt, fresh ground pepper, and red pepper flakes.
Notes about breakfast sandwich:
Here again, feel free to get creative and substitute.  You can use gluten free english muffins, or sourdough (maybe even a frozen waffle or piece of toast?), any kind of cheese you want, or even no cheese.  Remember that bacon you made last weekend, when you had some time and made extra to freeze?  Hopefully, there is still some in your freezer, because now is when you need it.  If it's all gone, you could use a piece of ham or a frozen sausage patty, but remember to cook it before you put it on your sandwich. I like to keep a box of the pre-cooked bacon in my fridge for emergencies.  (Like when you discover that all that cooked bacon you put in the freezer is now mysteriously gone.)  The vegetables can be skipped altogether, but I always like to use them because I think it makes your meal more nutritious.  I have even used leftover roasted vegetables (broccolini, roasted red bell pepper) — just whatever suits your mood, or whatever you happen to have on hand.
Finally, I like to make these open-faced.  Get a fork and knife and eat breakfast.  Maybe even sit down for a few minutes?  If you want to take it on the go, that's fine.  Just use both sides of the muffin and make it a sandwich.
Notes about poaching eggs: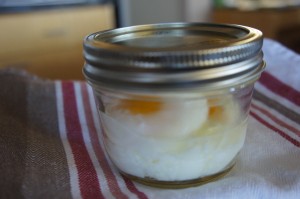 Store leftover eggs in a jar in the refrigerator.  Tomorrow you can revive them by transferring them with a slotted spoon into a bowl of hot water while you are toasting your english muffin.  Top muffin with cheese, bacon, warmed vegetables and the warmed egg.  Give this about 10-15 seconds in the microwave to get it nice and hot.
There are numerous references on respected cooking sites about the convenience of pre-poaching and I wanted to see how many days you could keep these on hold, so I checked www.eggsafety.org, where it clearly stated, "Avoid precooking and reheating poached eggs."  Other information on the website seemed solid, if not a bit stern, but I think this falls under the category of "use common sense."  Are the eggs you are using fresh?  Are they good quality?  If your whites are solid, your yolk mostly thick, and your egg is refrigerated promptly and reheated till hot, I think this is fine.  And, just to be on the safe side, I would use those leftover eggs the next day.  Ultimately, you have to decide how much risky behavior you are willing to engage in with your food.   I tend to be overly cautious, and doing this is not worrying me a bit.
And finally…  I have made these over and over again, and really got the very best results out of porcelain baking cups like these.  They cooked in exactly 13 minutes and produced an egg that made me swear I was someplace other than in my own kitchen.