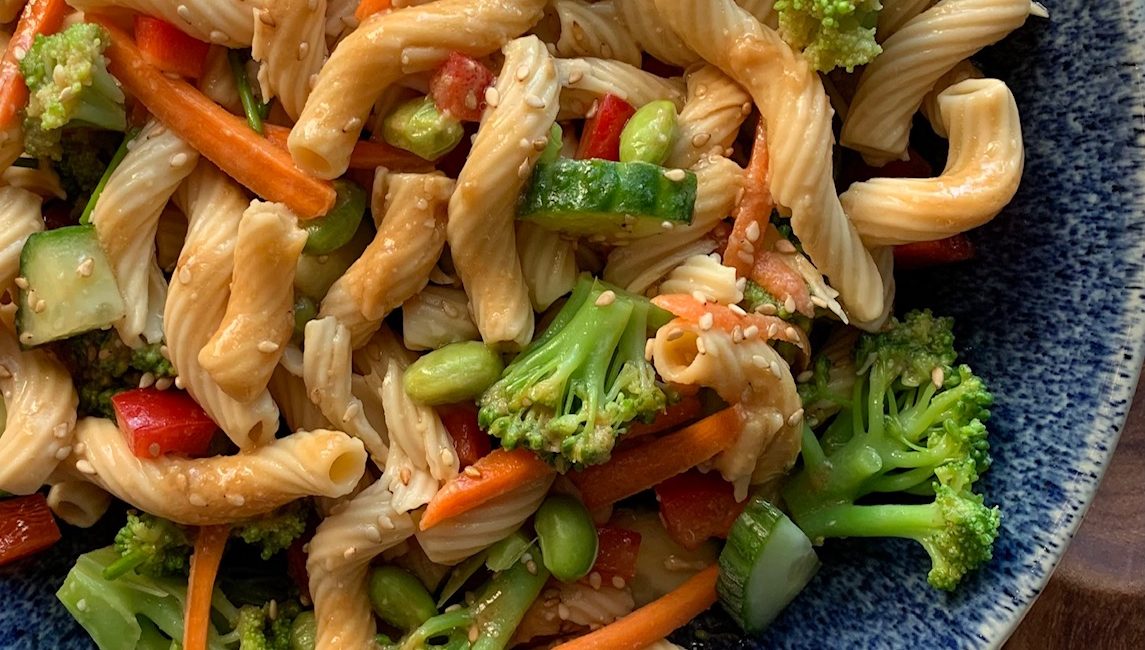 What would summer be without pasta salad? This Ginger-Miso version is a healthy side dish, but it's filling enough to be a main. Vegetarian and gluten-free, there is no mayo. Plus, it gets better as it sits, making this dish perfect for picnics. 
I used an 8 ounce package of cavatappi shaped chickpea pasta to add protein and fiber. It has a nice, toothsome bite to it which makes it a good choice for pasta salad. You can drain your pasta and add the dressing while it's still hot, but I like to use an ice water bath to cool the pasta quickly and keep it from getting too soft. Subtract one minute from the shortest cooking time on the package directions and try testing your pasta. If it's just a little too firm, it's ready. Use a spider to transfer the pasta quickly to a pre-filled bowl of ice water. 
The dressing is truly delicious and don't hesitate to try it on other things. I added a tablespoon of tahini to stretch the small bit I had left over and massaged it into some fresh kale. It was divine! Note that all of the dressing ingredients are in tablespoon increments, which makes measuring a breeze. You can keep fresh ginger on hand at all times by freezing it. Grate and freeze it in small cubes, or you can just freeze it whole. Thaw it just a bit and then it's easier to peel and grate. 
Swap in whatever you may have on hand or anything that looks particularly good from this week's farmer's market. Summer squash, sliced sugar snap peas, or blanched cauliflower or green beans would all work well in this salad. Or try adding corn, just barely cooked and sliced fresh off the cob. Ah, summer! 
Ginger-Miso Pasta Salad
kosher salt
1 pound cavatappi pasta
3 cups broccoli florets
2 Persian cucumbers, sliced in half, then into 1/4-inch-thick half-moons
1 red bell pepper, diced
1 cup frozen, shelled edamame, cooked and cooled
1/2 cup shredded carrot
3 Tablespoons chopped fresh chives
1 Tablespoon toasted sesame seeds
Dressing:
3 Tablespoons yellow miso paste
3 Tablespoons grated ginger
3 Tablespoons low-sodium soy sauce, or tamari

     

3 Tablespoons canola oil

 

3 Tablespoons rice vinegar
2 Tablespoons fresh lime juice
1 Tablespoon toasted sesame seeds
Add kosher salt to a large pot of water and bring to a boil. Add pasta and cook as directed on package until al dente. Remove from water and transfer to a large bowl of ice water to cool. Add broccoli to cooking water and cook for 1 minute. Transfer broccoli to bowl of ice water. Set bowl aside and let cool.
Dressing: 
In a mason jar with a tight fitting lid, combine miso paste, grated ginger, soy sauce or tamari, canola oil, rice vinegar, lime juice, sesame oil and sesame seeds. Cover and shake to emulsify. 
Add cucumbers, bell peppers, edamame and carrots to a large bowl. Add pasta and broccoli. Pour dressing over all and toss to combine. Garnish with chopped fresh chives and sesame seeds. 
– recipe by Valerie Bertinelli