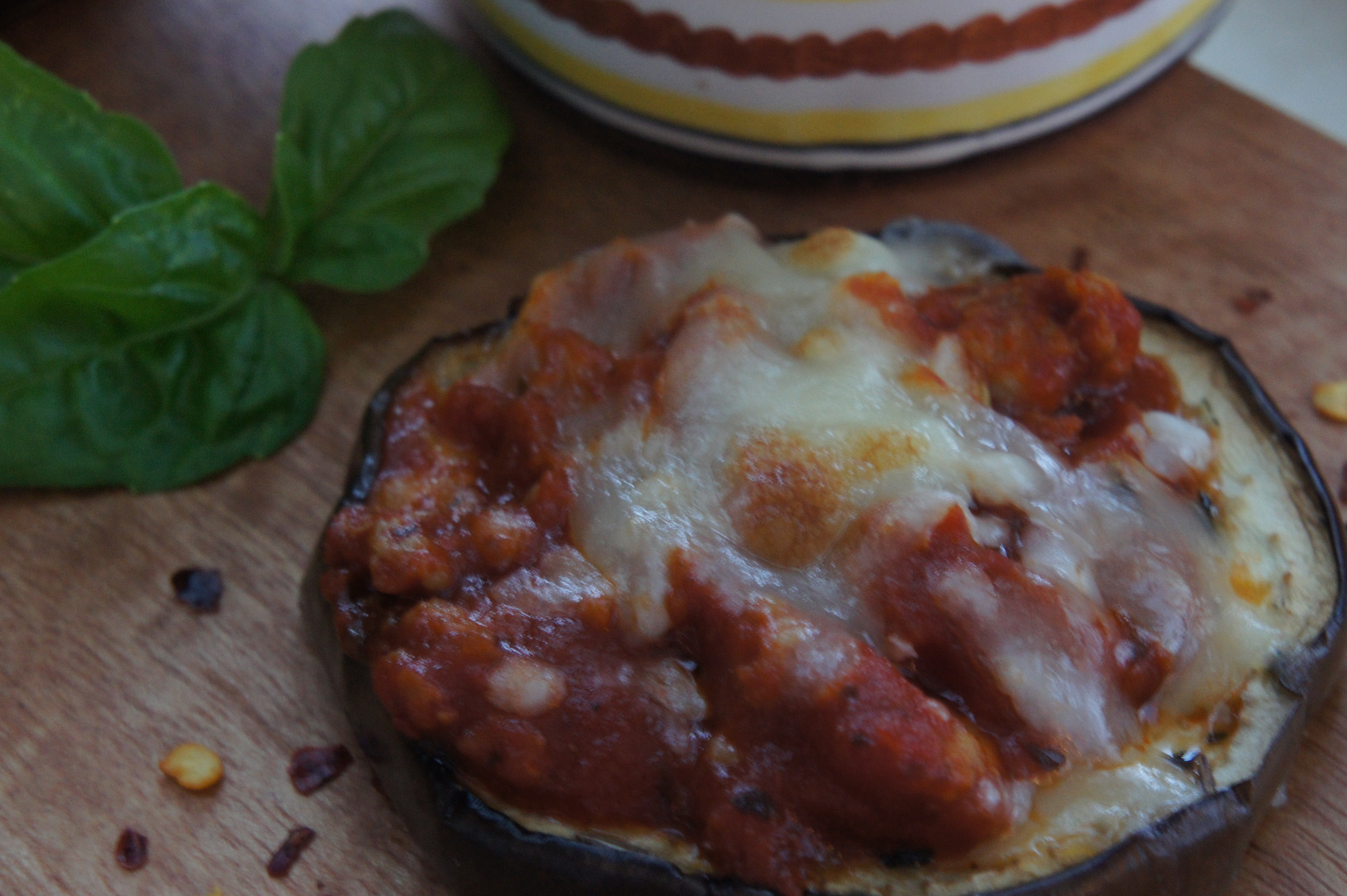 Sometimes the best strategy is to give up.  I am no quitter, but this is what it finally came to after 10 years of trial and disappointment with gluten-free pizzas.  For the longest time, there were simply no gluten-free pizzas, and then when they suddenly caught on, they were awful.  This resulted in some sad moments of picking a piece or two of pepperoni off the pizza everyone else was eating in an attempt to feel like I was enjoying it, too.  Very sad.
Then, I discovered this recipe.  It was intended to be an appetizer, but I could see the possibility in it right away.  Giving credit where it's due, it came from none other than Julia Child, but I stumbled on it via the adaptation on kalynskitchen.com.  (Thanks, Google.)   A few tweaks here and there, and we have not only a gluten-free pizza, but a great way to eat more veggies.   Admittedly, this recipe is a little more work, but once you try it….  Well, see for yourself.
Eggplant Pizza
3 globe eggplant (long, narrow ones are best) 
3 tablespoons extra virgin olive oil
salt
3 teaspoons Italian seasoning
1 Isernio's Italian Chicken Sausage Roll (bulk sausage without casing)
1 jar Trader Joe's Organic Marinara Sauce
1 6 ounce can tomato paste
1 cup shredded light Mozzarella cheese
1 cup grated Parmesan
fresh basil
Wash eggplant and cut into 1/2 inch thick circles.  Discard stem and bottom end slices. Cover a large area of your work surface with double layered paper towels.  Put eggplant on paper towels and sprinkle with salt to draw out the excess moisture and bitterness.  Let sit at least 30 minutes.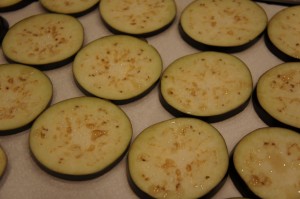 Brown sausage in a large frying pan, breaking up any clumps as sausage browns.  Transfer to colander and drain sausage well, rinsing with hot water if desired.  Return sausage to pan and add jarred tomato sauce and 3/4 of can of tomato paste.  Cook, stirring occasionally, over medium heat until mixture bubbles.  Reduce heat to low and continue to cook and stir, simmering until sauce becomes very thick, about 30 minutes.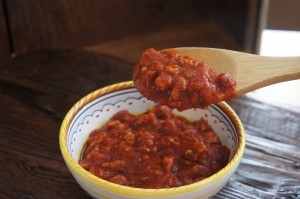 Preheat oven to 375 degrees.  Line a large sheet pan with aluminum foil.  Brush foil lightly with olive oil.  Wipe salt and brown water off tops of eggplant using a paper towel.  Transfer eggplant slices to baking sheet.  Brush tops very lightly with olive oil and sprinkle with Italian seasoning.  Roast 15 minutes, until somewhat browned, and remove from oven.  
Preheat broiler. Combine Mozzarella and Parmesan cheese in small bowl.  Top browned eggplant with prepared sausage and sauce and sprinkle with cheese mixture.  Return finished eggplant to oven and broil until cheese melts and browns, about 2 minutes. Top with chopped fresh basil and fresh ground pepper.  Serve with red pepper flakes.  
Julia's original recipe had you make your own tomato sauce and then cook and reduce it.  I did this the first time I made it, but one night when I was in a hurry, I decided to use my favorite bottle of jarred sauce and add tomato paste to speed it up.  This not only saved a lot of prep and cook time, but also gave it a more pizza-like taste.  You can use your favorite jarred sauce, but you may have to adjust the amount of tomato paste, depending on how thick it is.  The original recipe was also just tomato sauce and cheese.  In a house full of men —  mutiny!  So, I added sausage.  Any sausage you like will work, or you can buy the Isernio's sausage roll that I used at Fred Meyer.
If you break the prep up into steps, this really does become an easy recipe.  You can cut the eggplant and leave it sitting on the paper towels for several hours (did this once when I had to leave in a hurry!).  I have also roasted the eggplant for the initial browning step (i.e., before the sauce) and refrigerated it for several days in ziplock bags, which was just fine.
I have planned for you to run out of sauce as you make these.  Freeze the leftover un-topped roasted eggplant rounds right on the baking sheet (once they have cooled!).  Once frozen, you can peel them off and freeze them in a ziplock bag for a speedy start to your next pizza night.  You can top them, still frozen, and make fresh pizzas.
You can also add other ingredients.  I have added chopped pepperoni, diced red bell pepper, sliced black olives, sliced mushrooms and even some diced pickled jalapeños.  It's your pizza.  Have fun with it.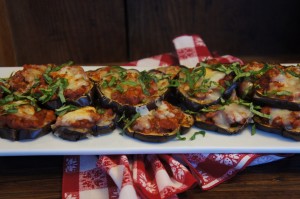 Finally, make as many of these little guys as you can at one time.  Once they are cool, you can freeze them in a single layer on a sheet pan.  Transfer the frozen pizzas to a nicely labeled ziplock freezer bag and now you have pizza ready to go.  Reheat on a foil lined sheet in a 350 degree oven until thoroughly warmed, being careful not to leave them too long because they will over brown.  They will be so well-liked you better find a good spot to hide them in your freezer.