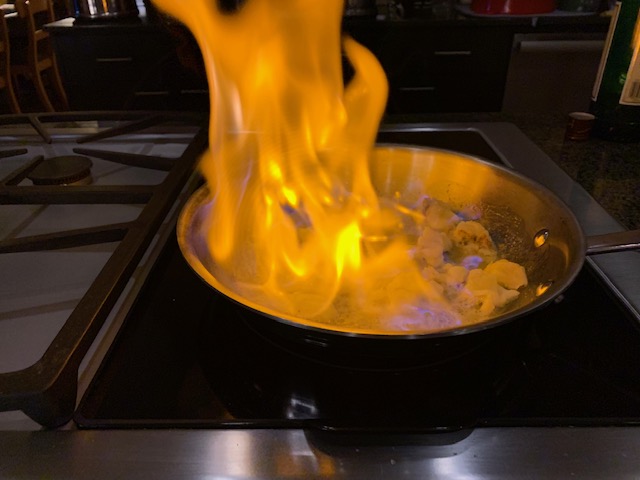 And now for something completely different…   The extra light from daylight savings, the rapidly approaching arrival of spring, and the beloved celebration of St. Patrick's Day have turned all thoughts to green.  There will be green beer, Irish whiskey, potatoes galore, and some soda bread for good measure.  There's Irish Stew, Colcannon, Coddle, Boxty, and for the brave, Crubeens.  But how about a Dublin Lawyer?  Have I got a plan for you…
What, you say, is a Dublin Lawyer?  It is not the expected corned beef and cabbage, and you gotta admit, it is just plain fun to say. A Dublin Lawyer is an Irish traditional method of cooking lobster.  It is also extremely delicious.   It has just a few ingredients.  It is fast.  It is easy.  It is fun.  It has Jameson Irish Whiskey in it, and did I mention you'll be lighting it on fire? Now we're talking. And because you will be serving this as an appetizer (i.e., only eating a bite or two), I am going to call this healthy.  Pretty much, anyway.
The original recipe calls for a whole lobster, but for speed and ease, I recommend using 2 lobster tails.  Traditionally, the cooked lobster meat is scooped back into the reserved tails (or shell, if using an entire lobster) for serving, which is very nice for formal, sit down dinners.  Rather than fuss with the shells, I decided to serve this family style, right out of the pan, and plan to offer my guests toothpicks to dig in with just as soon as the flames subside.   You can also serve this dish over steamed rice, which is another traditional way this dish is served.
You are literally playing with fire, so use caution.  Use a pan that is flame-proof:  think All-Clad, cast iron, copper, etc.  This is not a job for your favorite non-stick pan.  You should always turn the heat off under the pan before you light it.  You should pour your alcohol from a small cup, not the bottle.  (Hello?  911?)  Light your dish using a fireplace lighter or very long match.  And be careful of long hair, loose, drapey sleeves, and your kitchen towel that might be sitting nearby.   Okay, you've been warned.  Just to be extra safe, I wrote these guidelines right into the recipe so it's easy for you to follow.
Want a fancy way to welcome your guests? Serve them a Dublin Lawyer.   And don't tell me your husband/wife/kids wouldn't get excited about seeing you set something on fire.  You know they would.  Why have corned beef and cabbage when you can have lobster?  Or if you must have that corned beef, why not serve lobster as a starter?  Now about that green beer…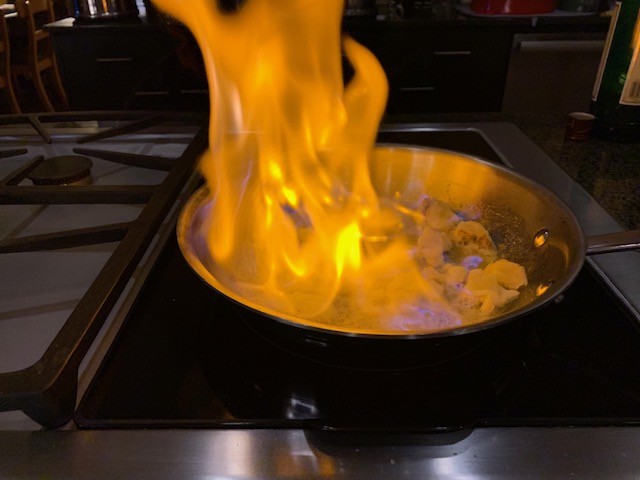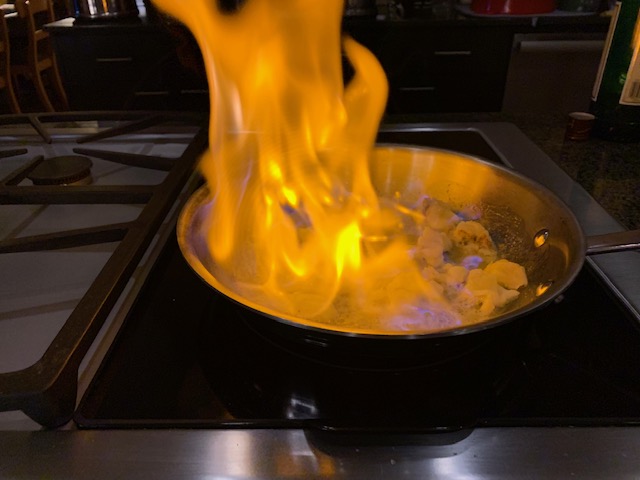 Dublin Lawyer
2 lobster tails, cut in half down the center, meat removed
2 Tablespoons butter
3 Tablespoons Jameson Irish Whiskey
110 ml, or 7 Tablespoons, cream
Sea salt and freshly ground black pepper
Remove meat from lobster tails and cut into chunks.  Heat butter over low heat in a medium-sized flame-proof pan.  Cut lobster meat into chunks.  Once butter is lightly foaming, add lobster chunks and quickly sauté until it is just cooked but not colored.  Measure whiskey into small cup and warm slightly – about 10 seconds in the microwave.  Turn heat off.  Pour whiskey over lobster and butter and light using a fireplace lighter or long match.  After flames subside, add the cream and mix with the pan juices, seasoning with salt and freshly ground black pepper.  Serve at once.
– lightly adapted from recipe by Donal Skehan