Cucumber, Plum, and Green Bean Salad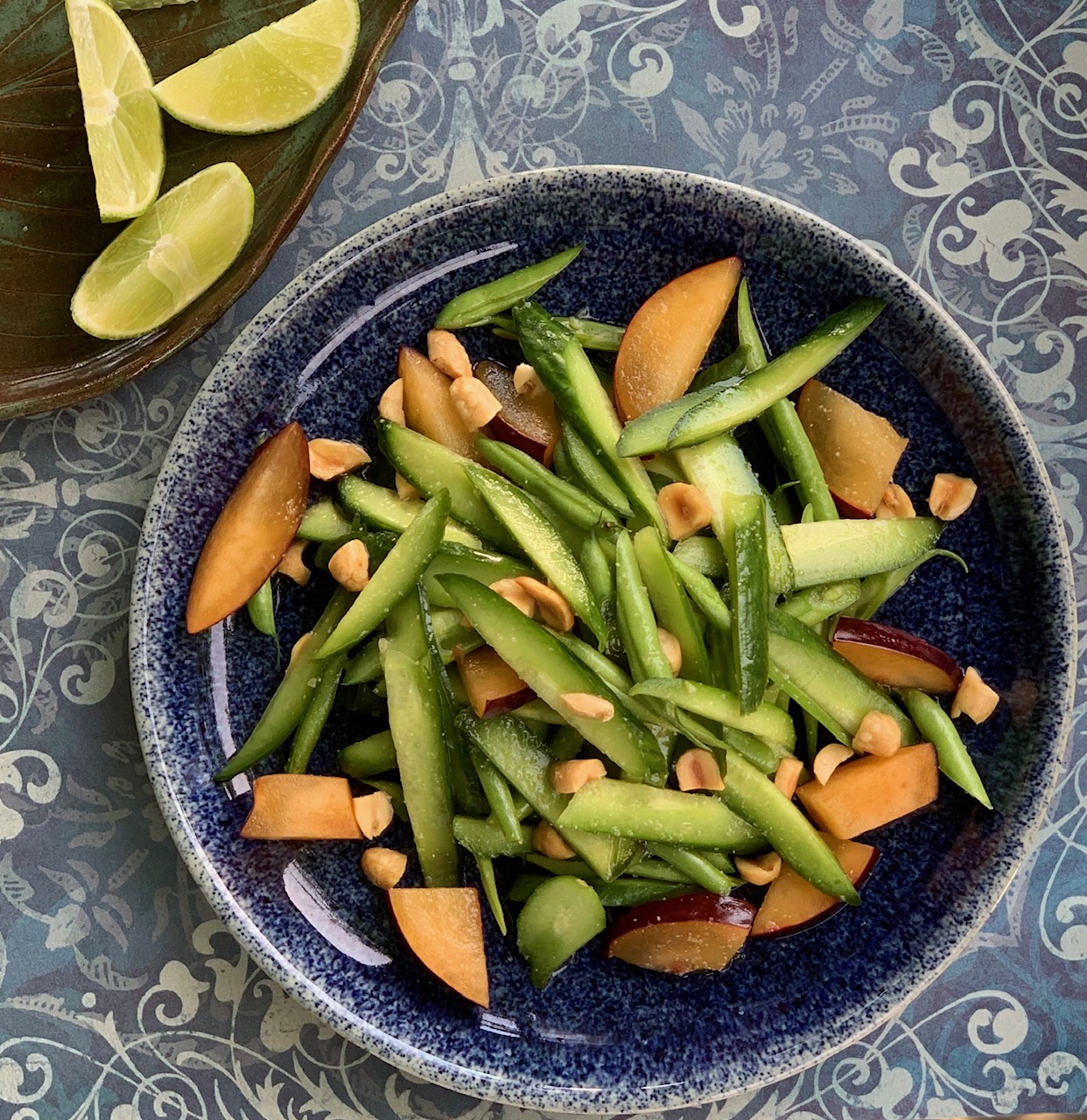 As the heat of the summer wears on, I can't help but feel torn. Yes, there's still so much summer to be had, but I must admit to feeling ready for a cooler breeze. Most of nature looks just as hot and tired as we are, so this is our cue to savor on.
Gather all the fresh you can and use it every which way. Right now, market tables and grocery bins are overflowing with peaches, plums and cherries, the most popular varieties of all the stone fruit. You can also find apricots, nectarines, and hybrids: pluots, plumcots, and apriums. Pluots are 75% plum, and 25% apricot, while apriums flip the ratio and lean apricot. Plumcots are a 50-50 hybrid, bringing the best of these two stone fruits together in one delicious creation. 
Drupelets look a little different than the other stone fruit, but they fall in this family because they, too contain tiny pits. Here you'll find raspberries, blackberries, and mulberries, a small, very sweet berry that grows on trees rather than bushes. Mangoes, lychees, dates and coconuts are also stone fruits, but you may be surprised to learn that olives and almonds are, too. This is why almonds pair so well with other stone fruits, and why you should also consider adding olive oil to your preparations. 
To pick the best stone fruit, just follow your nose. Scent is the best test for ripeness, so bring the fruit to your face and check for that sweet, delicate aroma. Look for fruit that is soft, but not overly squishy. Stay away from fruit with bruising, dents, or off-colored spots. Wrinkles near the stem are a good indicator of sweetness, but watch for mold, as stone fruits are very susceptible to spoiling. 
Besides just eating out of hand, add stone fruit to oatmeal or yogurt, use it to top nut butter or ricotta toast, toss it into smoothies, or add it to salsas. For dessert, there are sorbets or granitas, or you can add cheese, nuts and honey, plus a few fresh flowers or lavender buds, and make make something simple that's stunning.  
Maybe you need the 3-ingredient trick that turns any fresh fruit into a Michelin-star-worthy fruit salad. Use it to turn any piece of fruit into something elegant, whether it's dessert, a snack or a garnish. A drizzle of olive oil, a generous pinch of salt, some lime zest, and a quick toss is all you need to enhance each bite. You get something sweet and savory, full-bodied and rich from the olive oil, with a bright pop from the lime zest. Try it for yourself. 
Daring folks may consider turning on their ovens on for a crumble or a crisp, but if the thought of this leaves you feeling too warm, just remember that it's still no-cook summer salad season. You can't go wrong with any way you choose to do fruit right now, but I like to pair the sweet stuff with a helping of veg. This Cucumber, Plum, and Green Bean Salad has lots of umami. It's light, crisp and delicious which is just what you need to help you get through the dog days of summer. A mash-up of the two variations of the Thai salad som tam, this salad plays on the sour-salty-sweet version made with shredded green papaya, and the other Thai favorite made with cucumbers. 
The original recipe called for 6 ounces of cherry or grape tomatoes, halved or quartered. I love green papaya salad and wanted to bring out that sweet-tart element, so I substituted sliced plum in place of the tomato. You could also try using nectarine or cherry if you like. I omitted the Fresno chile to keep this on the mild side, and because I didn't want the garlic flavor to be too strong, I swapped in a little garlic powder in place of the chopped garlic cloves. If you'd like to keep this vegan, use soy sauce, tamari, or Braggs Liquid Aminos in place of the fish sauce. 
This salad is refreshing and delicious as is, but adding sliced leftover steak, or grilled shrimp or chicken, would turn it into a filling main dish. Serve this over rice noodles with some fresh basil and mint for an easy summer meal. This salad was even better the next day, so you could definitely make it ahead and refrigerate.
Eat all the fresh fruit and veggies you can. It won't be summer forever.
Cucumber, Plum, and Green Bean Salad
1 lb. Persian or English cucumbers, halved lengthwise, sliced on a steep diagonal 1/4" thick
1 medium plum, halved or quartered
4 ounces green beans, trimmed, sliced on a steep diagonal into 1/8"-thick strips
3 large garlic cloves, finely chopped

 

1 Fresno chile, seeds removed, finely chopped
3/4 cup unsalted roasted peanuts, divided
3 Tablespoons (or more) fresh lime juice
1 Tablespoon (or more) light brown sugar
1 Tablespoon (or more) fish sauce

 
Combine cucumbers, plum, green beans, garlic, and chile in a large bowl. Finely chop 1/2 cup peanuts to the size of lentils and add to bowl. 
Whisk lime juice, brown sugar, and fish sauce in a small bowl until sugar is dissolved. Pour dressing over ingredients in bowl and toss with your hands, gently squeezing as you go, until everything is well coated and vegetables have wilted slightly, about 30 seconds. Taste salad and season with more lime juice, brown sugar, or fish sauce if needed. Salad should be equal parts sour and salty, with just a bit of sweet. 
Transfer salad to a platter. Coarsely chop remaining 1/4 cup peanuts and scatter over salad.  
-adapted from recipe by Leela Punyaratabandhu