Chocolate Cherry Chia Energy Bites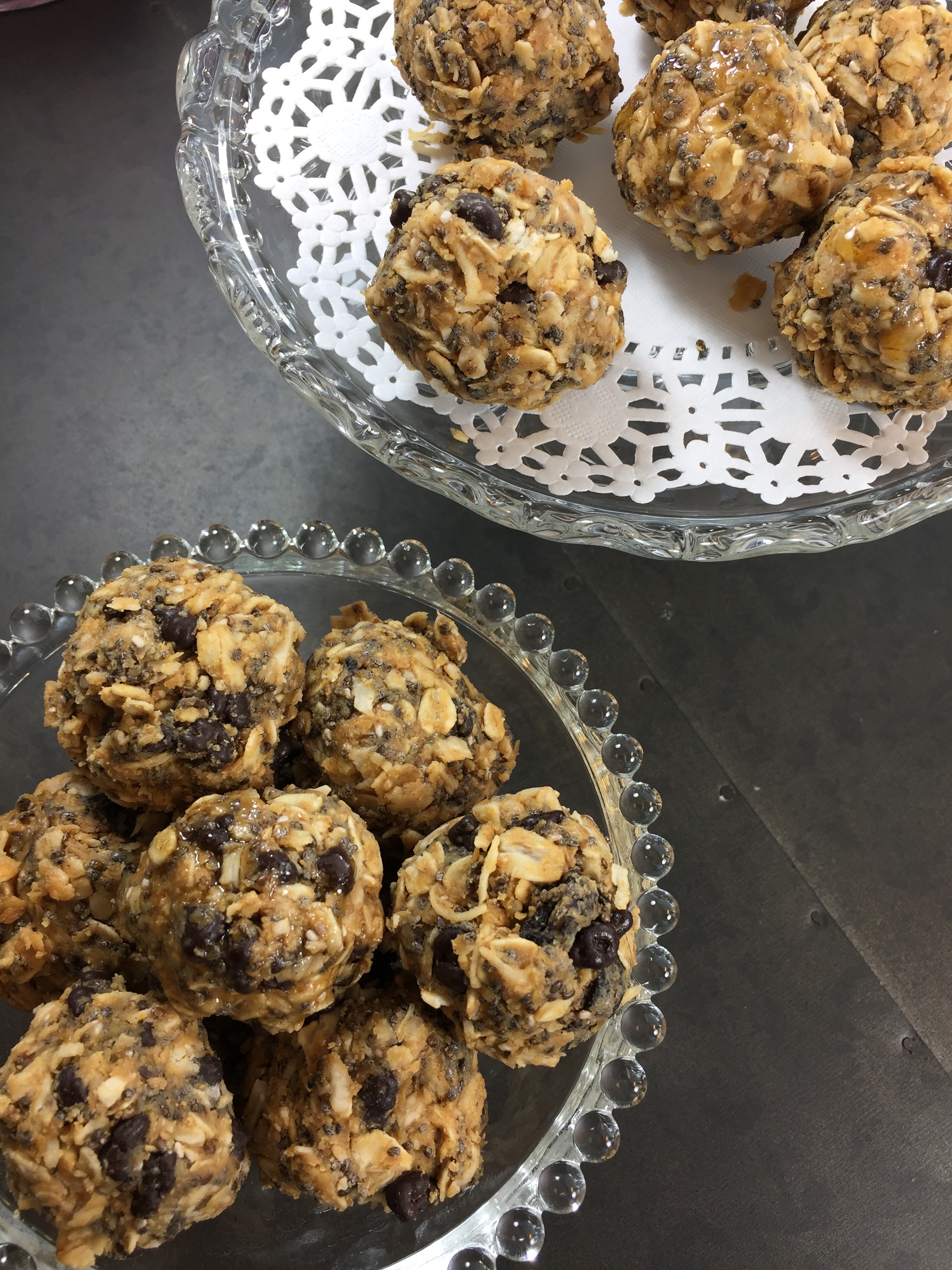 February is American Heart month.  Make someone's heart beat a little faster, and keep it beating at the same time, with a sweet treat that's not just good, but good for them, too. These little energy bites are perfect for anyone on your cupid list.  Made with real food ingredients, most of which you probably have already waiting in your pantry, they are fast and easy to make.  Tuck a few into their bag, or stash them where they'll find them in the morning.  Add a little note that says "I love you" and brighten up their day.
You can use any kind of nut butter in this recipe.  Almond or cashew would work, or keep it nut-free and use sunflower butter or swap in tahini, like I plan to try next time I make these.
I substituted 1 tablespoon of maple syrup for the 1/3 cup of honey called for in the original recipe. This was just enough to give a slightly sweet flavor, which balanced nicely with the sweetness of the cherries and the chocolate.  I suggest tasting and adding more honey or maple syrup as you go, until you get the level of sweetness that you like.
You can find the dried Bing cherries and the coconut at Trader Joe's.  You can also find dark chocolate cacao nibs, which are a nice addition if you want to add a little extra benefit to the already good for you dark chocolate. Make it gluten-free by using gluten-free rolled oats, which thanks to Bob's Red Mill, are getting easier to find at almost any grocery store you like.
Make someone's heart beat a little faster with a sweet surprise.  You might just be helping it beat a little longer.
Chocolate Cherry Chia Energy Bites
1 cup rolled oats
1/3 cup chia seeds
1/3 cup unsweetened shredded coconut
1/4 cup ground flax-seed
pinch of sea salt
1 teaspoon ground cinnamon
1/3 cup unsweetened, unsulphured dried Bing cherries
1/3 cup dark chocolate cacao nibs, or dark chocolate chunks
1/2 cup nut butter (I used peanut)
1 tablespoon maple syrup or honey
1/2 teaspoon vanilla extract
Combine dry ingredients in a medium bowl and stir to distribute evenly.  In a small bowl combine nut butter, maple syrup or honey, and vanilla extract, stirring well.  Add nut butter mixture to dry ingredients and stir to combine.  Cover and refrigerate for 30 minutes.
Roll mixture into balls.  Store refrigerated or frozen in an airtight container.
– adapted from Cherry Chia Energy Bites, Some The Wiser
Did you know…
in a 70-year lifetime, an average human heart beats more than 2.5 billion times
oats contain beta-glucan, a potent soluble fiber with blood sugar-regulating and immune system-boosting benefits.  Five to ten grams of soluble fiber per day has been shown to lower LDL total cholesterol
cacao has 40 times the antioxidants of blueberries.  It also has magnesium and calcium and can improve cholesterol, stress levels, and inflammation
Bing cherries contain antioxidants and can lower levels of inflammation and risk of stroke
cinnamon improves blood sugar levels and immunity, and can reduce or improve heart disease risk factors
Do you have an energy ball recipe you like?  Share with me on Facebook.