Bowl of Brown – A Stew for the Night's Watch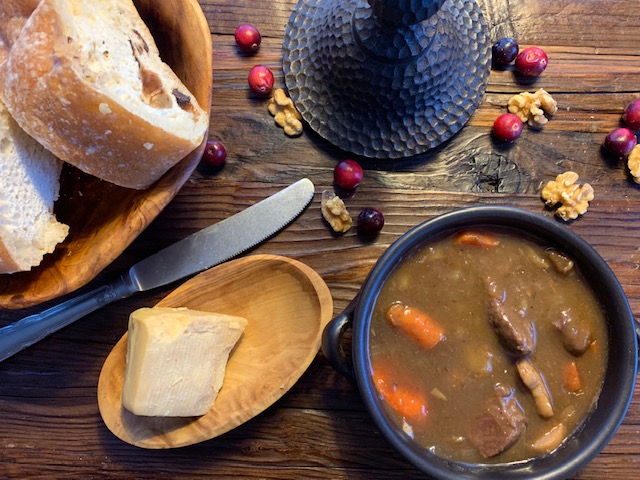 Winter is coming.  You read that right, and I know, it is spring, but to those who are fans of dragons and thrones, Winter … Is … Coming.  At long last, indeed, on April 14 the first episode of the final season of Game of Thrones premieres.   Get ready to settle in.  It is dark.  It is cold.  It is freezing.  And it's going to be a long battle.
Wanting to give you something well suited for your final viewing, I searched for inspiration on Pinterest, where I found lots of interesting looking recipes, most of which were coming from the Feast of Starlight blog.  If you have ever wondered what a hobbit would eat, or thought about making yourself a candy breakfast like Buddy the Elf, this is your site.
Be ready to start the Night's Watch with a bowl of something warm – and brown – to curl up on the couch with.  A Bowl of Brown is basically a stew, but if you were poor and eating in the slums of King's Landing it might contain some questionable scraps of rats, dogs, and who knows what else along with the barley and carrots.  You can make this vegan if you like, using mushroom or vegetable broth, barley and vegetables, or you can use stew meat, which is how I made this.  We will not be using any iffy bits of anything, no matter how authentic it may seem.   Let's leave the gasping food scenes to the experts.
You can use any variety of mushrooms that you like.  I used shiitake and a can of sliced button mushrooms because that is what I had on hand, but I think baby bellas would work really well in this recipe.  I also used 2 medium Yukon Gold potatoes as a substitute for the cup of cooked barley that was called for in the original recipe.  I plan to use the barley next time, because I think it would be really good, and may even add it in along with the potatoes.   You can add herbs or other seasonings if you want, but wanting to keep with the spirit of King's Landing, I kept it simple:  just salt, pepper and broth.
Bundle up.  Tuck in.  It's almost Game Over.
Bowl of Brown
2 tablespoons canola or olive oil
1 large yellow onion, diced
2 cloves of garlic, minced
1 cup sliced mushrooms
3 large carrots, roughly cut into 1/2 inch chunks
1 cup red wine
3 cups mushroom, vegetable, or beef stock
2 medium potatoes, cubed and/or
1 cup cooked barley
kosher salt and freshly ground black pepper
1 1/2 tablespoons arrowroot starch
optional:  1 1/2 lbs. cubed beef stew meat
Add oil to a large heavy pot or Dutch oven and warm over medium heat until oil starts to ripple.  If using meat, blot dry with paper towels and season with salt and pepper.  Add meat to hot oil and let sear, undisturbed, until meat browns.  Stir lightly to move meat so that it sears on all sides, then remove meat from pot and set aside.  Add onions and garlic to pot and let cook, stirring occasionally, until onions soften and brown.  Add mushrooms and continue to cook and stir, about 5 minutes, adding water if needed to prevent sticking.   Add carrots and continue to cook and stir, a few minutes more.  Add wine and simmer, scraping browned bits from the bottom as it cooks.  Reduce wine by about half, then add stock and potatoes, if using.  Return meat to pot, along with cooked barley, if using.  Cover and let simmer about 30 minutes, reducing heat if necessary.  Check carrots and potatoes for doneness, then taste and adjust seasoning with additional salt and pepper. Combine arrowroot with 3 tablespoons of water in a small cup and stir to remove any lumps.  Add to stew, stirring to thicken.   Ladle into bowls and serve with crusty bread.
– adapted from recipe as seen on feastofstarlight.com