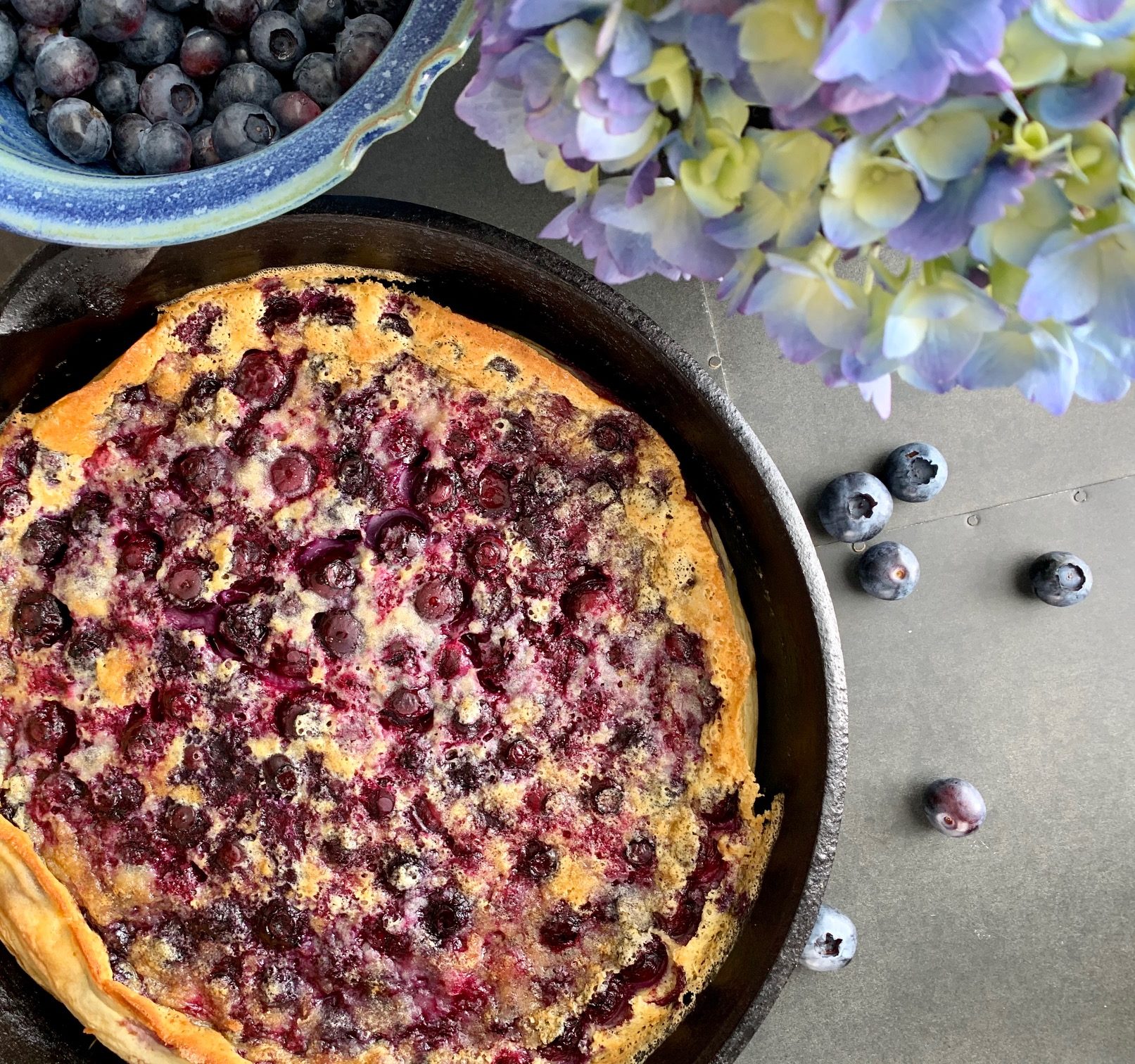 Once blueberry season begins, "pick blueberries" stays on my to-do list until the berries and I both give up and call it quits several months later. There are so many things to do with these summer jewels that it's hard to decide what to make first. Pies, buckles, cakes, muffins, and crisps have their merits, but in addition to the featured fruit they also pack lots of sugar, plenty of flour and maybe an entire stick of butter. Clafoutis is the recipe you need now. Fun to say and easy to make, clafoutis is a fancy French dessert you can make with any kind of fruit. 
Somewhat like a Dutch baby, this recipe pairs fresh fruit, baked until juicy, with creamy custard, flan-like cake. It's a less flour, less sugar, whole lotta less butter way to have your cake and eat it, too. Make it gluten-free with your favorite gluten-free flour, or almond flour. Do it dairy-free with the alternative milk of your choice and coconut oil in place of the butter. But don't swap the eggs. They're what give this recipe its velvety textured custard. Using a blender helps with the batter, but whisking until frothy works just as well. Plus, it gives you a little arm exercise.
The first time I made this, I didn't read the directions carefully. I tossed everything into the blender, gave it a quick whir, topped it with some canned apricots and it came out just fine. Impervious to error, It has that relaxed, easy feeling that I think all summer desserts should have. Who has time for fussy measuring and complicated baking? We have summering to do. 
This bakes-in-one-dish wonder feeds a crowd, even if it's just the crowd in your house. Spectacular with a scoop of ice (or nice) cream, leftovers, should you have any, are just as delectable the next day, rewarmed with a a bit of yogurt for breakfast. 
So get out that cast iron pan and get going. It's dessert, it's breakfast, it's delicious. 
Blueberry Clafoutis
2 Tablespoons unsalted butter
3 large eggs
1 cup whole milk
1 teaspoon finely grated lemon zest
1 teaspoon kosher salt
1 teaspoon vanilla extract
1/4 cup plus 2 Tablespoons granulated sugar
1/2 cup all-purpose flour
2 cups blueberries (or pitted cherries, plums, apricots … )
powdered sugar (for serving; optional)
Preheat oven to 350ºF. Add butter to a 10" ovenproof skillet or 2-3 quart shallow baking dish. Transfer to oven and heat until butter has melted, about 4-6 minutes.
Add eggs, milk, lemon zest, salt, vanilla and 1/4 cup sugar to jar of blender and blend until smooth and frothy, about 2 minutes. Add flour and blend until just combined.
Quickly pour batter into hot baking dish. Sprinkle berries evenly over then top with remaining 2 tablespoons sugar. Bake until puffed, set and lightly golden-brown, about 20-25 minutes. Let sit 10-15 minutes before enjoying warm. Sprinkle powdered sugar over if desired. 
– adapted from recipe by Anna Stockwell, June 2019, Epicurious