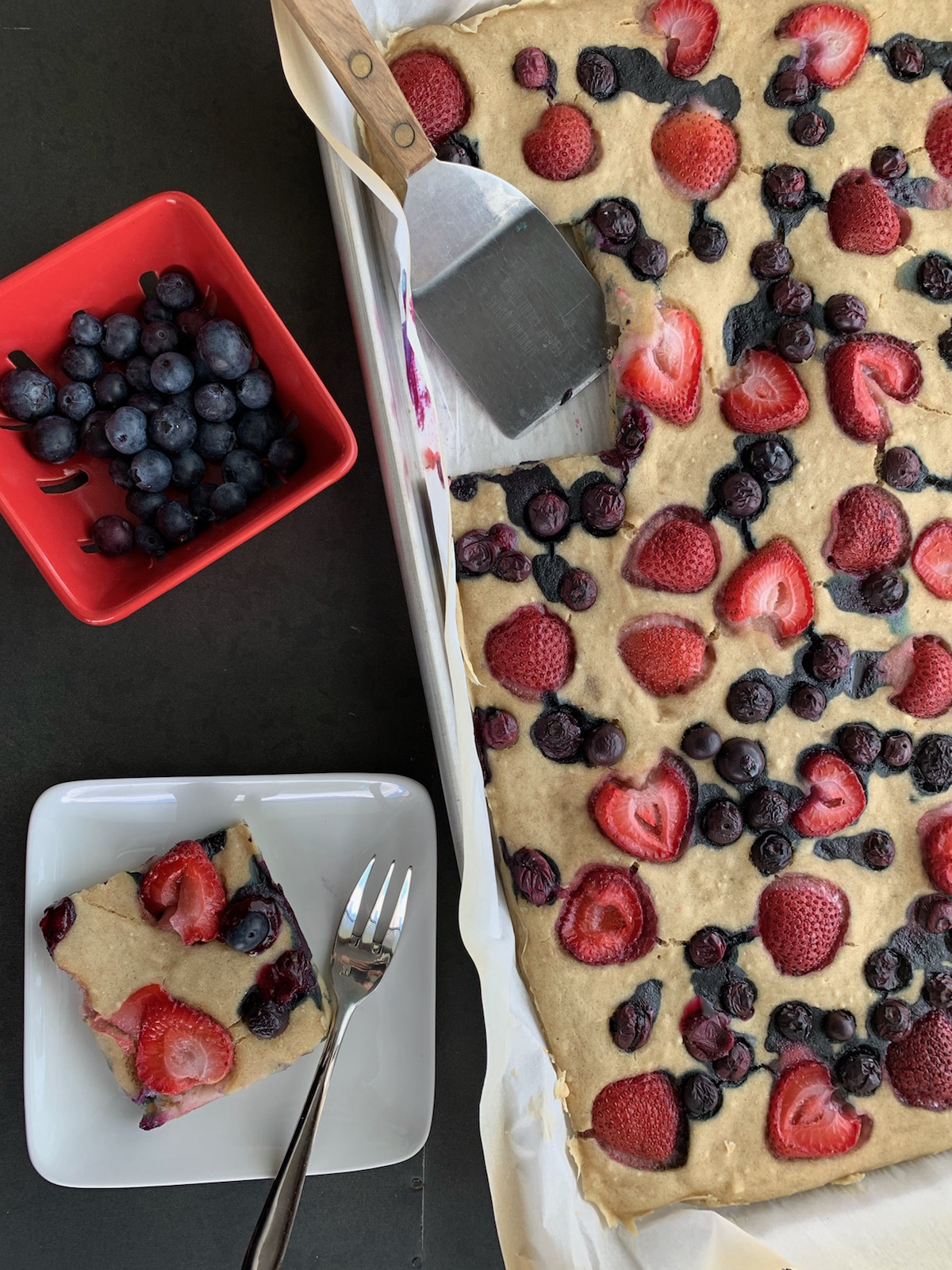 It's go time!  The fridge is stocked, the condiments are on standby, and your crowd is as stoked as your grill.  You've got your buns in a row, but what about your breakfast? Here's a pancake recipe that feeds a crowd. Studded with some of our Northwest strawberries and blueberries, it's a great way to kick off the festivities of the Fourth. It's nut free, gluten-free, dairy free, and vegan, so there's something for everyone except my Paleo friends, who I will sneak out to the smoker so they can eat bacon in private and enjoy the smell of the ribs. 
I used Bob's Red Mill Gluten-Free 1 to 1 Baking Flour and tried their Egg Replacer for the first time when I made this. It turned out fluffy, moist and delicious and no one knew it was missing eggs, wheat, or anything else. Best of all, it left me able to do other things while it baked, because who wants to be stuck flipping pancakes while everyone else is having fun? Substitutions are included in this recipe so you can make this using the ingredients you choose, including maybe adding in some white chocolate chips if that's what suits you.  
Yes, you can buy pancake mix, but why would you when making these yourself is so easy? While you're measuring, measure twice.  You can make a second batch of the pancake mix and store it in an air-tight container so that all you have to do the next time is add the wet ingredients. 
Enlist the help of your kids that are now out of school and home for the summer. This is fun to make, fun to eat and will feed that crowd that seems to mysteriously have assembled and set up camp at your house for the weekend. Happy Fourth! 
Berry Sheet Pan Pancakes
2 Tablespoons Egg Replacer mixed with 4 Tablespoons water, or 2 large eggs
2

 

3/4 cups coconut milk, or milk of choice
1 teaspoon kosher salt
1 1/2 teaspoons vanilla extract
2 Tablespoons sugar, or sweetener of choice
2 Tablespoons vegetable oil, plus 1/2 Tablespoon for sheet pan

 

2

 

3/4 cups all purpose gluten-free flour
1 Tablespoon baking powder
1 1/2 teaspoons baking soda
1 heaping cup fresh blueberries, rinsed
1 1/2 cups strawberries, rinsed, hulled and sliced into halves or thirds
maple syrup, for serving

 
Position oven rack in center of oven and preheat to 500º F. Line a sheet pan with parchment paper and lightly brush with oil. Combine egg replacer with water in a small bowl. Mix well and set aside, letting sit for 1 minute to thicken. Add coconut milk, salt, vanilla, sugar, and oil to a large bowl. Stir egg replacer, then add to bowl, whisking into other wet ingredients. In another large bowl, add flour, baking powder, and baking soda and whisk until combined. Add the coconut milk mixture into the flour mixture and whisk until just combined (a few lumps are okay). Pour batter onto prepared baking sheet and use a rubber spatula to spread batter evenly to edges.  Tap tray on counter to flatten. Top with sliced strawberries and blueberries, scattering over entire sheet pan. Transfer to oven and reduce oven temperature to 400ºF. Bake 16-20 minutes, rotating sheet pan halfway through baking, until lightly golden and tester inserted in center comes out clean. Cut into squares and serve warm with maple syrup.