Turlay jealous that Leavitt got time with Inslee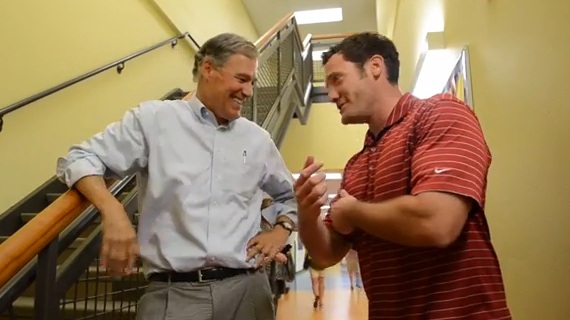 Vancouver City Councilor Bill Turlay, who is running for mayor, was upset to learn in a July 24 Columbian article that Vancouver Mayor Tim Leavitt would be spending time with Gov. Jay Inslee on July 26. He emailed the story to Leavitt with this note:
Mr. Mayor,
There are six city council members and a city manager who consider themselves community leaders and who would also like to shoot hoops and discuss the CRC project with the governor.
In accordance with the recently passed council compact, there will be no secret agendas. Full council participation in CRC discussions involving the entire city council and the governor would ensure our new pact is adhered to.
Where and what time do we all meet in the AM?
Bill Turlay, Vancouver City Council, Position 6
Yes, Turlay cited the council compact  he had just voted against.
While it would have been great to watch members of the council play basketball ("Harris! Play the post! Get off the perimeter!" "Hansen, quit hogging the ball!") no one from the council showed up. That's a good thing, because it probably would have been a bummer for the kids who played H-O-R-S-E with Leavitt and Inslee if other members of the council had been shouting questions at Inslee. Also, since the city didn't publicly notice the Leavitt-Inslee meeting, the city likely would have been in violation of state law if a majority of the council had showed.
In response, Leavitt told Turlay to schedule his own meeting.
Re: Gov. Inslee to talk CRC during visit
From Leavitt, Tim
Date Thursday, July 25, 2013 6:44 PM
To Bill Turlay
Subject Re: Gov. Inslee to talk CRC during visit

Thank you for your correspondence about this matter.
I recommend you contact the Governor's Office and request a meeting. There may be more information on the State/Governor website, or city staff may have on-hand such details.
Sincerely,
Mayor Tim Leavitt