State of the County bingo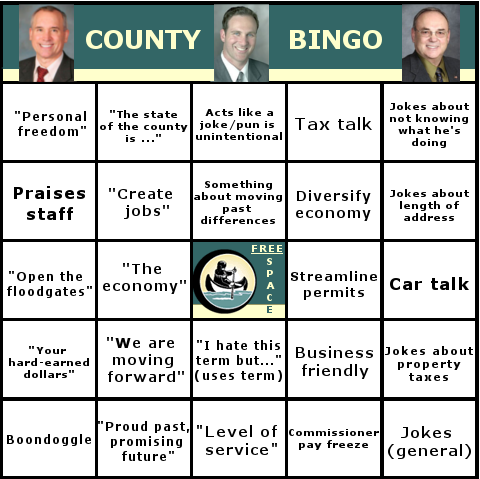 All three Clark County commissioners are set to deliver a "State of the County" address at 4:30 p.m. on March 14 at Prairie High School, 11500 NE 117th St.
Topics will include the county, and its state, I assume.
In all honesty, I have no idea what the speech looks like. Master of ceremonies and board chair, Steve Stuart, has kept me in the dark on what's going on. The veil of secrecy could be disguising some big announcement, or it could be Stuart just messing with me for his own amusement. Who knows?
If we are left to guess about such an affair, we should at least make a game of it.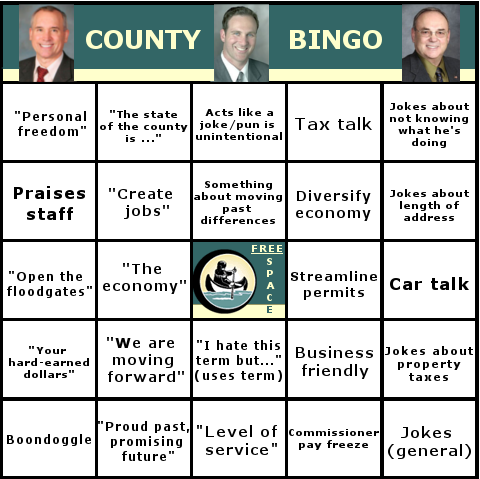 It should be noted that while the items under the photos do correspond with who I expect will say such things, I'm going to count all items across the board. Joking about the length of the address, for example, could go to any of them.
Same goes for the quotes and themes in the remaining columns. It's all a grab bag, folks.
Still, if Commissioner Tom Mielke doesn't crack a single joke, I'll be bummed out. And the state of the meeting will be gloomy.
For posterity, here is what has been talked about leading up to the address:
All three commissioners will speak. Stuart told Commissioner David Madore and Mielke today he really liked the stuff they wrote.
Stuart says there will be no talk about the Columbia River Crossing. Madore and Mielke were laughing pretty good when he said it, so take that for what it is.
Stuart wants to make sure there are no hitches with the "peacocks and fireworks." That's a joke, but I sure wish it wasn't.
Madore and Stuart will both use iPads for the event. When asked by staff if anyone else speaking wanted an iPad, Mielke just sat there smiling. I think we can assume he'll be using paper.
After some ribbing from both his fellow commissioners, Madore said he won't go over time. Apparently he's got some toastmasters experience, and promised he'll be watching the clock.