So close, but no bingo at State of the County address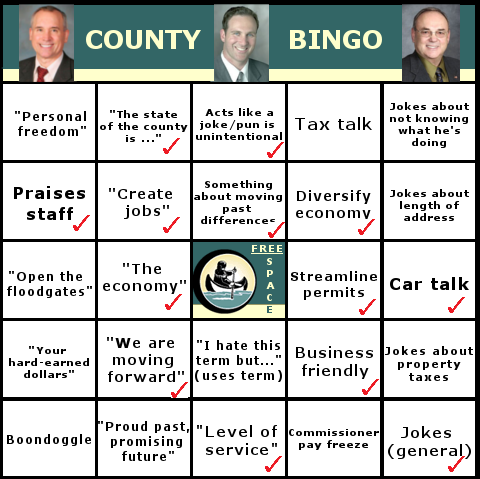 Okay, I didn't have the card in front of me, but here are the results from what I can remember.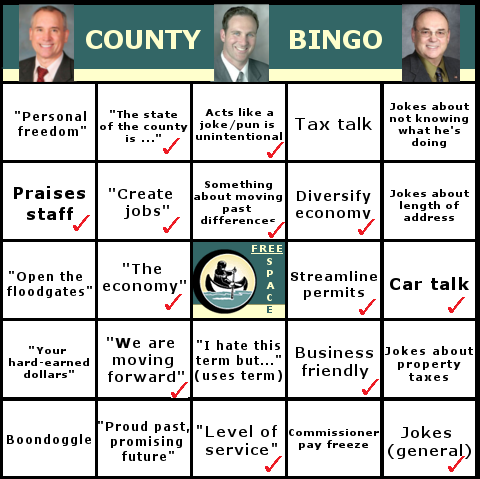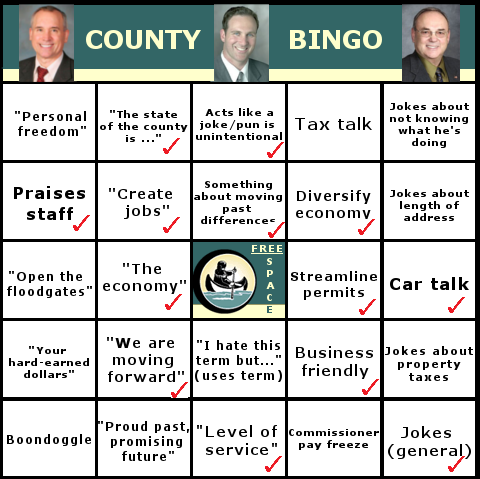 Dang that is close to a bingo.
Anyways, some notes on the event:
I counted some stuff that was "close enough." For example, Stuart didn't say "The state of the county is…" but he did deliver that message pretty clearly.
That said, I didn't stretch it. Stuart did talk about the county's past, but he didn't use the county motto of "Proud past, promising future." So no go. Madore talked about freedom, but it was the broader strokes, not specific to just personal freedom. Not going to count it.
Mielke killed it with jokes, but I picked the wrong ones. He had a pretty solid one about how he wasn't using an iPad like his fellow commissioners, and once the technology goes awry, he would be the one to save the day.
All three commissioners hit the "Jokes (general)" category. Madore started it off quick with some microphone wrangling he likened to an IQ test. Stuart had a good one about minor league baseball being located outside of Clark County that even got Mielke clapping.
Stuart said some folks told him afterward they had bingo. If that's true, you contact me and tell me what I missed.
Stuart said he had a cash prize if anyone actually had the guts to call out "bingo" during the event. Unfortunately, I let everyone down on the pay day with my selections.
On a serious note, Stuart said after the address that his theme was "balance" and that he hopes that came through loud and clear.
Also on a serious note, staff and volunteers were widely praised during the event for their commitment to the county during the past few years.