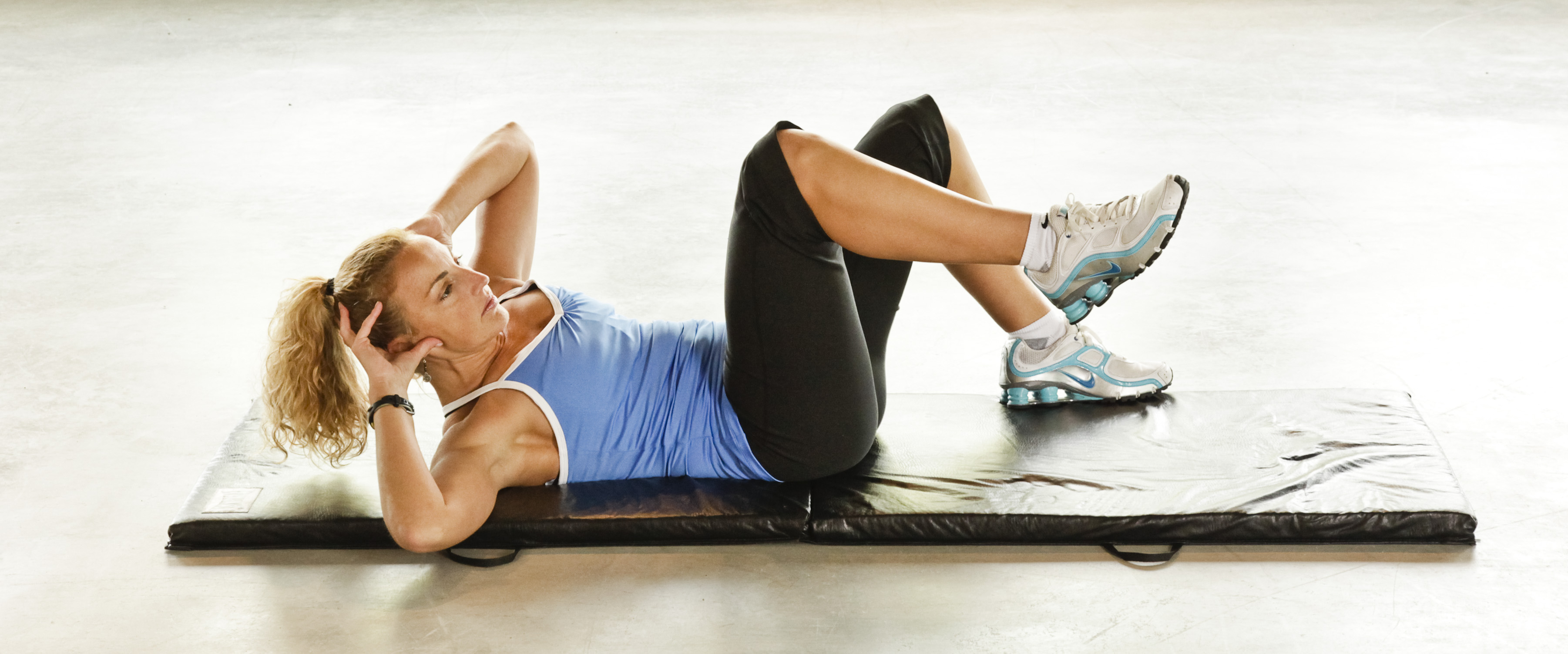 Week Eight
The Skiing and Boarding Sports Specific program is now complete. With that said, it doesn't mean you're done with it. If you want to maintain peak conditioning throughout our winter season, you'll need to continue doing all the exercises once or twice every week. So stick to it and you'll be surprised at how much better your body performs and how much more easily you can recover after a day on the slopes.
The format of your 8-week program involves performing the three exercises from each week one through eight with a 30 second recovery in between each week's exercises. The stretching occurs at the completion of your workout.
Fit For The Slopes Tip
At the mountain, the walk from the parking lot to the lift should be sufficient to start warming up your body for the day. When you get to the top of the mountain, perform a few easy squats and back rotations. Your first run should be an easy green run without any jumps.That can be tough to adhere to when you want the fresh powder! At the very least, be sure to complete a few dynamic range of motion movements and ease into your first run. Slowly progress into your more challenging runs. Likewise at the end of the day, finish off with an easy green run with no jumps in order to assist your body through the recovery process.
Remember, before you get back into your car, perform the eight Apres-ski stretches you've learned over this 8-week program.  Have a great season!
---
Lower Body & Core: Balance Props
Try to incorporate movements using Wobble boards, Bosu Trainers and other tools to challenge your balance system which will benefit your skills on the mountain.
---
Lower Body: Resisted Lateral Steps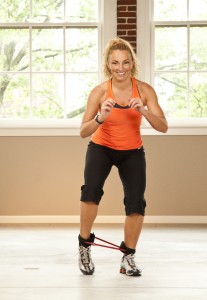 Place a resistance band around your ankles and then step side to side while maintaining tension on the resistance band. This will develop the strength in your hips. Step side to side for 30-90 seconds.
---
Torso: Oblique Crunches
Lay on your back with your knees bent, feet on the floor and hands lightly supporting the weight of your head. Slowly curl up on a angle while lifting the opposite leg. Tuck your chin in slightly, focusing your eyes at a 45 degree angle – avoid looking right up at the ceiling or directly at the opposite wall – this will help keep your neck in a neutral position. Slowly curl up to a comfortable position and then slowly return to the starting position – make sure that your rib cage moves forward towards your opposite hips. Keep your abdominals contracted throughout the entire exercise. Repeat 8-15x each side.
---
Apres-Ski Back Stretch
Sit in your chair and then slowly reach one arm over your head and over to the opposite side. Try to reach the ribs away from your hips. This is a perfect way to finish the day – your server will think you're just trying to get their attention – Time to order!
---
Note: As an avid Columbian reader, you can redeem a 2 week pass at her world-class training studio to help get you started. Contact 360.574.7292 for more details.
Yours in health & fitness,
Sherri McMillan
---
Join us for the Couve Clover Run (3, 7 & 10 Miles) March 22nd, 2020!
RUN, GIVE BACK & PARTY AT MAIN EVENT AND OTHER DOWNTOWN PUBS!
Join us for the 6th Annual Couve Clover Run and celebrate in your festive green while running or walking 3, 7 or 10 miles along an extremely fast and scenic course to support local charities! We will make you earn your post-event party but it will be off the charts hosted by Main Event and other downtown Vancouver Pubs & Breweries.
---