Week 7
By now you should be feeling that your overall fitness level has improved. The exercises should be starting to get easier and you may feel it necessary to make the exercises more challenging by perhaps, completing a few more reps of each exercise. Remember that this workout should be done 2x/week on non-consecutive days.
Today we add three new exercises and one stretch to your repertoire. Perform each of the three exercises from week one to today with a 30 second break in between each of the week's exercises. Then save some time at the end to complete your flexibility routine. You'll have your stretching program all memorized so when you hit the pub after a long day on the slopes, you'll whip through them in under 10 minutes. Ten minutes isn't a huge sacrifice for the safety and performance of your body – your muscles, bones, joints and connective tissue will thank you for your attention to this area.
---
Lower Body: One Leg Heels To Toes Rocking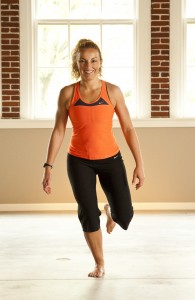 Stand on one leg. Slowly push up onto your toes and then slowly rock back onto your heels while pulling your toes towards your shins as high as you can. Do this rocking back and forth from toes to heels for 30-60 seconds per leg.
---
Balance: 2 x 4 Training
You can use a standard 2 x 4 piece of wood to improve your balance and stability. You can start by just walking forward and backward on the board. You can walk laterally across the board. You can squat on the board or stand on one leg as you lower your weight down and up. You can perform all types of movements on the board and create an entire balance routine using a variety of different movements.
---
Torso: One Arm and Leg Lifts
Lay on your stomach with your abdominals contracted and pulled away from the floor throughout the entire exercise.  Start with both arms positioned over your head. Keep your neck in a neutral position.  Lift one arm and the opposite leg. While lifting the arms and legs, avoid lifting really high – instead focus on reaching the arms and the legs. Do 8-15x each side.
---
Flexibility: Apres-Ski Back Stretch
Place your hands onto your hips and slowly arch backwards looking up towards the ceiling. Hold for 15 seconds x 4.
---
Note: As an avid Columbian reader, you can redeem a 2 week pass at her world-class training studio to help get you started. Contact 360.574.7292 for more details.
Yours in health & fitness,
Sherri McMillan
---
Join us for the Couve Clover Run (3, 7 & 10 Miles) March 22nd, 2020!
RUN, GIVE BACK & PARTY AT MAIN EVENT AND OTHER DOWNTOWN PUBS!
Join us for the 6th Annual Couve Clover Run and celebrate in your festive green while running or walking 3, 7 or 10 miles along an extremely fast and scenic course to support local charities! We will make you earn your post-event party but it will be off the charts hosted by Main Event and other downtown Vancouver Pubs & Breweries.
---