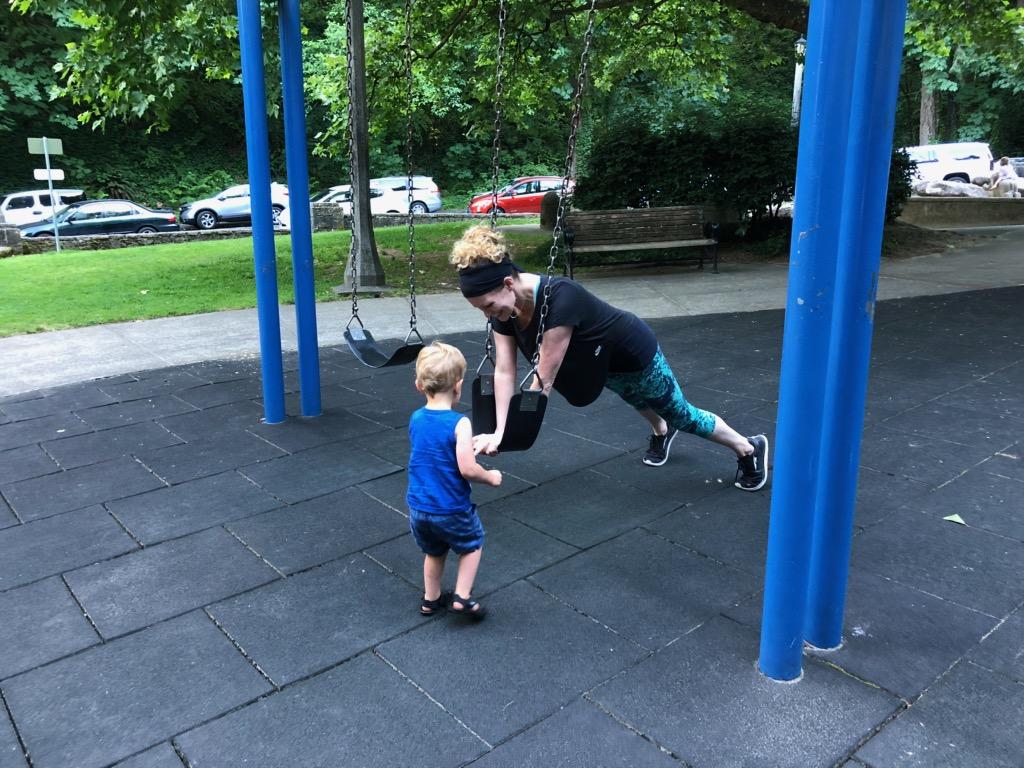 Swinging Your Way to Fitness
Just because your kids are out of school, doesn't mean that your workouts have to suffer! Many people take a two-month workout sabbatical during the summer and get back on track in the fall because they can't seem to find the time to get to a gym. But it doesn't have to be this way!  Why let all your fitness go to waste over the summer and have to start from scratch in the fall?!
Here's a workout that you can do at the park while the kids play. Warm-up by walking or cycling to the park and then perform the following exercises.
Swings
Swinging on the swings can be fun but did you know those swings can also provide an incredible workout for your entire body!
Jump Swing Squats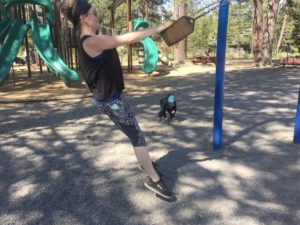 Stand behind the swing and hold onto the seat. Lean back into a squat and then explode upwards into a jump. Complete 12-20x.
Swing Rows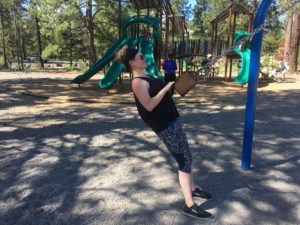 Hold onto the swing seat and bring your feet forward underneath the swing and lean your body back. Now slowly lift and lower your body weight to work your back and arm muscles. Complete 12-20x.
Swing Lunge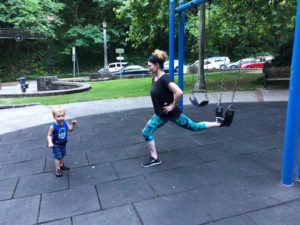 Face away from the swing set and place one leg on the swing seat. Keep your front knee pointed forward and positioned over your ankle/forefoot. Now slowly allow the back knee to lower towards the ground and then return to the starting position. Keep the majority of your body weight on the front leg and drive upwards using your glute/hip muscles. Perform 12-20 reps each leg.
Swing Plank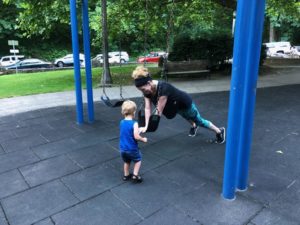 Place your hands on the swing seat. Tighten your core muscles as you slowly allow the swing and your arms to move forward. Keep your back elongated and the muscles active in your core. Only extend as far as your shoulders and low back feel comfortable. Return to the starting position and do it again. Complete 12-20x.
1 Leg Squat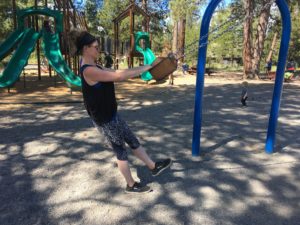 Stand behind the swing holding the swing seat in your hand. Stand on one leg and lean back. Slowly lower into a one-legged squat position and return to the starting position. Go as low as it feels comfortable on your knee and drive upwards with your hips/glutes. Do 12-20x each leg.
Swing Push Up & Pike
(Advanced) Place your hands on the ground in front of the swing and feet onto the swing seat. Start in a plank position and then lower to a pushup. Return back to the plank position. Now slowly lift your hips into a pike position and then return to the plank position. Keep your core active strong throughout the entire exercise. Repeat 5-10x.
Enjoy this workout and swing your way into fitness!
Yours in health & fitness,
Sherri McMillan
Note: As an avid Columbian reader, you can redeem a 2 week pass at her world-class training studio to help get you started.  Contact 360.574.7292 for more details. 
---
The 23rd Annual Pacific Crest Endurance Sports Festival has something for everyone including the 72.3 BEASTMAN, Olympic & Ultra-Sprint Distance Triathlon/Duathlon/AquaBike, Marathon, Half Marathon, 5K/10K, 28K & 50K Trail Run, Bike Tours & Kids Races! Plus Sunriver is the most amazing active, fun resort-town ever! Rally your friends & family for an incredible RACE-cation!
---