Make The Outdoors Your Personal Bootcamp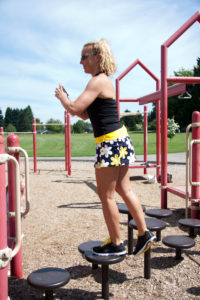 Bootcamp workouts evolved from the military and typically involve body-weight movements and calisthenics outdoors. Exercises like squats, pushups, pullups, burpees, running and jumping are common in a Bootcamp workout. This type of workout can be highly effective providing an intense interval workout that combines cardiovascular training, resistance training, and sports conditioning training that is physically challenging, inspiring and a ton of fun.
The workouts are generally high-impact, high-intensity and best suited for physically fit individuals. With that said, they are very popular amongst people who want to lose weight because the workouts burn so many calories.
If you are currently not-exercising, deconditioned and/or obese, Bootcamp workouts may still be an option for you but will require many modifications to assure you don't get injured. Feel free to:
Walk versus run
Eliminate the jumps on the impact movements
Take breaks when you need
If you're the type of person who will feel pressured to do as many reps and the same movements as everyone else, you might want to wait to try Bootcamp workouts until you have improved your general conditioning. If you're ok with doing modified movements and not keeping up with everyone else, then go for it. Just pace yourself and listen to your body!
Outdoor Bootcamps can:
Improve your overall physical and mental fitness
The group comradery can help with your consistency and results.
The fresh air and vitamin D can boost your immune system
Increase your energy
Make you feel amazing!
So look around you and see how you can make the outdoors your gym:
Stairs
If you're looking for a high intensity workout, look no further than a set of stairs. You'll work your cardiovascular system and condition your legs. You can run or walk the stairs and either way, you'll be huffing and puffing right out of the starting gates.
Hill
Find a short hill and do repeats for an incredible cardio workout.
Park
Any community park is a fabulous location for a full body workout. You can use the monkey bars for chin-ups. A bench or step is great for performing step ups or box jumps. You can climb or jump your way to a fitter you.
Curbs
You can use a curb to perform stepups, running up and down or modified burpees.
Rocks
Heavy rocks can be lifted overhead or pressed for upper body strength.
Sand
Sand running or performing walking lunges or squats in the sand can develop leg and ankle strength and stability.
Bench
Rather than just sitting on it, try some Tricep Dips, Bicycles or Stepups.
Log
You can stand on it on one leg to condition your balance system or try stepping up and down onto it or hold a V-position for your core.
FREE Sunday Bootcamps: If you're looking for something structured so you don't have to think about it, we offer a FREE Community Bootcamp class every Sunday at 9am starting June 9th -August 25th. This workout will take place outdoors utilizing many of the local parks in downtown Vancouver including the Columbia River waterfront, Fort Vancouver and more!
Yours in Health & Fitness,
Sherri McMillan
Note: As an avid Columbian reader, you can redeem a 2 week pass at her world-class training studio to help get you started.  Contact 360.574.7292 for more details. 
---
The 23rd Annual Pacific Crest Endurance Sports Festival has something for everyone including the 72.3 BEASTMAN, Olympic & Ultra-Sprint Distance Triathlon/Duathlon/AquaBike, Marathon, Half Marathon, 5K/10K, 28K & 50K Trail Run, Bike Tours & Kids Races! Plus Sunriver is the most amazing active, fun resort-town ever! Rally your friends & family for an incredible RACE-cation!
---