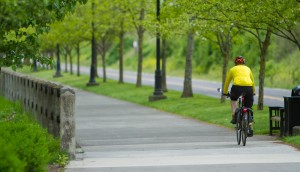 Have you been to Downtown Vancouver recently? With the new waterfront development, cool shops and restaurants and incredible murals, art and ambiance, it's the place to be.
Here's a few ways to enjoy Downtown while being active:
Walk & Explore
The Downtown Vancouver Business Association pulled together this walking map to show you all the great places to visit and tour while burning some calories and getting your heart pumping You can extend your walking distance and caloric expenditure by including Officer's Row, the Fort, the Columbia River waterfront and the new waterfront development including the award-winning Grant Street pier. Along the new waterfront development, there are also great features including a climbing web for kids to get their workout on.
Bike & Tour
You can park along the new waterfront area and bike along trails all the way to Wintler park and back for a scenic ride along the Columbia river safe from vehicles. Then lock up your bikes, tour around downtown, eat, shop and enjoy the Farmers Market on Saturdays and Sundays
On the first Friday of every month, art galleries highlight their beautiful art and downtown shops and restaurants offer specials and invite the community to come and see how cool downtown is! Northwest Personal Training offers a FREE Zumba and Yoga class for the community every First Friday so you can get your sweat on, shower and then walk around and enjoy all the downtown sights. Call 360.574.7292 to reserve a spot. Bring your friends and make it an entire evening of fitness and fun!
Did you know that Downtown Vancouver is home to over 25 beautiful and amazing murals. You could get a great workout walking or running to visit them all. Each has an incredible story to enjoy!  Go here for a map find all of the murals.
If you're looking for something a little more vigorous, we offer a FREE Community Bootcamp class every Sunday at 9am starting June 9th -August 25th. This workout will take place outdoors utilizing many of the local parks in downtown Vancouver including the Columbia River waterfront, Fort Vancouver and more!
Yours in health & fitness,
Sherri McMillan
Note: As an avid Columbian reader, you can redeem a 2 week pass at her world-class training studio to help get you started.  Contact 360.574.7292 for more details. 
---
Join us for the RUN TO REMEMBER WASHINGTON! Sunday May 19th in 
Downtown Washougal, WA (just across the river from Portland Oregon)
The 4th Annual Run to Remember WA will honor the brave men and women who have or are currently serving in our Armed Forces and remember those who have given the ultimate sacrifice fighting for our freedom. The Half Marathon, 10K, 5K and Memorial Mile running and walking event will benefit various Military Organizations.
---