Working Out With Your Dog!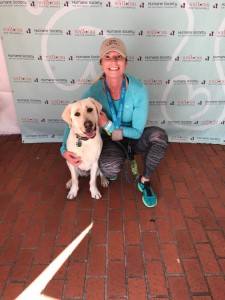 It's true that having a dog makes you healthier! Research shows that those with dogs get more physical activity than those who don't own dogs. Having a dog forces you to get out to walk them increasing your daily activity and reaping the health benefits.
The best part is a dog can be your best training partner acting almost like your own in-house Personal Trainer. No one likes exercise more than a dog; they're always ready to go, they never cancel and they never complain.
Walking your Dog
All you need is a leash and you can explore the outdoors while working your heart and lungs and burning some calories. The options are limitless. You can walk sidewalks in an urban area, hit some paved biking and walking paths in your community, or get to the mountains for some walking or hiking trails.
Running with your Dog
If you're both ready to ramp up the intensity, take some time to train your dog how to keep a straight line while running with you and off you go. Be sure to understand your breed of dog and their tolerance for distance running. Some breeds can manage long distances and others will require you to keep it short and sweet. Remember to assure you both stay hydrated.
Water Sports with your Dog
You've probably seen photos of dogs cruising on the front of their owners' Stand-up Paddleboard or chilling in a kayak while their owner paddles away. You don't have to leave your dog at home and once you see how much your dog loves these activities, it might just motivate you to be consistent. Remember the life vest for your dog too!
Catch and Release
You throw the ball, the dog runs, retrieves and returns. Repeat. This game doesn't give YOU very much exercise. How about you mix it up a bit? Try throwing the ball and then you both race to the ball. Or throw the ball one way and then run the other way and hide and your dog has to retrieve the ball and then find you. Or throw the ball and then before they get back, see how many jumping jacks, pushups or jump squats you can do. You'll both be sweating and panting in no time!
Dog Park Bootcamp
While your dog is playing with all the other dogs, how about you do a set of squats and lunges. Take your exercise tube and wrap it around a pole and do rows and presses. Use the time to get your own workout in.
Join a Dog-friendly race
Add purpose to your workouts together! The Humane Society is hosting their annual Walk/Run for the Animals on Saturday May 4th at Esther Short Park. Do something good for you and your dog while raising funds for the Humane Society!
No Dog?! No problem!
All of this sounds great but what if you don't have a dog. You can start by volunteering to walk dogs at the Humane Society. Help them get the exercise they need while reaping physical and emotional benefits yourself! Here's a great place to start in Vancouver.
Yours in health & fitness,
Sherri McMillan
Note: As an avid Columbian reader, you can redeem a 2 week pass at her world-class training studio to help get you started.  Contact 360.574.7292 for more details.
---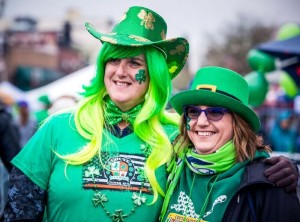 Join us for the COUVE CLOVER RUN – 3, 7 & 10 MILES on March 24th, 2019 in downtown Vancouver, WA. Celebrate St. Patrick's day with us at the 5th Annual Couve Clover Run. Wear your festive green while running or walking 3, 7 or 10 miles along an extremely fast and scenic course to support local charities! We will make you earn your post-event party, but it will be off the charts hosted by Main Event and other downtown Vancouver Pubs & Breweries.
---