Learn to Run on Global Running Day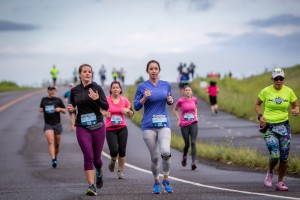 Global Running Day is this Wednesday June 6th, a day designated for runners to reaffirm their passion for running and also a good day for beginners to begin a life-changing commitment to running. With the weather so nice lately, you'll notice a lot of people out running on the Waterfront, Salmon Creek, Padden Parkway and Discovery Trails so Vancouver definitely has the running bug!
Now that Vancouver has our very own Inaugural Boston-qualifying APPLETREE Marathon, Half and Sunset 5K scheduled September 15th & 16th, it's a perfect opportunity for our community to set a goal, train and accomplish that goal together. The event has a tag-line of "A Run through History" and will highlight the historic beauty of Vancouver and provide a heavily supported experience for new and seasoned runners. With the recent cancellation of the Portland Marathon, runners from all over the country are looking for another fall racing alternative and it's a perfect opportunity for Vancouver to shine! Here's a link to more information about the APPLETREE Marathon festival.
In honor of this new event and Global Running Day, we are going to host a FREE 5K to preview our new APPLETREE SUNSET 5K, part of the Marathon/Half Marathon weekend. We will start/finish at the Eatery at the Grant House on Officer's Row at 6:30pm on Wednesday June 6th. This will be a no-frills event – no medals, no shirt, no support…just an opportunity for us to celebrate the sport of running and preview the 5K course. Afterwards, you can go home or you can have dinner at the Eatery at the Grant House. They are a partner with us for the Appletree event so it would be great to support them! Their bar menu will be available and they are going to offer some drink specials for us. Here's a link to the details for the Free 5K Preview Run.
Most runners can attest to the benefits of running. Running has been proven to be one of the most effective methods for improving your cardiovascular system, reducing body fat and maintaining a toned, lean physique.  Not only that, it'll also help improve your self-esteem and confidence and decrease your risk of experiencing health disorders or disease. Running is an incredible form of exercise but it can also cause its share of problems.
The "Terrible Toos" are often the leading culprit and cause of most running injuries. Too much, too soon, too hard, too fast, too long. Consider this….with each running stride, your body is forced to absorb impact forces as great as 3x your body weight. So if you weigh 150 pounds, imagine 450 pounds of force pounding through your muscles, bones, ligaments and tendons with each foot strike. You can imagine that over the course of a five-mile run, the amount of force the body absorbs is tremendous. Due to the nature of the sport, specific imbalances and areas of weakness can result.  For these reasons, proper progression is critical if you expect to continue running on a long-term basis.
So if you are not presently running three times per week and cannot comfortably complete a run without stopping, I recommend you try the following program as you get started.
Learn to Run Program
| | |
| --- | --- |
| Week 1 | (Run 1 min. Walk 4 min) x6 |
| Week 2 | (Run 2 min. Walk 3 min) x6 |
| Week 3 | (Run 3 min. Walk 2 min) x6 |
| Week 4 | (Run 4 min. Walk 1 min) x6 |
| Week 5 | (Run 5 min. Walk 1 min) x5 |
| Week 6 | (Run 6 min. Walk 1 min) x5 |
| Week 7 | (Run 7 min. Walk 1 min) x5 |
| Week 8 | (Run 8 min. Walk 1 min) x5 |
| Week 9 | (Run 9 min. Walk 1 min) x5 |
| Week 10 | (Run 10 min. Walk 1 min) x5 |
Follow each week's program 3x/week on alternating days.
Remember to warm-up and cool-down for about 5-10 minutes of walking
As you increase your mileage, feel free to try the Galloway approach which recommends running 10 minutes and then walking for a minute for the entire distance. Please, please listen to your body. And remember, you can complete this program by walking only and just vary your pace between a harder and more moderate pace – you never have to run!  It's up to you!
We hope to see you on Wednesday June 6th starting at 6:30pm!
Note: As an avid Columbian reader, you can redeem a 2 week pass at her world-class training studio to help get you started. Contact 360.574.7292 for more details.
Yours in health & fitness,
Sherri McMillan
[divider][/divider]
The 22nd Annual Pacific Crest Endurance Sports Festival has something for everyone including the 72.3 BEASTMAN, Olympic & Ultra-Sprint Distance Triathlon/Duathlon/AquaBike, Marathon, Half Marathon, 5K/10K, 28K & 50K Trail Run, Bike Tours & Kids Races! Plus Sunriver is the most amazing active, fun resort-town ever! Rally your friends & family for an incredible RACE-cation!

[divider][/divider]