Partner Training – Week 10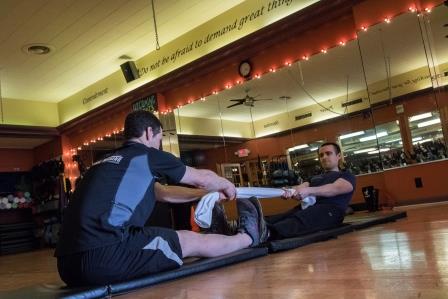 Partner Training – Week 10 – Partner Training Stretches
We are at the end of a 10 week Partner Training Series and you now have a ton of options available to you for working out with your husband, a relative, a co-worker or friend. You've already learned a number of different exercises you can do with your partner. The question is how do you organize it all? You obviously can't do it all each workout. So you may want to decide that on Monday and Fridays you do a Boxing workout with medicine ball exercises in between drills.  And then maybe on Wednesday and Saturdays you do a Tubing workout together and any other fun activities/drills you do together will be a bonus. We hope that it provides a lot of variety to your workouts and now that you know how to workout together, we hope that it really enhances the commitment to your health and fitness program and to your friendship.
It's always a good idea to keep your connective tissue and your body limber and flexible so we will finish our series with a few stretches that you can do together at the end of your workouts.
Hamstring Stretch:
Start by sitting down facing each other with your legs straight and feet touching.  Each of you holds onto the end of a towel.  One of you slowly stretches forward while the other leans backwards keeping abdominals tight.  Be sure to communicate to each other to know when the stretch is perfect and when it might be too much.  Hold for 10-15 seconds and then switch.  Switch back and forth 3-5 times. Now perform the same with your legs wider in a straddle position.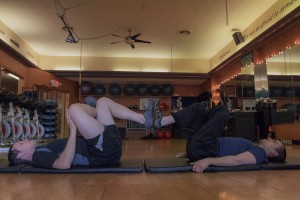 Glute Stretch:
Start by lying on your backs in opposite directions with your legs suspended in the air and your feet touching. Your knees and hips should be at a 90 degree angle in order to get a good stretch. Each of you crosses one ankle over the other leg and rests into this position. You should feel the stretch in your buttock, hip region.
Inner Thigh / Back Extension Stretch:
Start by sitting down back to back with your knees bent and the souls of your feet touching. You will start by slowly stretching forwards to feel an inner thigh stretch as your partner gently bends backwards to feel a great stretch through their upper back. Hold for 10-15 seconds and then switch.  Repeat for 3-5 sets.
Quadricep Stretch:
Face each other, stand on one leg and hold onto your partners shoulder with one hand to help with your balance.  Grab the other foot and bring it towards your buttock until you feel a good stretch in the front of your thigh.  Hold the stretch for approximately 30 seconds.
Sherri McMillan, M.Sc. has been inspiring the world to adopt a fitness lifestyle for 25 years and has received numerous industry awards including International Personal Trainer and Fitness Presenter of the Year. She is the author of five books including "Go For Fit – the Winning Way to Fat Loss" and "Fit over Forty" and is the featured presenter in various fitness DVDs.  She is the owner of Northwest Personal Training in downtown Vancouver and can be seen running, hiking or cycling with her two children, Brianna and Jackson.  She can be reached at www.nwPersonalTraining.com or www.ShapeupwithSherri.com Note:  As an avid Columbian reader, you can redeem a 2 week pass at her world-class training studio to help get you started.  Contact 360.574.7292 for more details.
Join us for the 32nd Annual Spring Classic Duathlon & Home Depot Half Marathon, 10K & 5K  April 24th. Enough Hibernating!
Wake up, Get out & Race!
Choose the Duathlon or any of the
3 different running distances and let's Spring into Action!