Cardio to Tighten Those Glutes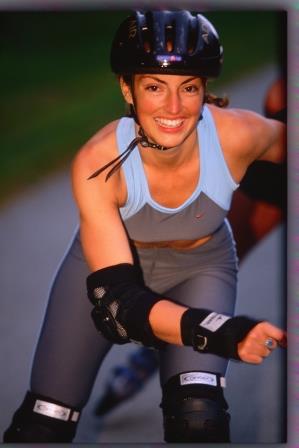 Cardio to tighten those glutes!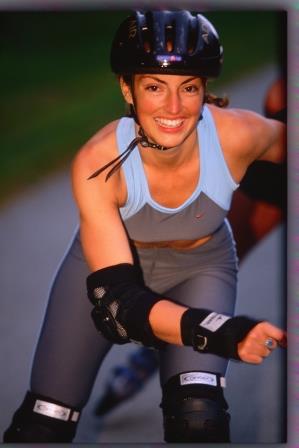 As the weather warms, it reminds us that beach season is on its way.  Thoughts of swimming suits and bikinis can either excite or frighten you depending on how well you've taken care of yourself all winter.  For most women, the area that causes most concern is the fat that seems to deposit around our hips.  For whatever reason, many believe for child bearing and breastfeeding purposes, the fat cells in this area don't seem to want to give up the fat.  The enzymes that mobilize fat from the fat cells around the hips and send it off to the muscles to be used for energy seem to be dormant.  So what's a girl to do?
Well, we've heard it all before.  Cardio exercise will burn the fat directly and building muscle by lifting weights will tone the muscles in the area and help make you a 'fat-burning' machine.  So we've gotta be running, walking, cycling, or taking fitness classes 3-5x/week and on top of this, we've got to hit the weights 2-3x/week.  But what if you have a life outside of exercise?! Adherence to this kind of an aggressive program may seem challenging.  Luckily, there is a way you can burn body fat and tone the buttock muscles simultaneously.  There are certain cardio activities that target the gluteal (butt) muscles very well.  A program that includes these butt-busting activities will develop tone in this problem area like you've only imagined.
Get outside and enjoy the fresh air.
Hiking

:

If you analyze the body's movements during hiking (especially a steep hike), you'll notice that you're basically performing non-stop, repetitive step-ups.  And we know how much our butts love step-ups!  To further involve the glutes on your hikes, be sure to fully extend at the knee and hip with each step, and push off from the entire surface of the front foot.  Fortunately, there are plenty of hiking opportunities here in the Northwest including Forest Park, Mt. St. Helens and Mount Hood!
Inline Skating: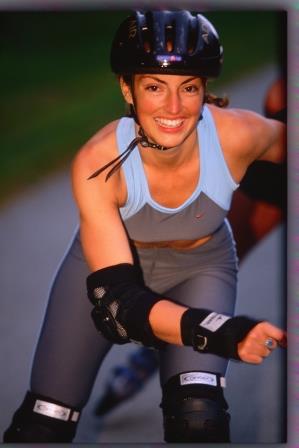 Have you ever checked out a hockey player's glutes?  Well, I admit, I have!  They've got such strong looking rears because their sport effectively targets the gluteal muscles.  Get the same benefit by strapping on a pair of inline skates and get ready for an excellent workout for your hip region.  To target different regions of the hip, try this workout:
For 45 seconds, skate fully upright and with each skate, push your leg directly to the side.
For 45 seconds, skate in a tuck position and with each skate, push your leg directly to the side.
For 45 seconds, skate in a fully upright position and with each skate, push your leg backwards on a diagonal angle.
For 45 seconds, skate in a tuck position and with each skate, push your leg backwards on a diagonal angle.
Complete this 3 minute circuit, 7-10 times for a twenty to thirty minute workout.
Swimming:
Most think swimming is just a great upper body workout – think again.  Grab a flutter board and do back-to-back lengths of flutter and butterfly kicks.  You wanna make it even more intense? Put on some flippers.  Your butt muscles will be screaming.
Power Walking:
Yep, just going for a walk will force your glutes to work.  But to get more 'bang for your buck', with each step focus on pushing and propelling forward and squeezing your glute muscles rather than just falling into each step.
Running:
Check out the tight little butts on those Kenyan runners.  If you want a better overall workout for the hip, incorporate different hilly terrains and various speeds.
Old-fashioned 

Stair-climbing

:

Head to your local stadium and climb up and down the bleachers.  Not only will you experience an amazing cardio workout, but your glutes will be humming.  Remember to focus on fully extending and contracting your glute muscles on each step.

Note:  We are hosting a Running Clinic every Wednesday night at 5:30pm starting May 8th. Here's your chance to get those butts in great shape!

We are also hosting a Triathlon Training clinic that starts May 4th. Triathlons are another way to work your entire body, especially your glutes!  We will help get you to the finish line!

Sherri McMillan, M.Sc. has been inspiring the world to adopt a fitness lifestyle for over 25 years and has received numerous industry awards including International Personal Trainer and Fitness Presenter of the Year. She is the author of five books including "Go For Fit – the Winning Way to Fat Loss" and "Fit over Forty" and is the featured presenter in various fitness DVDs.  She is the owner of Northwest Personal Training in downtown Vancouver and can be seen running, hiking or cycling with her two children, Brianna and Jackson.  She can be reached at www.nwPersonalTraining.com or www.ShapeupwithSherri.com

Note:  As an avid Columbian reader, you can redeem a 2 week pass at her world-class training studio to help get you started.  Contact 360.574.7292 for more details.