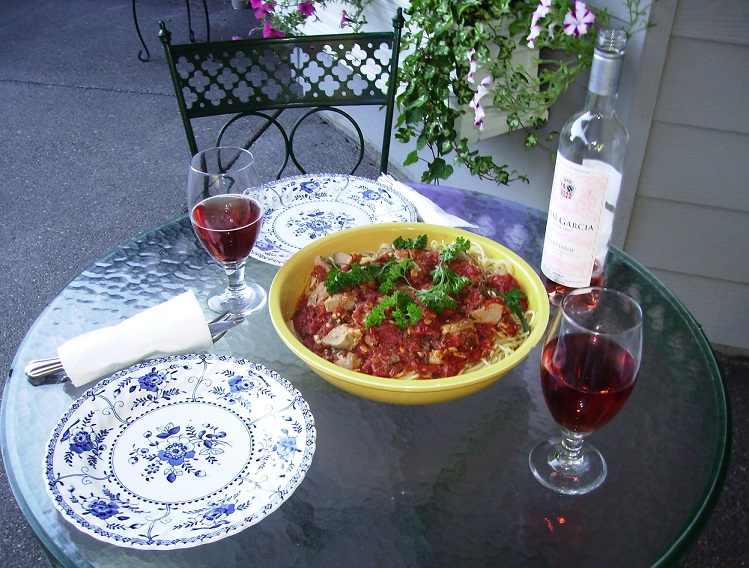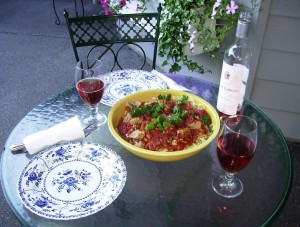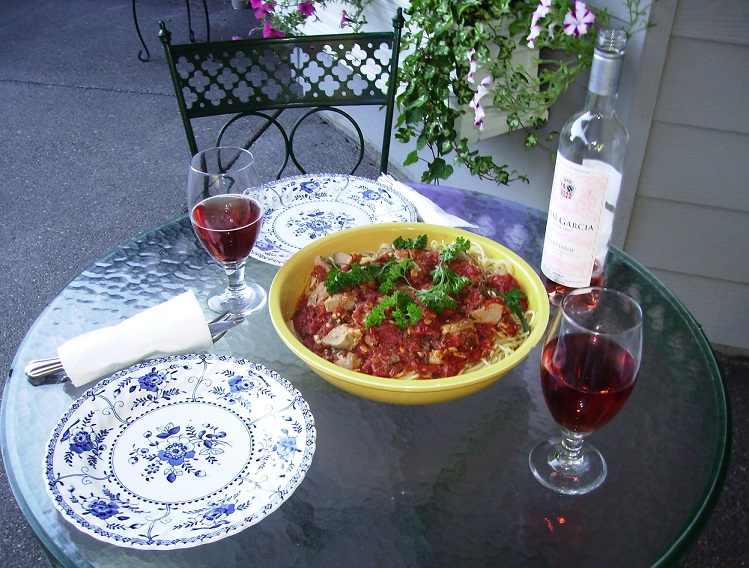 I kind of went crazy at the farmer's market the other day and bought too many tomatoes. I was anxious to try first really good ones of the year that are tasty.  I take a slice of good bread, cover it with mayo, sprinkle dill and slice the tomatoes on it. I can eat way too many of these as an open-faced sandwich. It's even better if you can find dilly bread (tell me where!).
But when I was sated, I still had too many, so I made a typical tomato sauce with garlic, basil, peppers and Cajun spices (if you haven't discovered hometown spice merchant Cajun's Choice, do so. I've found it at QFC, Pacific NW Best Fish in Ridgefield, or you can find it here: http://www.cajunschoice.com I'm not sure how a few Cajuns ended up in Vancouver USA creating 10+ condiments and food items, but I'm glad they did). I did the Italian grandma thing, slow-simmered the sauce and then chopped and added a half of a pork loin, and cooked it some more. Honestly, I think some good sausages would have helped, but Biscuit said she liked it as is. We do have different tastes.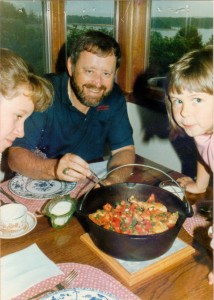 That meal reminded me of a 30-year plus family tradition celebrated every late August. It's 40-clove chicken, which has Provencal roots and has been touted by every cook imaginable.  To see if my recipe was listed, I checked Google and got 2,450,000 hits.
When I look at the online recipes, there are lots of variations, but I stick to the one I found years ago. An unknown magazine copied it from the Gilroy Garlic Festival cookbook. When I started cooking as a young father, 40 plus cloves of garlic sounded pretty audacious. Of course, the long simmering sweetens and mellows the garlic into a lovely sauce. I cook ours in the Dutch oven Biscuit's dear mother gave me, and after the chicken has cooked a while, I push it aside, add rice and cook until the rice is done.
Incidentally, I'm finding in the past few years that if I'm slow-cooking chicken, I use skinless thighs instead of the whole chicken. Breast meat, unless cooked quickly and carefully, can be dry and tasteless. Alas, stewing chickens are no longer in the grocery store, a lament that dates me even more.
What makes this a late summer treat is to chop up really good tomatoes and green onions, put them in the refrigerator, then add to the top of the concoction just before serving. The contrast of the cold tomatoes/onions with the hot, garlicky chicken and rice is terrific. And that was also pretty daring 25+ years ago.
Yeah, the girls in the photo are now both in their 30s. They're gonna kill me. But they're so cute!