White Bean and Sun-Dried Tomato Gnocchi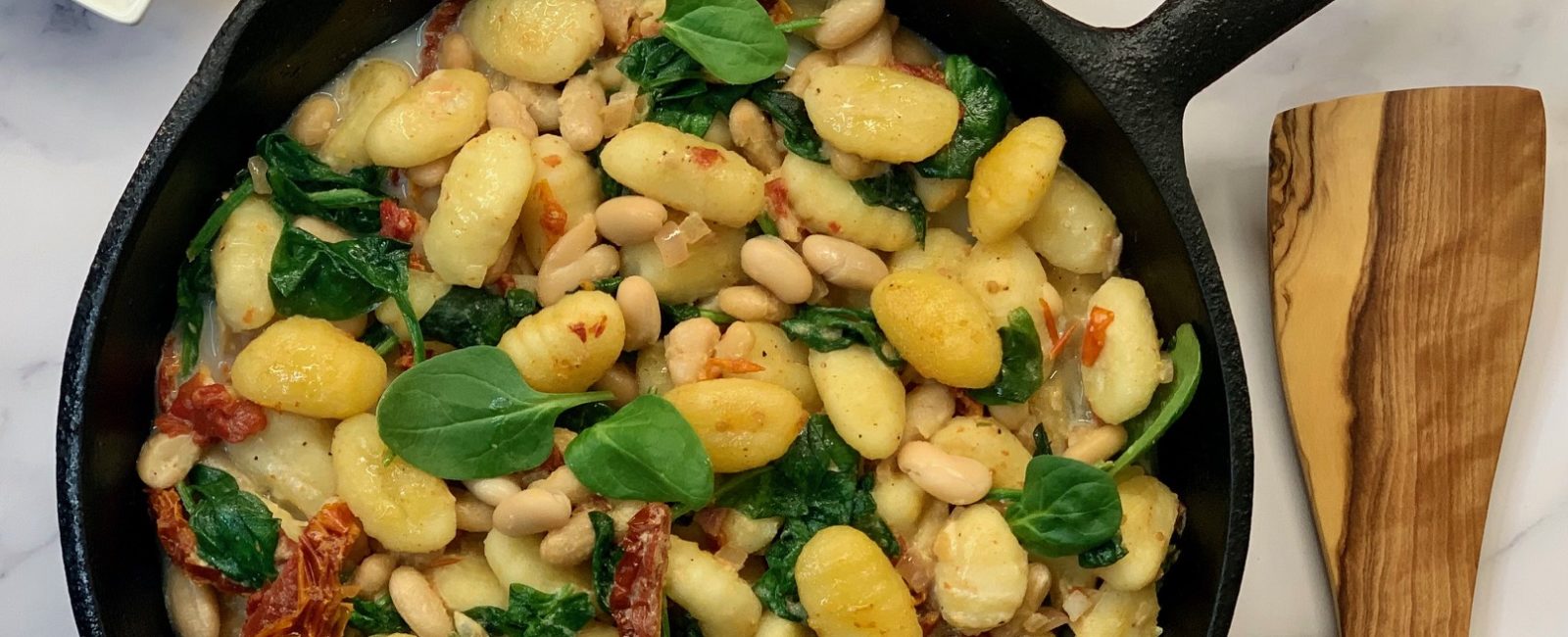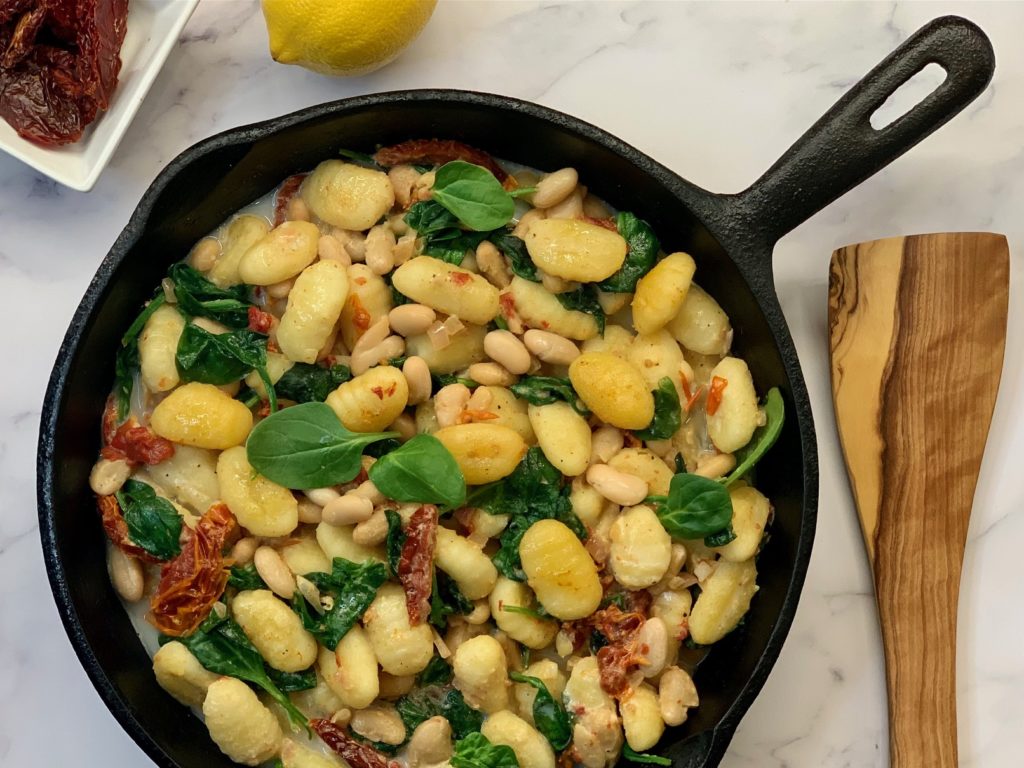 There is no better time to embrace organization than the start of a new year and it's a great opportunity to get your kitchen life in better order, too. While you are organizing, consider setting up a binder, a personal resource for the things you like to cook. Streamlining everything you do in the kitchen will help you to save money, eat better, and most of all, save precious time.
A personal home cookbook is an invaluable resource. It will help ensure that you get consistent results and don't waste time looking things up over and over again. Different sources give different times and variations in technique, and even different temperatures. Depending on your source, you can get many different answers, and maybe none of them will work for you. Add your own personal preferences to the equation and you can see how cooking can get a little complicated. 
When you find a technique that does work, you want to be able to access it easily, so that you don't have to look in multiple places or do another search. I have my cooking notes organized into a binder. You can also use a spiral notebook or composition book, but I really like the binder because it lets you edit things easily and still keep everything neat. As time goes on, you can add sections with pockets or dividers for categories, or remove pages if needed. As you try recipes that you like, file them here, too. The binder keeps everything all in one place that you can reach for again and again as you cook.
This is a good place to keep track of information you will need again, but may not necessarily remember. For example, if you make soft-boiled eggs infrequently, the instructions you look up might say "Cover eggs with cold water, bring to a rapid boil, reduce heat to simmer; cover, cook for 4 to 6 minutes." When you try four minutes, it may yield watery whites and very runny yolks, while 6 minutes gives you a completely hard yolk. Once you discover that 5 minutes and 15 seconds is exactly the time that cooks an egg just the way you like it, write this down. 
Give as much detail as possible. When I make bacon, I start it in a cold oven set to 400 degrees. I use a foil-lined sheet pan set on the lowest rack for 11 minutes. My notes say a pound of frozen ground beef or turkey needs to pressure cook on high for 15 minutes with 1 cup of water, no trivet, natural release. For asparagus, add 1 tablespoon of water, cover and microwave on high for 3 minutes, 5 minutes if stalks are thick. I have instructions for instant pot sweet potatoes, baked potatoes in the oven, quinoa, air fryer tofu and instant pot oats. Whenever I discover something that works, I add notes to my binder. 
After all that organizing, make something easy and delicious. This White Bean and Sun-Dried Tomato Gnocchi a flavorful, affordable meal that leans on pantry staples to help you save money. I substituted dry packaged sun-dried tomatoes in this is high fiber, low calorie and vegetarian dish. They keep well in the refrigerator when stored airtight, and are a very economical way to add flavor. If you don't have heavy cream, the closest substitute is half and half and butter, but you could also use yogurt or cream cheese instead of the cream, and these can be plant-based as well. Feel free to use more or less than the 1/3 cup, so that this is to your liking. 
This recipe comes together very quickly, so have everything prepped ahead. If you are using packaged tomatoes, start by measuring 1/2 cup into a small bowl and covering them with hot water to re-hydrate them. Mince your shallot and juice half of a lemon, measuring out 1 tablespoon of lemon juice. Measure 1/3 cup chicken broth or make your own with concentrated bouillon base. Have cream, or whatever dairy or dairy alternative you choose, set out so you can measure it using the same cup as the broth, once you add it to the pan. Open, drain, and rinse a can of cannellini beans. Truly delicious as is, you could add in cooked meat like crumbled Italian sausage, bacon, or strips of grilled, marinated chicken, if you don't want to keep this vegetarian. 
White Bean and Sun-Dried Tomato Gnocchi
1/2 cup sliced oil-packed sun-dried tomatoes plus 2 tablespoons oil from the jar, divided, or 1/2 cup sliced sun-dried tomatoes plus 2 tablespoons olive oil
1 16-ounce package shelf-stable gnocchi (can be gluten-free)
1 5-ounce package baby spinach
1 large shallot, minced
1/3 cup low-sodium chicken broth or vegetable broth
1/3 cup heavy cream
1 tablespoon lemon juice
1/4 teaspoon salt
freshly ground black pepper
1 15-ounce can low-sodium cannellini beans, rinsed
3 Tablespoons fresh basil leaves
Heat 1 tablespoon oil in a large non-stick skillet set over medium-high heat. Add gnocchi and cook, stirring often, until plumped and starting to brown, about 5 minutes. Add spinach and 1 tablespoon of water. Cover and let cook until spinach is wilted, about 1 minute. Transfer to a plate. 
Add remaining tablespoon oil to pan, then add the drained sun-dried tomatoes and shallot. Cook, stirring, for 1 minute; add broth. Cook until liquid has mostly evaporated, about 2 more minutes. Reduce heat to medium-low and stir in cream, lemon juice, salt and pepper. Return gnocchi and spinach to pan, add beans, and stir to coat with sauce. Top with fresh basil and serve.