Warm Green Vinaigrette, Lyonnaise Dressing and Creamy Curry Maple Dressing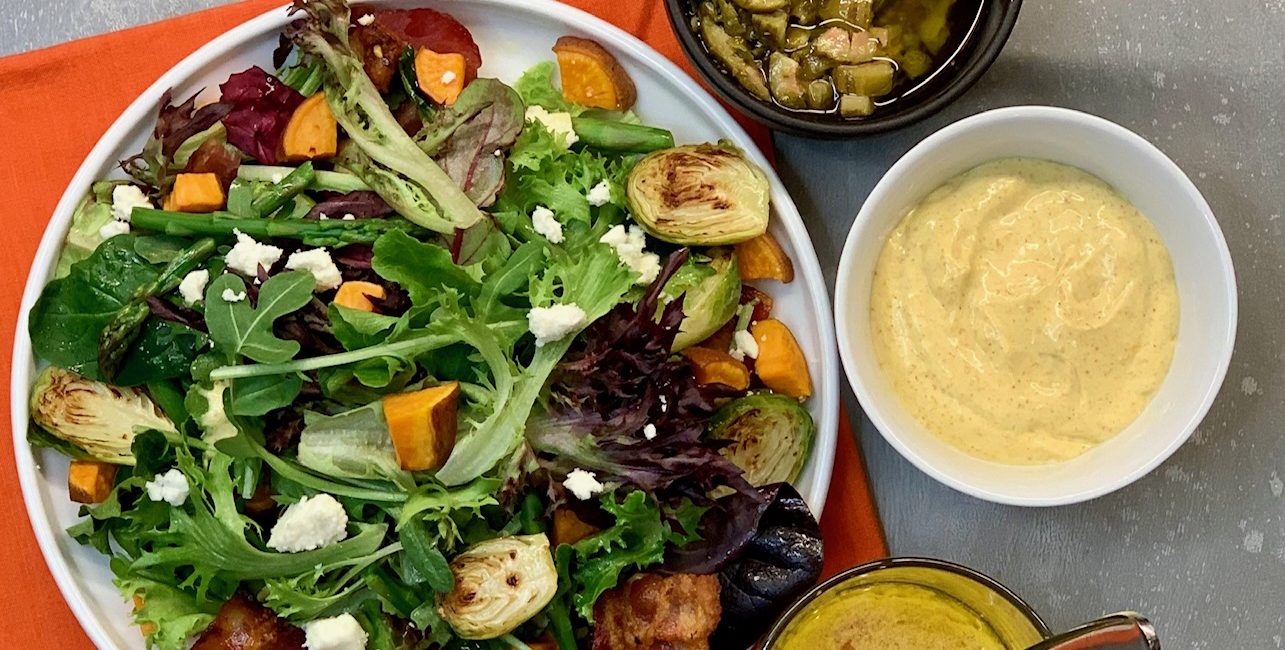 In the travel world there is shoulder season, a time between peak and off-peak seasons. In the culinary world, it exists as well. You're eager for all the fresh, green spring offerings, but you still need something warm and filling. Bridge the gap with a do-it-all salad. Enjoy those tender spring greens, but top  them with something warm. Even better, drizzle them with warm dressing. This is how to make a shoulder season salad. 
Start with spring greens, either fresh from the market or even bagged. Add touches of spring, like roasted or steamed asparagus, peas, or artichoke hearts. Next, add some heartier fare, but warm it first: roasted cubes of sweet potato or butternut squash, brussels sprouts or new potatoes – even green beans, are good. Add nuts or seeds, as well as fresh herbs like dill, chives, mint, or cilantro. Sprinkle with feta, blue cheese, or goat cheese, then toss it all together with a warm vinaigrette. Top with a warm protein – salmon, shrimp, chicken, or beef. Use what appeals to you and make it as you like. 
Tart and savory, this Warm Green Vinaigrette will dress your greens in a light and bright way. The lovely green color comes from lightly fried capers and juicy Castelvetrano olives warmed in oregano-infused olive oil. A trio of acids: Dijon mustard, preserved lemons, and white wine vinegar, finish the sauce. Besides salad, try it poured over delicate, flaky white fish, or use to top a slow-roasted pork shoulder. It's also great spooned over a mound of ricotta. Substitute lemon zest, a squeeze of lemon juice, and a pinch of sea salt for the preserved lemons. 
Salade Lyonnaise is a delicious French salad featuring frisée lettuce and lardons, topped with a poached egg, and vinaigrette. This Lyonnaise Dressing is a cinch to make. It will elevate any greens you choose, including spring greens. Drizzle it warm, for a bistro classic that's an easy anytime lunch or dinner. 
Adventurous me loves that this is fancy, froufrou French. Healthy me can't help but drain most of the bacon grease off and replace it with olive oil. (You still get the bacon flavor, but you get the health benefits of the olive oil.) I skipped adding the olive oil at the beginning and just cooked the bacon in the pan, then removed the crisped bacon to a rack, draining off most of the bacon grease. What was left was just enough to cook the shallots. You can finish adding the ingredients, then pour in the 2 tablespoons of olive oil at the end. Make it any way you like. It's delicious! This lovely warm dressing will amp up roasted broccoli, brussels sprouts, or beans and greens, especially with some crispy shallots or some toasted breadcrumbs on top. 
Creamy Curry Maple Dressing is quick and easy to make. The curry adds a nice warming element that is perfect for this transitional time, but this dressing is so versatile, you can use it year-round. In the summer, use it to spoon over greens with cut mango, fresh blueberries, toasted pecans and goat cheese. In the fall, try sweet potato or butternut squash chunks, roasted brussels sprouts, diced apple and and dried fruit or figs. I like using avocado mayonnaise and 2% Greek yogurt to add healthy fat to this recipe. You can add more maple syrup if you want a sweeter dressing. 
Warm Green Vinaigrette
1/2 cup extra virgin olive oil, plus 3 Tablespoons
2 sprigs fresh oregano
1 Tablespoon roughly chopped capers
2 Tablespoons roughly chopped Castelvetrano olives (or other meaty green olive)
1 teaspoon Dijon mustard
1 Tablespoon minced preserved lemons
3 Tablespoons white wine vinegar
1/2 teaspoon kosher salt
freshly ground black pepper
In a small skillet set over medium-low heat, add 3 tablespoons of olive oil and sprigs of oregano. As oil heats, the oregano may make it sputter. Heat oregano about 3 minutes, or until sputtering picks up and leaves have gone glassy green and stiff. Remove sprigs with small tongs or a fork, and transfer to a paper towel-lined plate. 
Add chopped capers to the oil for 1-2 minutes, until lightly browned. Add olives, cooking an additional minute, stirring regularly to just lightly fry; turn heat off. Add Dijon mustard, preserved lemon, and white wine vinegar and whisk. Add remaining 1/2 cup olive oil and crush the fried oregano leaves between your fingers before adding to the vinaigrette. Stir well to combine. Season with salt and freshly ground black pepper. Use warm or at room temperature. Store refrigerated; temper in a skillet or saucepan over low heat when ready to use. 
-Laurie Ellen Pellicano 
Lyonnaise Dressing
2 Tablespoons extra-virgin olive oil
1/4 pound lardons, slab bacon or pancetta, cut into bite-sized pieces
1 shallot, chopped, or 1 Tablespoon chopped red onion
2 to 4 Tablespoons sherry vinegar (or red wine vinegar)
1 Tablespoon Dijon mustard
salt

 

freshly ground black pepper
Add olive oil to a skillet set over medium heat. When hot, add bacon and cook slowly until crisp all over, about 10 minutes. Add shallot and cook until softened, about a minute or two. Add vinegar and mustard to skillet and bring just to a boil, stirring, then turn off heat. Warm serving bowls, then pour warm dressing over greens. Toss and season with salt and pepper to taste. 
-Mark Bittman
Creamy Curry Maple Dressing
1/3 cup mayonnaise
1/4 cup Greek yogurt
1 1/2 teaspoons curry powder
2 teaspoons lemon juice
1 teaspoon maple syrup
salt and freshly ground black pepper, to taste
Mix all ingredients together in a small bowl. Toss with salad ingredients or drizzle over salad after plating.