Time for Breakfast – Easy Egg Cups
If your mornings are frequently rushed, these egg cups are for you.  I wish I could take credit for thinking these up, but the truth is I found them on the American Egg Board website.  The best part is that you can make these up the night before, and then not only will you have a good breakfast, but you also will have time for it.
First, start with a coffee cup or soup mug.  Lightly oil the bottom and sides with a little olive oil.  I keep a canning jar with olive oil and a silicone brush ready to go by my cooktop.
Now add whatever you like —  sliced or chopped mushrooms, bell peppers, leftover cooked vegetables, some green onion, and some crumbled cooked bacon or ham.  Next, add however many eggs you want.  I like to use 1 whole egg and several whites, but here again, it's what you want.  If you are in an egg-white only mood, or you want 3 whole eggs, it's up to you.
Cover with saran wrap or foil and put in your fridge till the morning.  I make multiples of these so that everyone gets what they want and even better, everyone is able to cook their own breakfast, which is great if you have staggered wake-up times in your house.    In the morning remove the covering and set it on the counter next to your microwave.  Grab a fork, give the cup a good stir, and put the fork on that piece of saran so you don't mess your counter up!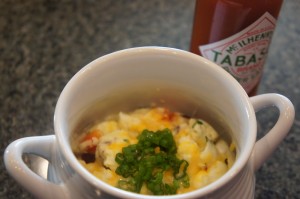 Microwave, uncovered, at 100% power for 45 seconds.  Use your fork to give it another stir, and microwave again for 30 seconds.  After this 30 seconds, stir again, and now decide if you need another 30 seconds or if 15 or 20 will do.  After you do this a few times, you will get to know your microwave and know how long it will take, although sometimes this can vary depending on the ingredients you have.
That's it!  You now have a hot breakfast and can stir in some cheese or salsa, or fresh herbs, or just salt and pepper. Add a piece of toast (gluten-free, whole grain, sprouted?) with some avocado and you can feel good about starting your day.