Sugar Snap Pea Salad with Roasted Grapes and Healthy Grain Salad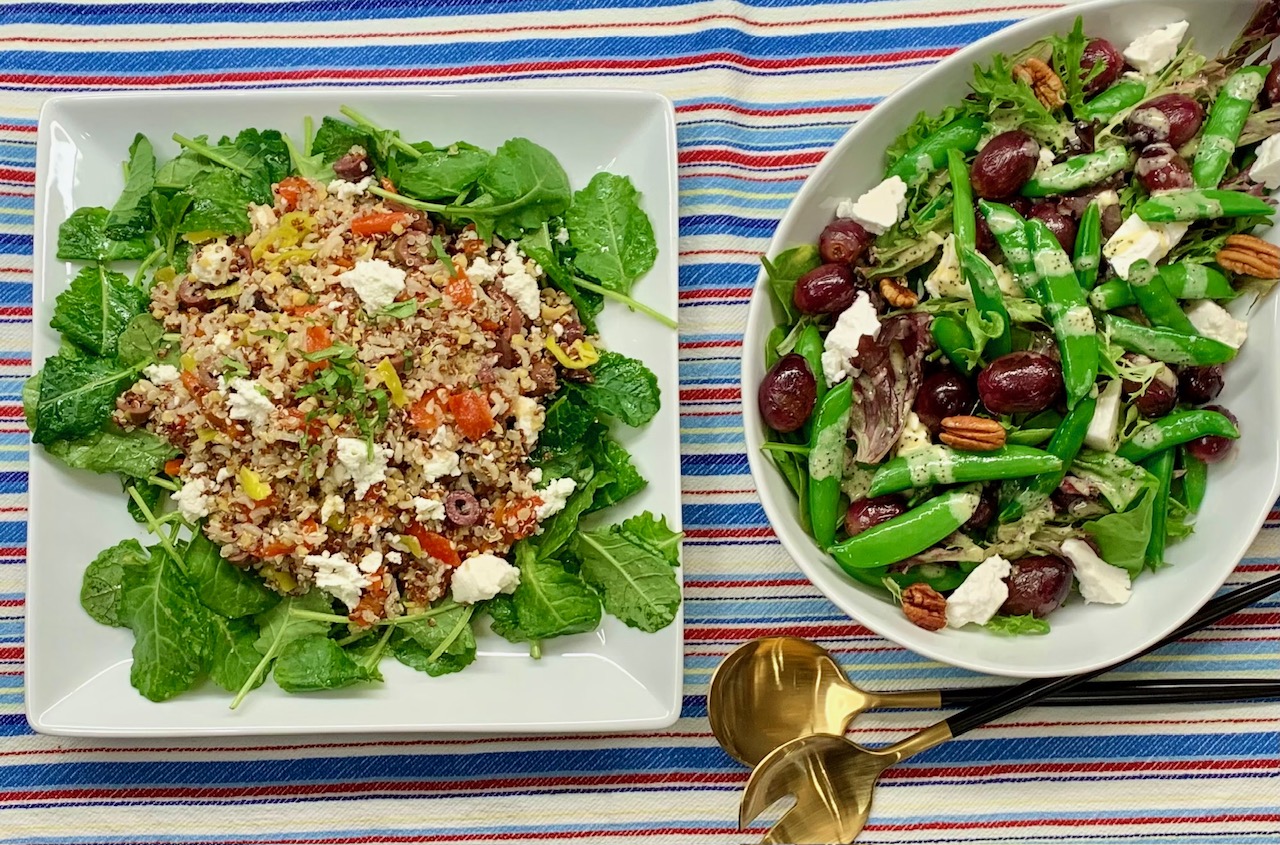 Look out summer, here we come! I can't wait to get my hands on all the hot dogs, hamburgers, and sticky barbecued anything that I can get. Flame-broiled excitement and open air await, and let's face it, they just make everything taste better. Yes, what's on the grill is glorious, but it's the sides that make the meal. There's nothing like a checkered tablecloth loaded with chilled bowls that you can help yourself to. Spoon out a bit of this and that, sneak a potato chip or two, and settle yourself into a comfy chair. The unofficial, official start to summer is here. 
Don't skimp on those salads. Folks are looking for the usual suspects: potato salad, baked beans, cole slaw, pasta salad, you know the drill. Be sure to have those cued up, as well as a few new dishes to add something different. Good on their own, but even better together, here are two deeply delectable salads to dish on all summer long. Both are gluten-free, high fiber and easy breezy so you can get out of the kitchen and into the fun. 
The best salads are ones that mix flavor and texture and this Sugar Snap Pea Salad with Roasted Grapes is a great example. Roasted grapes and sugar snap peas add different elements of sweetness, but it's the texture of the bursting grapes against the crisp snap of the peas that really makes this interesting. Dressed with a creamy poppy seed vinaigrette and tossed with toasted pecans and tart feta, it's refreshing and delicious. 
For another flavorful and fast summer side, this Healthy Grains Salad is an easy make-ahead option. Use any blend of frozen microwaveable pre-cooked grains to speed things along, or cook your own. I used a bag of Quinoa, Jasmine Rice and Chickpeas that I had on hand because the frozen blends all contained gluten. It cooked in 10 minutes and then I quickly cooled it by spreading evenly onto a sheet tray and refrigerating. This is a safe handling technique for all cooked grain products (rice, pasta, quinoa, etc.) to minimize the growth of Bacillus cereus, a microorganism that can multiply after cooking and cause food poisoning. Reheating doesn't kill this type of bacteria so safe practices are important. Cook grains to temperatures above 140ºF, immediately cool and store them in a fridge that's colder than 40ºF, and discard any leftovers after a few days.
Speaking of leftovers, you will have extra dressing left over from each of the salads, leaving you with enough to dress several more salads in the days ahead. And should you have any left over grain salad, you can't beat having it chilling in the fridge for tomorrow's lunch.
Remembering and honoring all those who served. Have a safe and happy Memorial Day.
Sugar Snap Pea Salad with Roasted Grapes
salad:
2 cups seedless red grapes
1 Tablespoon vegetable oil
kosher salt
1 pound sugar snap peas
1

 

5-ounce package mixed baby greens
1 cup crumbled feta
1 cup toasted pecans, coarsely chopped
vinaigrette:
3 Tablespoons extra-virgin olive oil
2 Tablespoons mayonnaise
1 Tablespoon Dijon mustard
1 Tablespoon maple syrup
1 Tablespoon white wine vinegar
2 teaspoons poppy seeds
kosher salt and freshly ground black pepper
For the salad: Toss grapes with oil in a cast-iron skillet over medium heat. Cook, stirring constantly, until grapes begin to burst. Transfer to a bowl and set aside. 
Bring a medium saucepan of salted water to a boil. Fill another bowl with ice and water and set aside. Add the snap peas to the boiling water and cook until bright green and crisp tender, 3 to 4 minutes. Quickly remove peas then immediately plunge into ice water to stop cooking. Drain.
For vinaigrette: Whisk olive oil, mayonnaise, mustard, maple syrup, vinegar and poppy seeds in a medium bowl. Season with salt and pepper.
Arrange mixed greens on a platter or in a large serving bowl. Top with sugar snap peas, pan-roasted grapes, feta and pecans. Drizzle with vinaigrette and toss just before serving.
-Kardea Brown
Healthy Grains Salad
dressing:
1/3 cup olive oil
1/4 cup red wine vinegar
1 Tablespoon Dijon mustard
1 Tablespoon honey
1 Tablespoon chopped oregano
1 garlic clove, grated
salad:
3 cups baby kale
kosher salt and freshly ground black pepper
2 (8.5-ounce) bags microwaveable mixed grain blend, cooked according to package directions
1/3 cup jarred sliced roasted peppers
1/4 cup halved kalamata olives
1/4 cup sliced jarred banana peppers
4 ounces crumbled goat cheese
1/4 cup torn basil leaves
2 Tablespoons chopped parsley
For the dressing: Add oil, vinegar, Dijon, honey, oregano and garlic to a mason jar. Seal with lid and shake to emulsify. Set aside.
For the salad: Add baby kale to a large bowl. Season with a pinch of salt and pepper. Add 2 tablespoons of the dressing and toss to coat. Transfer dressed greens to a serving platter. Add grain blend to the bowl, then add roasted peppers, olives, banana peppers and half of the goat cheese. Add half of the remaining dressing, reserving the rest for another use; toss to combine. Spoon grain mixture over baby kale. Garnish salad with remaining goat cheese then sprinkle torn basil and parsley over all. 
-Ree Drummond